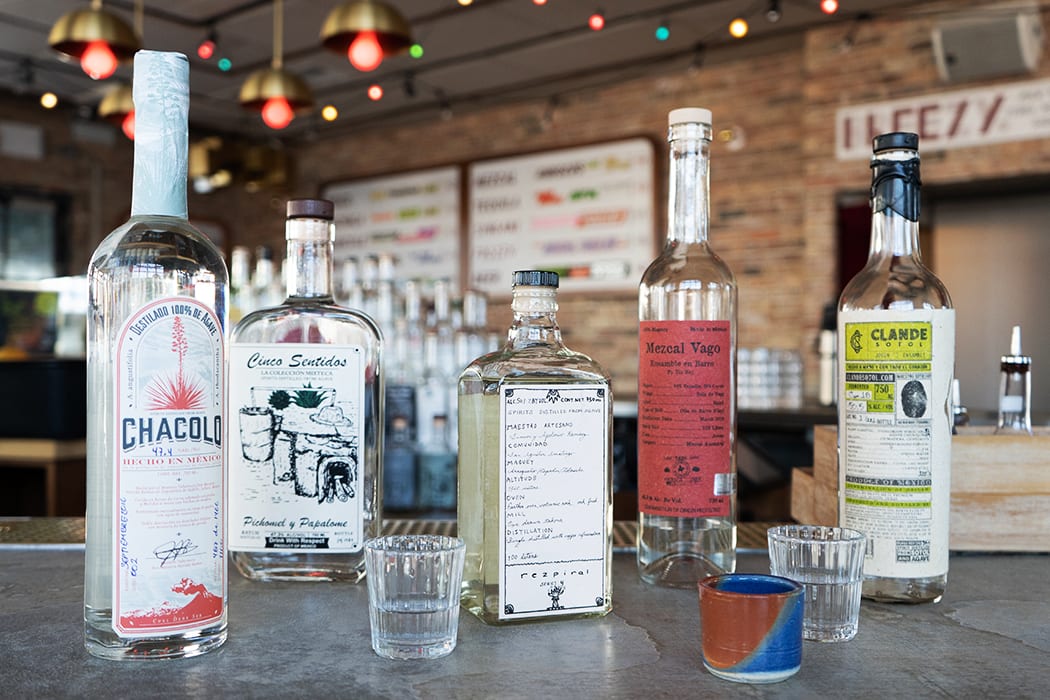 The result of cooking, fermenting, and distilling multiple ripe agave varieties together, mezcal ensambles have seen a rise in popularity recently, but they're nothing new. "It's actually the most traditional way of producing mezcal," says Michael Rubel, general manager at Estereo in Chicago. The sustainable approach to production doesn't overstress the land by emphasizing monoculture, he adds. "Each batch is utterly unique and can never be repeated; it speaks deeply of a single place at a single time." Here are five bottlings Rubel recommends.
Rezpiral, Arroqueño/Espadín/Tobasiche, Simeon & Apolonio Ramírez, San Agustín Amatengo, Oaxaca, 100 Liters
"Father-and-son [team] Simeon and Apolonio Ramírez work out of the palenque in the back of their house and distill in the local style: copper con refrescadera—an attachment to the top of the still that [allows] essentially two distillations in one pass," Rubel says, noting this production style produces muscular mezcales, full of body. "The tobasiche lays down a chord progression of light green vegetal notes, and the espadín and arroqueño riff tropical fruit flavors across the top." $106.96, astorwines.com
Chacolo, Brocha/Ixtero Amarillo, Vol 1, Macario Partida & Sons, Zapotitlán de Vadillo, Jalisco, 1,100 Liters
"The Partida family have been making what they call mezcal for generations," Rubel says. "They cannot use the name mezcal, or even raicilla, because they don't fall under either DO [denominación de origen]." Cultivating and working with 14 different sub-varieties of Agave angustifolia, Don Macario Partida and his children use agaves they call Brocha, along with Ixtero Amarillo (Agave rhodacantha), for this field blend fermented in underground stone wells. "This opens up like a Cuban pastry, with cream cheese funk and tangy guayaba [guava], then rolls through lime zest and green mango before coming to rest in a field of dried herbs." $139.96, astorwines.com
5 Sentidos, La Colección Mixteca, Pichomel/Papalome, Atelo Ramírez, Reyes Metzontla, Puebla, 122 Liters
Maestro mezcalero Atelo Ramírez creates outstanding destilados de agave with his wife Laura Arriaga at a rustic palenque in the mountains. This ensamble combines two wild agaves, which are cooked then crushed by hand with a mallet, fermented, then distilled in both copper and clay. "I was lucky enough to be with him at his house when he was blending this batch and I was trying to nudge him into a slightly higher proof. Thankfully, he happily passed on my suggestion because this is a perfect and crazy mezcal; it's all suntan lotion and humid, overripe tropical fruit—like strolling by a bodega in the Bronx on a sweltering August afternoon." Rubel advises anything from 5 Sentidos' Colección Mixteca is worth checking out. $155, pogoswine.com
Clande Sotol, Joven Ensamble, Dasylirion Wheeleri/Agave Churique, Ciudad Madera, Bienvenido Fernandez, Chihuahua, 85 Liters
The project of Ricardo Pico, Clande "showcases the wonderful distillates of Chihuahua produced in an artisanal, traditional style," Rubel says. Bienvenido Fernandez's family has been making sotol in the mountains of Madera for three generations, but this ensamble is a mix of sotol with mezcal cooked, fermented, and double distilled together first in copper then in stainless steel. "Its haunting aroma can be summed up in the word petrichor: that perfect smell just before it starts to rain. The flavor? Like a misty forest at first light." $95, oldtowntequila.com
Mezcal Vago, Ensamble en Barro, Espadín/Coyote, March 2019, Tio Rey, Sola de Vega, Oaxaca, 328 Liters
No discussion of ensambles would be complete without the brand that brought the word into the mezcal nomenclature, Rubel says of Mezcal Vago. "[Mezcalero] Tio Rey lives in the legendary mezcal town of Sola de Vega, and he follows the town's customs by milling the cooked maguey by hand with a mallet and double distilling in small clay pots. But his mezcales have a distinct and profound aroma that could only come from his palenque. This batch has his usual bold rusticity and complex mineral notes mixed with wet earth, dried chilies, and maracuyá [passion fruit]." $69.50, bittersandbottles.com
---
Did you enjoy this recipe? Sign up for our newsletter and get weekly recipes and articles in your inbox.