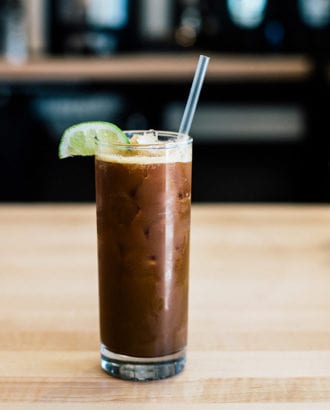 In this version of the Espresso Tonic, lime syrup adds sweet depth to the drink. At Fleet, they use Fever-Tree's Indian tonic with the fruit-forward Madcap Third Coast blend of Colombia and Yirgacheffe coffees, though Lorenzo Perkins says "if you have an especially floral coffee the Mediterranean tonic would be really fun as well."
Double shot espresso
3½ oz. tonic water
¾ oz. lime simple syrup
Tools: shaker, strainer
Glass: Collins
Garnish: lime wheel
Combine the lime simple syrup and 1 double shot of espresso in a shaker. Shake with ice until chilled. Fill a Collins glass with ice and add the tonic water. Strain the espresso and lime mixture into the glass, then garnish.
Lime Syrup
3½ oz. fresh lime juice
3½ oz. hot water
5 oz. demerara sugar
Combine the sugar and water. Stir until the sugar is dissolved. Add the lime juice and refrigerate. Will keep for up to a month.
Lorenzo Perkins, Fleet Coffee Co., Austin