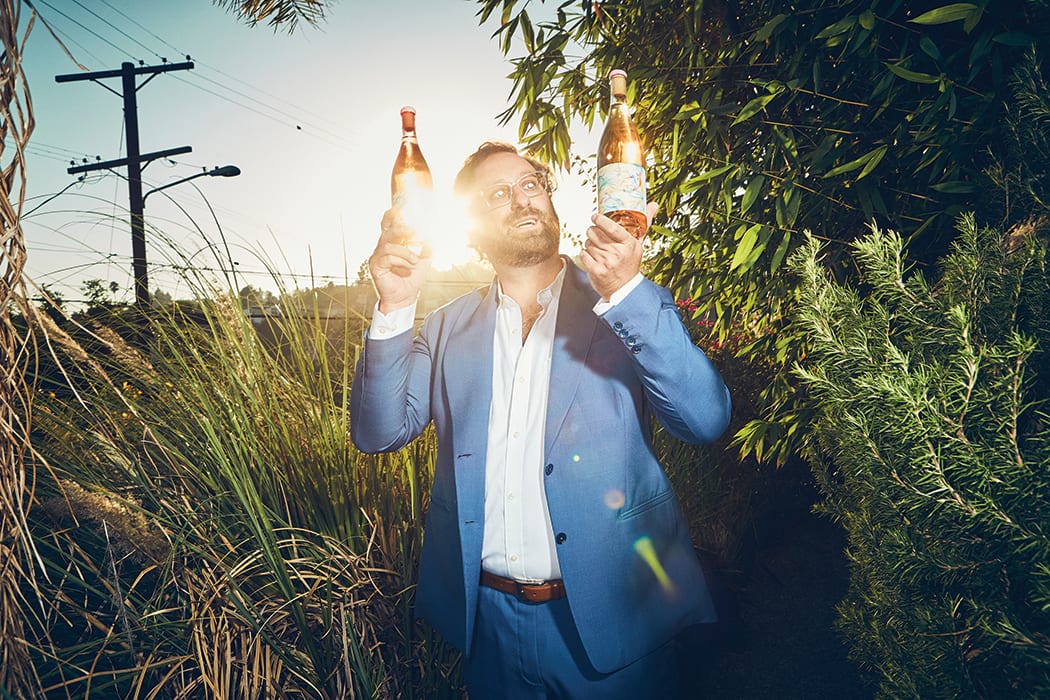 Eric Wareheim makes punk rock wine. Well, technically it's natural wine, but Wareheim has come to associate DIY, low-intervention natural winemaking methods with the anti-establishment subculture. The comedian, actor, director and writer, co-creator of Tim and Eric Awesome Show, Great Job! and Arnold on Netflix's Master of None began collaborating with winemaker Joel Burt on their California-based label Las Jaras Wines in 2015. Initially inspired by a now-infamous skit starring John C. Reilly as wine-guzzling reporter Dr. Steve Brule, the duo publicly launched Las Jaras last May and released their first four wines in October. We caught up with Wareheim for the May/June issue to chat about his indoctrination into the wine scene, fooling his fans into falling for natural wine, and how to avoid becoming just another celebrity brand.
Imbibe: When did you jump on the natural-wine bandwagon?
Eric Wareheim: I was in Paris maybe eight years ago, and there was this beautiful little wine shop right on the Canal Saint-Martin that Joel Burt told me to go to called Le Verre Volé. I asked for a natural Syrah. It was very ripe-tasting, almost like juice, and we just started slamming it out of the bottle—it wasn't highly tannic, it was lower in alcohol and it tasted really fresh. At first I didn't like it, but halfway through the bottle something changed—it was a beautiful moment. Later, once I started meeting natural-wine producers—these freaks that do all these crazy things like biodynamic farming—that's what really turned me on. I felt like there was a brotherhood there and people were trying different things.
What did you know about winemaking going into Las Jaras, and what have you learned since?
When I started getting into wine about 10 years ago, I was exploring the world, just eating and drinking. Joel sent me to a couple of places in Italy and France, like the region of Jura where I drank amazing Trousseaus and Poulsards. Then I started reading books like The Wine Bible to understand the language, and I got really into it: Understanding what natural wine is, what biodynamic wine is, how to make low-intervention wines and learning about small producers all over the world who are making things outside of the big system of winemaking. It's what I call keeping things punk rock, which is what I do in TV as well—keeping full control of things so it doesn't get homogenized. I've been there for all the stages of the winemaking process, and one of the coolest parts of the experience is that we meet with all of the growers and they tell us which parcels are yielding what kind of grapes and how they're not using any chemicals. It's a little business we have of really cool people.
What was your initial vision for Las Jaras Wines?
My intent was to trick people, in a way, so they think they're just buying a keepsake and then when they drink it they're like, 'This is actually really good!' I've always been against the idea of using your name for some crappy product.
It's been a year since you launched the label. What have been some of the biggest challenges?
Every time I post something about the wines, I get one positive response and about 100 semi-frustrated responses of, 'Please ship to all of these other places,' which is ultimately good because we're applying for a larger license. Starting up, we wanted to do things like I do in the television business, where we don't farm anything out and we keep it all in-house, and that's part of the philosophy of natural winemaking—you touch everything. It's been a bit of a learning curve to get everything up and running, but it's also been awesome because I've been spending a lot of time in Sonoma working with Joel, who's been teaching me about winemaking and his particular style of wine. We both have this feeling that we need to celebrate California and the amazing wines we can make here.
Speaking of celebrating California, last fall, you used your visibility to bring attention to the wine country wildfires. Have you used your recognition in any other ways when it comes to wine?
My major goal is to show people, maybe people who don't know anything about wine, that there's an alternative to supermarket wine. Another goal is promoting the idea of organic and natural winemaking. I've been quietly promoting that concept, because I feel like the future is going to be about a much more plant-based, organic diet. I'm constantly trying to use my television presence to shift people into some good things.
You're also a cocktail enthusiast, known to document what you're mixing on Instagram. What's your go-to cocktail?
Right now I'm obsessed with Gibsons—I just got into them. I used to be a vodka Martini guy and then I got shamed out of that. Now I drink only gin Martinis, which is like the old-school style, [and the Gibson] with a little pearl onion and just a whiff of vermouth. When I'm cooking, that gets me started, then I switch to wine when I start eating.
Both you and your Master of None character, Arnold, are food lovers. The show's second season was partially set in Italy—what was the most memorable thing you ate or drank while you were on location?
We ate at Hosteria Giusti, which is the restaurant in the first episode of the second season. It's so beautiful. It's only five tables and impossible to get in to. They start your meal with two bottles of Lambrusco—the wine of the region. One is a very light Lambrusco, and the other is more medium-bodied for drinking later in the meal with the Bolognese sauces. It was just a couple of grandmas working this kitchen, and it was game-changing for me.
What's your long-term vision for Las Jaras?
We hope to finally get into New York, but I don't want to be everywhere—that's not the point of Las Jaras. Our 10-year plan is to own some land and start an organic farm, and someday I want to retire in a beautiful cottage on a vineyard—someday.
---
Like what you see? Get more of the best of liquid culture when you sign up for our bi-monthly magazine. Subscribe now and save up to 59%—it's just $21.95 for one year or $32.95 for two years. Click here for details.