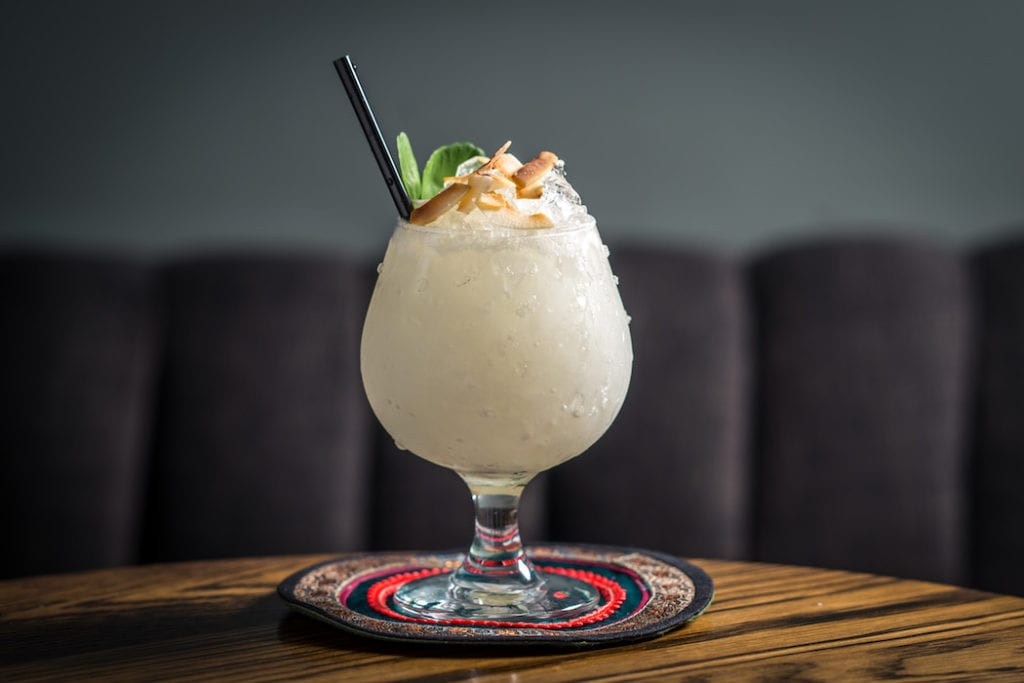 When it's time to raid the fridge for cocktail ingredients, yogurt is by no means the most unusual item to grab. But while yogurt and booze may not seem like the most most natural pairing, bartenders are increasingly discovering the potential of this unexpected duo. "Yogurt makes a great cocktail ingredient because it imparts creaminess and acidity simultaneously, unlike other types of fatty ingredients that tend to lack acid," says Death & Co. bartender Shannon Tebay Sidle. "It provides a rich, neutral platform for other flavors."
That canvas allows bartenders to take a drink in many directions. At Tusk in Portland, Oregon, bar manager Tony Contreras uses yogurt in the Hazy Jane cocktail, a riff on Sam Ross' modern classic the Old Maid, adding orgeat and a dollop of Greek yogurt. "With that base, you can really throw a lot of different flavors at it," says Contreras. And they do, adding seasonal ingredients like cucumber in the summer and black cardamom in the winter.
The key element in yogurt is lactic acid, which provides a natural balance to the richness of the dairy, lending a velvety mouthfeel and rounding out the edges of hot spirits and tannic ingredients. Just remember: A little goes a long way. "It's important to be judicious," Sidle says. "I prefer to serve yogurt drinks over crushed ice to help balance the richness."
A prime example is Sidle's Snake in the Grass cocktail (pictured), which she created for Pouring Ribbons for their "Silk Road" menu. It combines gin, rhum agricole, makrut lime leaf and coconut with Greek yogurt. "You can pair it with almost any type of spirit in the right context, but my favorite combination is unsweetened Greek yogurt and rhum agricole," she says. "The grassy, vegetal qualities of agricole are opened up and softened by the yogurt."
While sweet applications might be the natural inclination—especially with products like the Bols Natural Yoghurt Liqueur, which was released a few years ago—savory options abound, often inspired by the use of yogurt in Middle Eastern and Asian cuisine. At Balise in New Orleans, the Rollo Raiders blends gin and aquavit with kümmel, a caraway-flavored liqueur, and a dollop of Greek yogurt. Back at Tusk, Contreras says, "I can serve someone a Hazy Jane, which includes yogurt and cucumber, with a lamb skewer and it's a great pairing because it makes a sort of facsimile of tzatziki sauce," he says. "It has a wonderful, cooling effect on the cocktail."
Perhaps the most natural place for yogurt is in brunch cocktails, like the Breakfast Bramble from Ashley Rose Conway of Craft + Cocktails. The fruity bramble combines gin and blackberry liqueur with greek yogurt and a spoonful of jam. "Both [ingredients] add a great mouthfeel plus tart, tangy notes to a traditional bramble," says Conway.
Sidle also aims sweeter with her Slippery When Wet cocktail, a mix of gin, yogurt, strawberries, lemon and honey. "It's delicious in drinks that incorporate fresh muddled fruit, or fruit purée," she says. "I prefer to use unsweetened yogurt, so I'm in control of the sweetness level of the final product."
"Yogurt is one of those cool ingredients that people don't often think to use," says Contreras, who loves a spoonful in a Mai Tai for added dimension. "It's incredibly flexible—it can fall into the background or come up front. Plus, it's an ingredient that beginners can use pretty comfortably."
---
Like what you see? Get more of the best of liquid culture when you sign up for our bi-monthly magazine. Subscribe now and save up to 59%—it's just $21.95 for one year or $32.95 for two years. Click here for details.