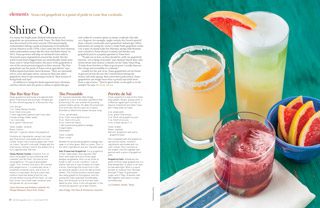 For many, the bright pink–fleshed orbs known as red grapefruit are synonymous with Texas. The Ruby Red variety was discovered in the state around 1929 and promptly trademarked, hitting a peak of popularity in households across America in the 1970s. Later came the Rio Red varieties, with trademarked names like Rio Star and Ruby-Sweet. In 2013, Texas growers will ship an estimated nine million 40-pound cases of grapefruit around the world. But the jewel-toned fruit's biggest fans are undoubtedly inside state lines, and to Texan bartenders, the juice of the grapefruit is one of the most precious liquids in their arsenal. "Rio Star grapefruits are the pride of Texas citrus agriculture," says Dallas-based bartender Jason Kosmas. "They are extremely red in color and quite sweet, and more than any other grapefruit, they're also stunning to look at. They scream of being fresh and ripe."
In addition to using the fresh-squeezed juice, Kosmas and his cohorts zest the peels to infuse in spirits like gin and vodka for creative spins on classic cocktails. His take on a Negroni, for example, might include the French aperitif Suze, a bianco vermouth and a grapefruit-infused gin. Other bartenders are using the citrus to make fresh grapefruit sodas (for a spin on classics like the Paloma), syrups and shrubs, and grapefruit peel is a popular garnish in Texas bars.
"People are in love, as they should be, with our grapefruit harvest—it's a thing of wonder," says Austin's David Alan, who writes about and creates cocktails via his Tipsy Texan blog. "It lasts from October to May in good years. Locally, they are dirt cheap and incredible in cocktails."
Luckily for the rest of us, Texas grapefruits can be found in grocery stores all over the United States during the winter and early spring. Alan notes that peak-season Texas grapefruits can weigh more than a pound and yield more than a cup of juice. "They're great fresh, on the grill or in the smoker," he says.
Grapefruit Cordial
Grapefruit Margarita
Grapefruit Soda
Broken Flower Cocktail
Spring Awakening Cocktail