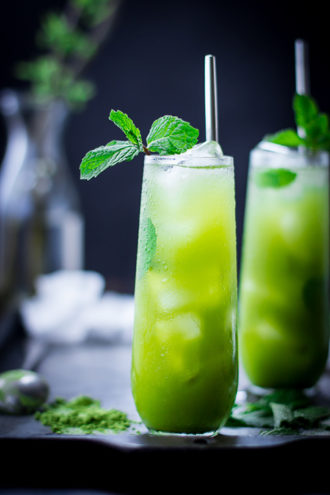 Matcha is one of Japan's most traditional teas, and over the past few years it's been finding fame stateside in the form of matcha lattes. The powdered green tea is now available from most tea purveyors and in cafés around the world, and lately it's been finding its way into the realm of cocktails. With a complex flavor ranging from earthy and vegetal to sweet and nutty, it was only a matter of time before bartenders began mixing with matcha.
At New York's Bar Goto, Tokyo native Kenta Goto uses matcha for his Matcha-Sesame Punch. "Tea gets bitter with tannins in general. However, you won't taste the bitterness when it's mixed with milk or cream," Goto says. Two vodka infusions—one with sencha green tea, the other with toasted sesame—mix with matcha powder, half and half, and cane syrup to make a sweet, toasty punch that highlights the tea's natural earthiness. "The Matcha-Sesame Punch is a harmony of the fresh green flavor and the deep nutty flavor—both high notes and low notes."
Meanwhile, Chicago Distilling Company infuses matcha powder into a simple syrup, then mixes with their own Ceres Vodka, fresh cucumber juice, lime juice and mint to make the Matcha Cooler. And across the equator at Sydney's Geisha Haus, servers perform a mini tea ceremony tableside, then combine the brewed matcha with vodka, Midori, yuzu juice and kiwi purée, before cooling it all down with liquid nitrogen.
And bartenders aren't the only ones experimenting with matcha. Former pastry chef and author and photographer behind the Bojon Gourmet, Alanna Taylor-Tobin turned to matcha as a healthier way to add a caffeinated kick to cocktails. The result is her Matcha Mint Julep (pictured), which she prefers to mix with Cyrus Noble Bourbon. "The creamy matcha blends nicely with this buttery-soft whiskey, the mint and lemon adding a bit of zip to the not-too-sweet drink," she says.
Tip: Matcha powder has a tendency to clump, particularly when mixed with cold liquids. Try mixing it into a paste first by using simple syrup or just a bit of water.
Matcha-Sesame Punch
1¼ oz. Sencha-infused vodka
¾ oz. Toasted sesame-infused vodka
¾ oz. simple syrup
½ oz. half and half
⅛ tsp. matcha powder
Tools: shaker, strainer, hand blender (optional)
Glass: white tea cup
Combine all ingredients in a shaker and dry shake without ice until the matcha powder is dissolved. Add ice and shake until chilled. Strain into a tea cup and serve.
Sencha-infused vodka: Add 1 Tbsp. of loose green tea leaves to 1 cup of vodka for 5 minutes at room temperature. Strain leaves from liquid.
Toasted sesame-infused vodka: Add ⅛ cup each of toasted black sesame seeds and white sesame seeds to 1 cup of vodka at room temperature. Let infuse 24 hours and strain.
Kenta Goto, Bar Goto, New York City