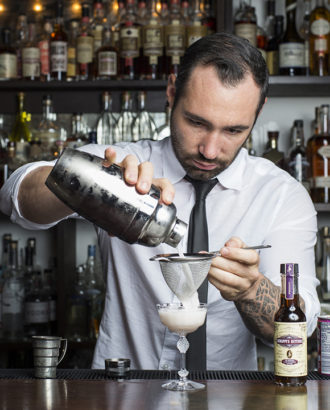 Even the most skilled home bartender can quickly get frustrated trying to buy specialty bitters. To help simplify the process, we've chatted with some of the country's best bartenders for inspiration. Here, we focus on lavender bitters, which add a delicate floral flavor to drinks.
Lavender bitters pair well with the herbal notes of many vermouths and fortified wines, as illustrated in the Half Sinner, Half Saint cocktail from BarMINI in Washington, D.C., which features a split of dry and sweet vermouths tinged with lavender bitters. Combining lavender bitters with Lillet Blanc, Dolin Blanc and tonic water, the Lavender Blanc cocktail from Tyler Ott of California's Ox and Son is another great example. "Both Lillet Blanc and Dolin Blanc have beautiful, bright herbal profiles, so the lavender bitters highlight and bind them together," Ott says.
Gin is also an excellent companion to lavender, thanks to the spirit's botanical profile. At Crow in Seattle, a French 75 riff with gin, créme de cassis, lemon juice and sparkling wine provide a beautiful base for the bitters, and at Park Social in Winter Park, Florida, lavender bitters deepen the flavor of the honey in the classic Bee's Knees. Meanwhile, the Hummingbird from Sable in Chicago (recipe below), combines lavender bitters with white rum, honey, orange blossom and lemon juice.
Lavender adds an unexpected dimension to cocktails with darker spirits as well. The Mr. Electric Ocean from Pennyroyal in Seattle combines lavender with rye whiskey, Kronan Swedish Punsch and Chartreuse. Bartender Chad Phillips says it's a rough twist on a Manhattan, with the herbal ingredients replacing traditional vermouth. "Lavender adds a really lovely floral depth."
Hummingbird
2 oz. white rum
½ oz. honey syrup
¾ oz. fresh lemon juice
2 dashes lavender bitters
4 drops orange blossom water
Tools: shaker, strainer
Glass: coupe
Combine the ingredients in a shaker with ice. Shake to chill, then strain into a chilled coupe.
John Stanton, Sable Kitchen & Bar, Chicago