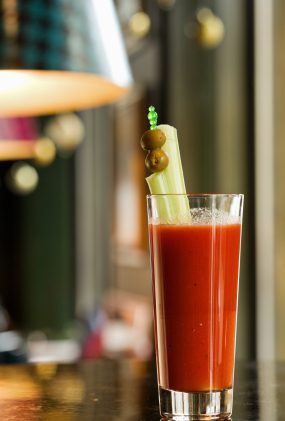 A Bloody Mary made from scratch with fresh ingredients can be one of the best brunch treats, but if you're looking to simplify, there are plenty of bottled mixes that are just as good (and sometimes better) than the homemade stuff. With ingredients ranging from cucumbers to pickle juice to fresh dill, here are 10 Mary mixes we love.
Cliff House Classic
This clam juice-based mix from San Francisco restaurant Cliff House was first developed in 2014 by Chef Ralph Burgin. It has a great balance of tangy tomato and red pepper flavors, spicy horseradish and a touch of celery salt. Perfect for warming up those chilly Bay Area mornings.
Fat & Juicy
Roasted veggies and garlic, fresh horseradish, Worcestershire sauce, a splash of Frank's RedHot—all these ingredients and more combine for one delicious mix that blends equally well with vodka and tequila—the former amps up the spice factor and the latter the smoke. For an extra kick, try the extra-spicy cayenne or smoky chipotle mixes.
Guelaguetza Michelada Mix
Technically better suited for the Michelada (we're not splitting hairs between the two; they're both great brunch drinks!), this mix from Los Angeles Mexican restaurant Guelaguetza has a perfect balance of tomato acidity and Tajin spice. Bonus: Each bottle comes with a tiny sample of extra Tajin for rimming your glass.
Gordy's Pickle Jar
A classic combo of tomato paste, vinegar, cucumber water, salt, garlic, pepper and dill gets elevated by a special signature ingredient: cherry peppers. Medium-bodied and piquant thanks to its bright pickle personality, the cherry peppers add a layer of subtle sweetness, making this a perfect option for anyone who's averse to spice.
Hoosier Momma
This thick, full-bodied mix packs in loads of fresh tomato, celery and citrus flavors with a serious kick of black and cayenne pepper. It stays nice and thick when mixed in a cocktail, and it works best with vodka, which brings the natural tomato sweetness to the foreground.
McClure's Spicy Bloody Mary Mix
If you like dill pickles, you'll love this mix from Detroit pickle darling McClure's. Packed with spicy, tangy goodness, it combines fresh tomato flavor with dill, garlic, a bright, pickle tang, crunchy bits of cucumber, and loads of black and chile pepper heat on the finish. It mixes well with vodka and gin, and we especially love it with beer.
Nashville Hot
Tennessee's Walker Feed Co. teamed up with hot chicken experts and fellow Nashvillians Party Fowl to create this spicy blend. It packs a powerful punch thanks to Party Fowl's signature spice rub, including red peppers, habaneros and chili powder. Mixed with Walker's original Southern Bloody Mary base, made with fresh tomato juice, malt vinegar and bourbon barrel-aged Worcestershire sauce, just make sure you have plenty of celery on hand to cool the burn.
The Real Dill
Inspired by their Habanero Horseradish Dill Pickles, The Real Dill's super-fresh mix is made with cucumber water that's leftover from their pickle making. A perfect amount of heat comes through at the finish, and it blends seamlessly with vodka.
San Marzano Get Ripe
This refrigerated mix from two Connecticut-based business partners is as fresh as you can get short of plucking the tomatoes from the vine and squeezing the citrus yourself. Made with fresh-pressed celery juice, fresh-ground horseradish, California lemons, milled San Marzano tomatoes and a splash of Balsamic vinegar, this mix is bright and fresh and not too spicy, and it makes an amazing virgin Mary (though it's also delicious mixed with vodka).
Texas Beach
A burst of black pepper and Old Bay layer over a rich base of tomato and Worcestershire in this mix from Richmond, Virginia (the name is a reference to Texas Avenue in Richmond, where the team first debuted the recipe at a Bloody Mary contest). Savory in all the right ways, but with hints of fresh lime to keep things balanced, the hearty blend is both vegan and gluten-free, and it won a Good Food Award in 2017.