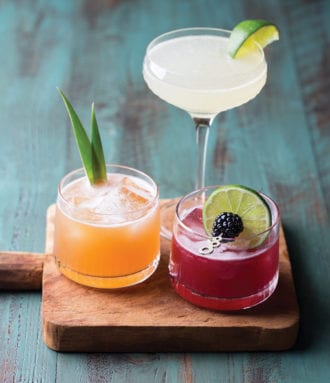 As the world's most popular fruit, bananas have been cultivated around the globe for hundreds of years. Sweet and creamy, banana is the starchy staple that lends distinctive depth to everything from puddings and pies to … cocktails? Shake a cocktail with muddled banana and you end up with a goopy mess, so how can you best transfer the flavor of banana to mixed drinks? Banana liqueur.
Mentions of banana brandy date back to the 1850s. By the 1900s that had evolved into crème de banane (or crème de banana), which led to some of the earliest banana liqueur cocktails, such as the Banana Bliss (Cognac and banana liqueur) and the Waterloo (bourbon, orange and lemon juices, and crème de banane), both from the 1930s. But fast-forward to the '80s, and things get a little off track with artificial ingredients and an abundance of sugar that tips an already-sweet product into something unbearably cloying. Today, however, producers including Bols, Monin and Giffard are bolstering the fruit's flavor in liqueurs—and, it seems, bartenders are going bananas for it.
A good banana liqueur adds the essence of pure banana flavor to a cocktail without notably altering the drink's viscosity or color. Banana liqueur is a natural match to aged rum and tequila; just add high-acid fruits like pineapple and lime. While bartending at Mayahuel in Manhattan's East Village, Jordan Brower mixed just such a combo with Giffard's Banane du Bresil—a liqueur made from a maceration of Brazilian-grown bananas (hence the name), mixed with concentrated banana distillate, Cognac and sugar—into his I Love Lamp Cocktail. "The natural maceration gives the liqueur a taste of pure banana," he says. "It's incredible."
Rum drinks are no strangers to banana liqueur; tiki classics like Don the Beachcomber's Tahitian Rum Punch and Jeff "Beachbum" Berry's Planet of the Apes use the ingredient to delicious effect. In Seattle, the rum-focused Rumba takes the iconic Banana Daiquiri for a sophisticated spin in the Daiquiri du Bresil. Banana liqueur brings "a tinge of wild tropical fruit, spicy vegetal notes and fresh, almost-green banana" to the glass, says previous general manager Kate Perry. "It's reminiscent of tropical flavors that will make you wiggle your toes in phantom sand."
Daiquiri du Bresil
Unlike most sticky-sweet banana Daiquiris, this liqueur-laced version remains bright and tropical.
2 oz. white rum
¾ oz. fresh lime juice
½ oz. banana liqueur (Rumba uses Giffard)
Tools: shaker, strainer, fine strainer
Glass: cocktail
Garnish: fresh lime wheel
Shake all the ingredients with ice, then fine strain into a chilled glass. Garnish.
Connor O'Brien for Rumba, Seattle
---
Like what you see? Get more of the best of liquid culture when you sign up for our bi-monthly magazine. Subscribe now and save up to 59%—it's just $21.95 for one year or $32.95 for two years. Click here for details.