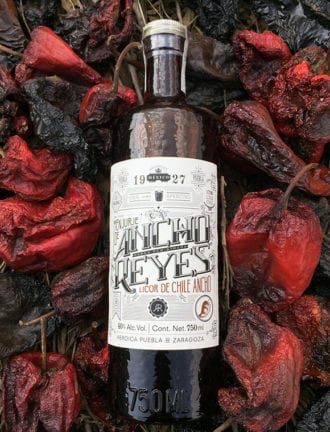 Adding the heat of chiles to cocktails can be tricky. Whether muddled fresh or dried and boiled into a syrup, peppers can vary in their capsaicin levels, yielding flavors ranging from slightly savory to overwhelmingly hot. Ancho Reyes Original, a liqueur made from dried poblano chiles, offers a solution to this conundrum. Praised for its balance of spice and smoky sweetness, the liqueur is finding a place on back bars across the country, and it's a natural match for agave spirits like tequila, mezcal and sotol. At Madre in Los Angeles, Ancho adds depth to the house mezcal margarita, and at Bastion in Nashville, it plays a similar role in the Spicy Paloma. Meanwhile, at Sweet Liberty in Miami, the Velvet Sideswipe brings a float of the liqueur to a mix of mezcal, pineapple, lemon and agave syrup. "The dry spice of ancho chilis sits very nicely alongside the fresh, vegetal flavors of tequila and mezcal," says bar manager Frasier Hamilton. "As a traditional ingredient in Mexican cuisine it also as adds an authentically Mexican element to any agave-based drink."
For an extra-bold flavor profile, Houston Eaves' Midnight in Mexico at the Esquire Tavern in San Antonio matches ¾ oz. of Ancho Reyes with ¾ oz. of Fernet-Vallet and 1½ oz. of mezcal. The cocktail ties together dark, bittersweet elements with smoke and heat of the Ancho. "Ancho Reyes brings layers of complexity to any cocktail," says Grey Ghost's Will Lee. At the Detroit bar, Lee uses the liqueur in the tequila-based Better Luck Tomorrow cocktail. "I was looking for a a savory, spicy, earthy note to help carry the sweet red bell pepper through the cocktail while helping the ginger flavor pop a bit more."
Ancho Reyes can also work well as a sweetener in hot toddies, coffees and hot chocolates, like this hot chocolate from JIMMY at the James in New York. And it can complement bourbon and rye whiskey, such as in the Pioneertown, a mix of rye, Ancho Reyes, sweet vermouth and amaro. Similarly, in the A la Los Angeles cocktail from Anna Wingfield at Everson Royce Bar, rye pairs with Ancho, Carpano Antica, Amaro Angeleno and a dash of Angostura bitters. "I used Ancho Reyes to bring out the spiciness of the rye and add rich dark chocolate and honey notes (giving it a nod to the classic cocktail that uses Benedictine)," Wingfield says. "The subtle smoke and the chili spice of Reyes pairs with the bitter orange from the Amaro Angeleno."  And in the Cherry Bounce Slushee from The Phoenix Cocktail Club in Milwaukee, Wisconsin, Ancho gets blended with bourbon, tart cherry juice, lemon and blackstrap bitters to create "a novel balance of sugar, acidity and spice," says beverage director Adam James Sarkis.
The liqueur has even found a home in drinks with tropical leanings, like the Femme Fatale from Dirty Habit in San Francisco, and Bua's Winter Punch, a mix of spiced and dark rum, Ancho, orgeat and pineapple. Bua bartender Gaston Graffigna says it makes for a blend that's "rich and luxurious but not heavy." In the Pro Tiki from Easy Bistro & Bar in Chattanooga, Ancho combines with rum, cachaça, grapefruit, lime, cold-brew coffee and tiki bitters, and at Junior Bar in San Francisco, the Concrete Slippers matches Ancho with cherry and apple brandy. "I wanted to give the drink a tropical profile," says owner David Ruiz. "The Ancho provides depth and warmth and plays perfectly with the ginger and apple brandy."
---
Like what you see? Get more of the best of liquid culture when you sign up for our bi-monthly magazine. Subscribe now and save up to 59%—it's just $21.95 for one year or $32.95 for two years. Click here for details.