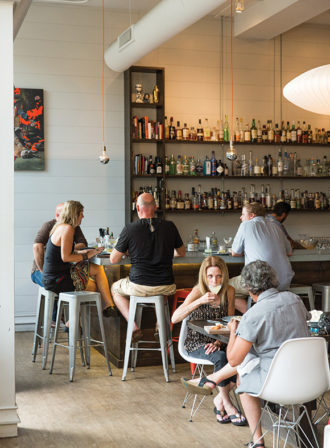 Ned Wight may have something a bit stronger than blood pumping in his veins. His great-great-great grandfather, John Jacob Wight, obtained and operated the Sherwood Distillery outside of Baltimore beginning in the 1850s, producing Sherwood Rye Whiskey. His family continued in the distilling business for the next century (with a hiatus during Prohibition, that is), until the last Wight distillery closed its doors in 1958. But in 2011, Ned Wight reclaimed his family legacy and opened New England Distilling in Portland, Maine. Having called the Old Port home for nearly two decades, we asked Wight to give us a guided tour through town describing his perfect day in Portland.
Read Wight's picks (in his own words) below, and for more tips on where to visit in the booming drink town, check out the November/December 2015 print edition of Imbibe, on stands now.
For me, there's nothing like the feel of the Old Port on a sunny morning before things get busy, so I start my day there. A stop in at Bard Coffee never disappoints. If it's cool out, I opt for a cortado—it's a tiny cup of deliciousness. If it's warm, I go for the cold brew on nitro. Coffee in hand, it's time to find breakfast. I head down to the waterfront to Standard Baking Co. for fresh baked pain au chocolate and a little brioche then across the street to find a spot on the wharf to eat by the water.
After watching the seals frolic at the end of Custom House Wharf, I head up Commercial Street where the median is filled with box trucks loading and unloading for the day. The end of Commercial links up with the Eastern Prom Trail for a walk along the water, and from there I start snacking my way across town. I head up Congress Street to check out my old neighborhood and stop in at Lolita Vinoteca & Asador where Guy and Stella Hernandez are usually willing to offer a few samples of Jamon Iberico de Bellota from the hand-cranked slicer. Now down Munjoy Hill to visit the folks at Eventide and help them take care of some of their oysters. For accouterments, I opt for the kimchee ice, horseradish ice and Tabasco ice. While I'm in the neighborhood I stop down at Vena's Fizz House to see what they've got for bitters, and maybe stay for a mocktail.
Next stop is Portland Hunt & Alpine Club (pictured) for a mid-day cocktail and to talk all things boozy with Andrew Volk. Then it's back up Congress Street toward the Portland Museum of Art where there's a photography exhibit featuring Rose Marasco that I want to check out.
By the evening, I'm ready for the small plates culinary tour of Portland. Boda serves delicious Thai street food—think lots of things on sticks. This time around I limit myself to an order of the Miang Kum Som-Oh and a Thai basil Tom Collins (which I order with our own Ingenium Gin). After Boda with appetite whetted, I head back down to the Old Port to Sur Lie, grab a seat at the bar and tuck into a plate each of the blistered peppers and the lamb shoulder. And I can't sit at the bar without ordering a barrel-aged Nectar of the Bogs made with our Eight Bells Rum.
I walk that off around the Old Port on my way down to see Patrick McDonald at Central Provisions to see what he's got stirring on the cocktail front. While I'm there may as well have a plate of something, like the smoked carrots, maybe some lobster fritters and, of course, another cocktail.
That will have to do for this perfect day—I need sleep, and probably a ride.