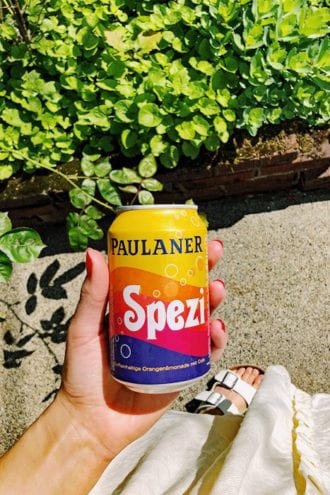 While we're all drinking at home for the foreseeable future, we thought it would be fitting to turn inward for our usual Drink of the Week column and share the drinks our staff is reaching for while inside. This week's entry comes from associate editor, Emma Mannheimer. We'd also love to hear from you, so tell us what you're drinking right now by using the #imbibegram #drinkoftheweek hashtags on twitter and instagram!
I can dream of batched freezer Martinis and listen to friends discuss which wines they're pairing for Zoom happy hours, but like many folks, I'm not drinking anything with an ABV these days. On my quest to find something to match incoming warm weather, I've been dialing into the aggressive bubbles and sharp snap of soda. Which led me to a gem named Spezi.
Spezi is the generic name for a cola blended with orange and lemon juices, or orange soda, originating in Germany and sold by many Bavarian breweries. While the name was first trademarked and sold by Brauhaus Riegele, a franchising agreement allows other brewers to manufacture and bottle the regional refresher, like the one from long-standing brewery Paulaner. Paulaner Spezi's Technicolor can nails a dry, citrus-perfumed cola that satifies my sweet tooth without going overboard thanks to its clean lemony zip. The soda's light carbonation and zesty bitter notes have earned it a special place in my new rotation of alcohol-free go-tos.