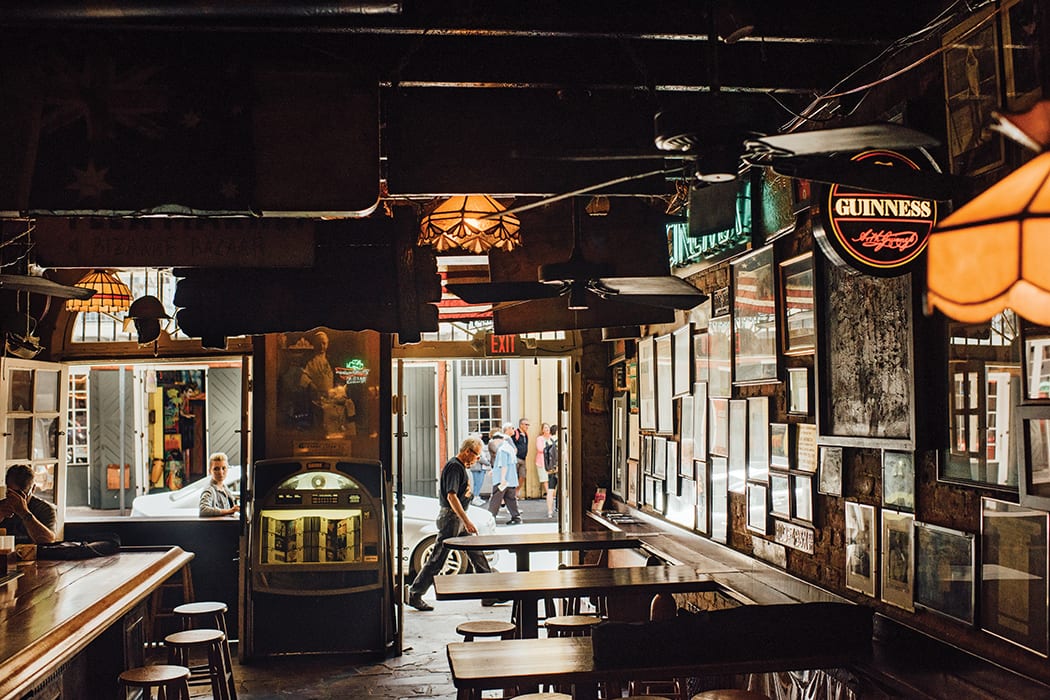 It's mid-afternoon in New Orleans and I'm sitting in a French Quarter barroom, thinking deeply about day drinking and communing with a long-dead pope over a frozen cocktail with a whiskey back.
Outside, it's bright and sunny; inside, it's dark, cool and quiet. From my bar table, I can feel an intermittent breeze through an open doorway and hear the muted "thwacks" of tourist flip-flops on the sidewalk. I'm facing a wall-sized portrait of Pope Pius XI that lords over the jukebox. (He looks disappointed, but what do you expect from a guy named Pius?) A dozen or so patrons—small groups, a few solo drinkers—provide just enough chatter to keep the bartender interested. It's an hour or so past lunchtime at Molly's at the Market, and all seems right with the world.
In New Orleans, locals like to consider day drinking a form of fine art.
In bars across the city—but especially in the well-irrigated Vieux Carré—it's possible to while away the hours after lunch with a cocktail or three, while watching the world go by (or cleverly avoiding said world).
Most other parts of the U.S. hew pretty closely to the Protestant myth of the cocktail hour in which the acceptable tippling time commences promptly at 5 p.m.—the first second of freedom after a complete and virtuous eight-hour workday. To sip before then, the myth tells us, is to violate the accepted social order, give into primal urges and risk the inevitable (yet often enjoyable) slide into moral turpitude. That bright five o'clock line is what separates Right Thinking People from lesser animals, and it reflects when God pours a Martini after kicking off his/her celestial shoes ("Oy, what a day…").
But as a historically French port city, modern-day New Orleans keeps its own clock, informed by three centuries of Gaul-infected history. First, there's the ambient Catholicism that's decidedly grog-friendly and doesn't really give a damn what the Puritans think. (Never has.) Mix that with a 300-year working-class saloon tradition and a well-developed Gratification Industrial Complex, and you've got a place where even the fanciest joints suggest midday Sazeracs without the slightest hint of judgment.
It's also about practicality and survival. A cool, dark bar is a natural haven during our extended summer swelter, and it's a convenient place to schedule an "off site business meeting" to cut a workday blissfully short. For a town that doesn't believe in last call, the daylight hours can be reflective times for bar patrons, as well as a chance to see an entirely different side of New Orleans' drinking and tourist cultures.
By virtue of location and legacy, Molly's draws a great mix over the course of an afternoon. Just a few blocks down Decatur from the Jackson Square/Café du Monde axis, Molly's half-door bar and sidewalk sign beckon wandering groups of travelers (sports fans, bachelor parties, church groups) for an affordable "why the hell not?" adult beverage.
But despite its allure to passing tourists, Molly's is a die-hard locals' hangout regularly overrun with off-duty newspaper reporters and other assorted ruffians. On a typical evening, it's the kind of joint that has the right balance of sturm und drang, enough chaos and roar to make any night interesting.
An hour on a weekday afternoon will get you a solid dose of people-watching fun and insight into the many different species of New Orleans Day Drinkers. Buddy groups intending to grab a quick beer end up staying for half a game; neighborhood denizens bound for a dinner shift drop by for a quick chat before work. Sorority sisters pit-stop for the bar's frozen Irish Coffee with a crunchy swirl of coffee crystals decorating their go cup. Some gulp down a refreshing Pimm's Cup to maintain a lunch buzz, while others sip as a segue to a well-deserved "I'm on vacation" naptime.
But my favorite is the Quiet Regular. She who sits at the head of the bar, glass of white wine at her elbow, sipping occasionally as she slowly reads her way through that day's New York Times. She's there through wave after wave of patron, signaling for another glass as she has a little quiet time—just her and Pius.