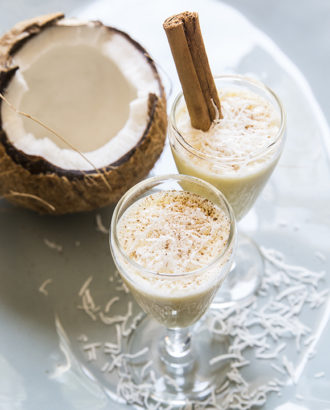 Puerto Rico's favorite holiday cocktail is an egg nog-like beverage with coconut milk (coquito means "little coconut"), rum and sweetened condensed milk. Author Vianney Rodriguez says every family has their own variation, and recipes often evolve as they are resurrected for each new generation. Here's her favorite Coquito recipe.
2 cups homemade coconut milk
1 (14-oz.) can sweetened condensed milk
2 cups Puerto Rican rum
4 egg yolks, lightly beaten
Ground cinnamon
Tools: blender
Glass: small glass or shot glass
Garnish: cinnamon stick
Blend the milks, rum and egg yolks until frothy; chill in the refrigerator. Pour into glasses, sprinkle with cinnamon and serve with cinnamon sticks. Makes 4 cups.
Homemade Coconut Milk: Combine 1 (8-ounce) package of unsweetened shredded coconut with 4 cups of hot filtered water in a blender and blend until creamy. Line a bowl with dampened cheesecloth. Pour the coconut milk into the cheesecloth and squeeze out any excess liquid. Store in a jar in the refrigerator for up to 1 week. Homemade coconut milk will separate, so shake before use. Makes 4 cups. When fresh coconut milk is required, but not available, use a BPA- free can of unsweetened coconut milk. Shake the can vigorously before opening. Pour the coconut milk into a bowl, and let stand for several hours. Then squeeze through cheesecloth.
Reprinted with permission from Latin Twist: Traditional & Modern Cocktails co-authored by Vianney Rodriguez and Yvette Marquez-Sharpnack.