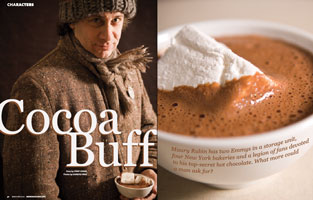 Maury Rubin has two Emmys in a storage unit, four New York bakeries and a legion of fans devoted to his top-secret hot chocolate. What more could a man ask for?
Five-foot-seven, in his 50s and often clad in something he acquired from a vintage store—a loose cardigan sweater, a retro button-down shirt peaking beneath—this baker/businessman wears his artistic temperament well. He has an ease about him and a bohemian sense of style. "You can tell Maury is a guy who dreams a lot and is always thinking about creating new things," says Paris native turned Manhattan event planner Alexandre Di Lolli. "I met him as a customer in City Bakery in 1999. We've been friends ever since. First, he's a people person. But more importantly to what he does, he's an artist."On any given day, Maury Rubin is usually wearing one of two things: an errant dusting of flour or ink smudges on his fingers. The former is understandable given his current role as proprietor of four popular bakeries in Manhattan; the latter betrays a life-long love for the morning newspaper and a journalism career he abandoned in the name of creative passion.
Rubin's art comes in the form of hot chocolate—something for which he's become well known, dreaming up countless variations of his top-secret, signature recipe. Born of a happy accident one day when a chocolate cake went awry, Rubin's hot chocolate is sinfully dark, rich and thick—like pure melted chocolate—and ultimately so seductive that it's launched a cult-like following. But that fanaticism has also bred obsessive secrecy over the recipe. Rubin chuckles when asked about rumors that the recipe is listed in his will. It's not. Still, he's completely evasive about what goes into it, how it's made and who knows how to make it, only revealing that the chocolate comes from France. "A few of my highly trusted employees know the recipe—I know where they live, though," he jokes.
But let's back up a bit, because Rubin wasn't always selling hot chocolate. At one point, in fact, he was busy winning Emmy awards. Rubin grew up in the suburbs of Baltimore, where music and sports consumed most of his time, and though he remembers his mother as a good cook, he never had a desire to experiment with food. "My first real job was at Baskin Robbins—I guess that was sort of my foray into what some might call 'fine foods,' " he laughs. "If you think of 31 flavors … in the suburbs of Baltimore in 1970? I guess that was an out-there concept back then."
As an adolescent he was quirkily devoted to newspapers, and after high school he enrolled as a journalism student at the University of Maryland. "I would drive to North Carolina or Boston and work as a coffee gopher for the ABC people," Rubin recalls. "When I graduated in 1981, I knew people and worked part-time for ABC Monday Night Baseball that summer and fall. By winter, I was hired full time by Howard Cosell and moved to New York City."
Logging in long hours as an assistant to the producer and answering directly to Cosell, Rubin had landed his dream job. Within nine months, he was promoted to associate director. Producing followed, and by the age of 23, Rubin had won his first Emmy, followed by another for directing two years later. "I was learning about the world through the eyes of New York City," he says. "Here I was, traveling on ABC's expense account at the age of 24 or 25. I got very turned on by food, and it moved into the realm of obsession. I planned a whole segment once on San Francisco—now I realize it was mainly because I wanted to visit restaurants there."
Cosell's retirement in 1986 gave Rubin a holiday, so he booked a flight to Paris for a short vacation. There, in the most romantic city in the world, a single, young Rubin fell head over heels—with the city's bakeries. "Bakeries are tradition-bound," he says. "They're about the sentimental … about generations, and they please people. They're the most comforting things you come across when walking down a street." He enrolled in a six-day pastry course near Lyon and upon completion was so hooked, he knew returning to New York was not an option. He traded in his corporate job for an unpaid apprenticeship in a small Parisian bakery called Rousseau-Seurre Patisserie on Rue des Martyrs. "I got this incredible, hands-on education because it was a working-class neighborhood bakery," he beams. "The food we produced there was such a thread in the fabric of French life."
After a year of baking in France, Rubin returned to New York and began working in a slew of bakeries, supplementing his income with freelance television work. The first few years were tough, as he bounced around from an Upper East Side pastry shop to a Maine resort, all the while looking at what he considered the dismal state of bakeries in America and wondering if he was craving a sweet life that no longer existed. "I really felt the bakery business was becoming extinct in America," he recalls. "Bakeries in New York City to me were surprisingly uninspired. They seemed like tired businesses on their last legs." Rubin looked at the ingenuity that was shaking up the restaurant scene and knew he could channel the same kind of energy into a bakery. He wrote up a business plan, but it took nearly three years to raise the money he needed.
Then, two weeks before he opened City Bakery in December of 1990, Rubin set out to make a chocolate cake in his apartment kitchen. When the ingredients didn't yield the results he wanted, he started tinkering with what was left in the bowl, and that's what led to his hot chocolate. "I knew immediately I was on to something that day," he says. "It was my ideal cup. I put that hot chocolate on the menu the first day we opened up—the exact same recipe [we use today]. To me that's so significant. It's been with me all these years."
Rubin's hot chocolate gave New York its first taste of the ultra-rich styles common in Europe. "It was City Bakery that moved hot chocolate from the dark age of cocoa and water to bar chocolate and a thick, intense style," he says. In return, Rubin got a canvas, an outlet for his creativity. Almost immediately he began experimenting by adding flavors to it, and in 1991, he launched his first Hot Chocolate Festival. Really more of a promotion than an out-and-out festival, it's the only time Rubin offers variations of his hot chocolate—a new one each day of the month—and people come in droves. "My favorites are those who are here every day like clockwork during February," he says. "I notice their new routine, but I don't let on that I know they're coming here as often as I am."
Over the years Rubin has created nearly 30 variations, everything from chile pepper hot chocolate to pomegranate-espresso hot chocolate and the über-popular banana-peel hot chocolate. His approach is to "push the collective palate." Beer hot chocolate, made using a variety of darker lagers and stouts, is a particularly adult flavor, which Rubin describes as vexing and seductive. "This year, I'm working on what I say is a one-dimensional blending of chocolate, beer and brown sugar, and then I'm doing the same drink in reverse: beer, chocolate and brown sugar—in that order. It makes completely different drinks," he gushes.
Rubin's hot chocolate is only available at City Bakery, not his smaller bakeries called Birdbath. Even so, he says he'll go through a few hundred cups of regular hot chocolate on a slow day, and come winter he'll sell more than a thousand a day.  "In this day and age," he says, "in a foodie's world gone mad, it's no stretch whatsoever to say that many customers are, indeed, fanatics about the hot chocolate."