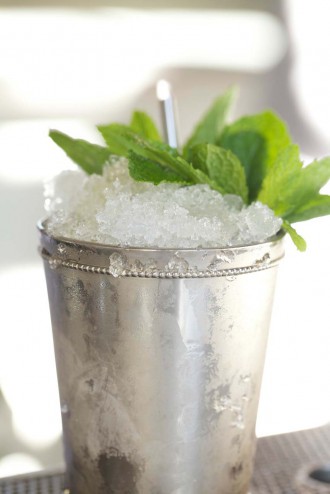 As simple as it may seem, not everyone knows how to make a perfect Mint Julep, that classic mix of bourbon, mint, sugar and crushed ice. Here are a few places around the country making perfect versions of the classic souther cooler. And get tips from bartender Chris McMillian on making a perfect Mint Julp.
The Crunkleton
Careful not to extract any bitterness from the mint, bartenders at the Crunkleton gently squeeze the herb between their fingertips and then combine it with a healthy dose of bourbon and a splash of pure cane syrup. The flavors meld perfectly while bartenders crush the ice under a wooden mallet. Then they pack the ice into a traditional julep cup, strain the bourbon mixture over the top and garnish with a generous sprig of mint.
The Gin Joint
The Gin Joint's No. 1 Mint Julep is adapted from Dave Embury's Fine Art of Mixing Drinks and is an ice-cold mix of Buffalo Trace bourbon, sugar and crushed ice all topped with a bouquet of mint and a few fragrant drops of homemade mint-infused Everclear tincture—proudly served in frosty julep cups belonging to chef and co-owner, MariElena Raya.
Hard Water
For this julep, Erik Adkins saves the bourbon for last, drizzling it over the top of a bed of crushed ice.
Proof on Main
This popular Louisville bar is known for its Mint Julep (pictured above), and with some 50 bourbons to choose from behind the bar, there's plenty to work with—crushed ice, a fresh bouquet of mint and a silver julep cup are the icing on the cake … or cocktail.
The Silver Dollar
"The Mint Julep is such a simple drink that it's easy to mess it up by trying to over-complicate it," says Silver Dollar managing partner Larry Rice." Instead, Rice says the best juleps come from a combination of quality ingredients and expert execution. For his julep, Rice always uses 100-proof (or higher) bourbon ("We're in Kentucky, afterall," he says) in order to counteract the dilution of the crushed ice, the freshest mint he can find ("Just gently bruised," he advises, "otherwise the drink will take on a weird vegetal note") and a splash of demerara simple syrup, which rounds out the drink with a bit of body and a subtle maple note.