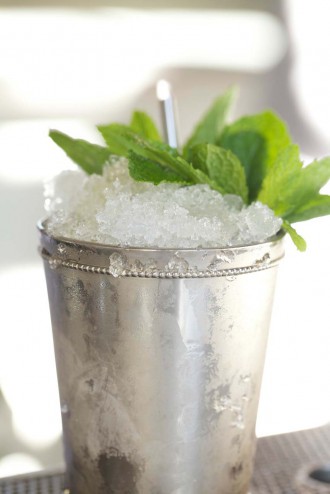 For this Hard Water Mint Julep, Erik Adkins saves the bourbon for last, drizzling it over the top of a bed of crushed ice.
2 oz. bourbon
⅓ oz. gomme syrup (or 2:1 rich simple syrup)
6 mint leaves
Tools: muddler
Glass: Julep
Garnish: 3 fresh mint sprigs
In the bottom of a Julep cup, gently press the mint leaves with the muddler to extract the oils. Fill the cup with crushed ice and insert a straw. Slap the mint leaves for garnish between your palms and place next to straw. Drizzle the bourbon on top, wait for the cup to frost, then serve.
Adapted by Erik Adkins for Hard Water, San Francisco