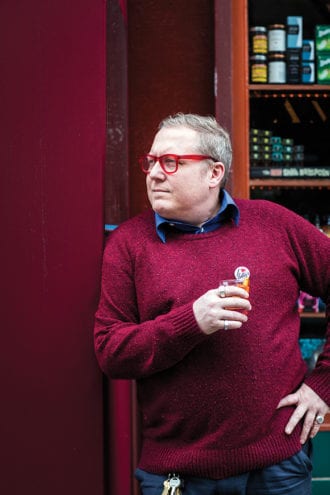 Sother Teague is a known figure in New York City's cocktail community—a familiar face behind the bar at Amor y Amargo in the East Village, a partner in the charity pop-up Coup, co-host of The Speakeasy podcast, and former president of the local chapter of the United States Bartenders Guild (USBG). But as Shanna Farrell explores in our May/June issue, while Teague was establishing his reputation in the city's bar culture, he was also continuing a lifelong battle against anxiety and depression. Now, Teague is a vocal advocate for colleagues suffering similar conditions, and he's among those searching for solutions to help other bar and restaurant workers find the support they need.
A broken arm from a bike accident prompted Teague's outspoken turn. "It forced me away from what I consider my coping mechanism—extra work," he says. Over the years, Teague had taken on additional jobs and piled on responsibility, which kept him too busy to think about his mental condition, but being sidelined with a broken arm changed everything. "When I'm in a position where I can't work, it put the spotlight on my mental health—I had about 80 extra hours a week to fill," he says.
Initially, Teague tried to act like everything was fine—he used the hashtag #unkillable in his first social media post after his accident—but he increasingly felt shaken. "I was sitting in my house with only one arm—overeating, overconsuming and spiraling into self-pity—but trying to maintain a face on social media that everything's cool," he says. But he'd noticed other bartenders posting about their struggles with anxiety, depression or substance abuse, and he saw the support they received from the community, so on May 20, 2017, Teague shared his own story on Facebook.
One of the friends who saw Teague's post was Kat Kinsman, a longtime food journalist at outlets including Extra Crispy, CNN's Eatocracy and Tasting Table, and the author of Hi, Anxiety: Life With a Bad Case of Nerves, a book detailing her own mental health struggles. In early 2016, Kinsman had launched the website Chefs With Issues, dedicated to stories of mental health and substance abuse among restaurant workers. "I'd been a food editor and writer for about 11 years at that point, and it kept coming up," she says. "There'd come a point in the conversation when they'd say, 'Can I talk to you about something?' And it'd be their own mental health, or someone in their kitchen. It happens once, fine; it happens a couple of times, okay; but it started happening all the time, and it was clear there's something going on here—there's something tied to the restaurant way of life."
The suicides of high-profile chefs, including Homaro Cantu in Chicago in 2015 and Benoit Violier in Switzerland in early 2016, only underscored the significance of the problem. "There's such a jarring dissonance when these people who devote their lives to serving and caring for other people, aren't taking care of themselves, or being cared for," Kinsman says. Giving chefs and other restaurant professionals a platform to tell their stories, and to support others, was a huge step. "It's very isolating to have mental illness, but once you realize it's not just you, your whole world opens up," she says. "They're generous, beautiful souls who want to make other people happy, and they're the first to raise their hands to help each other."
"There's such a jarring dissonance when these people who devote their lives to serving and caring for other people, aren't taking care of themselves, or being cared for," Kinsman says.
Bars and restaurants are largely staffed by people seeking an alternative work option to the standard 9-to-5. That can both attract a wide range of personality styles (and sometimes, mental issues), as well as create an environment where such issues can incubate—particularly in the bar. "Our industry is made up of rejects from every other industry," says Jack McGarry, co-founder of The Dead Rabbit and BlackTail in New York City. "I've never met anyone who set out to be in this industry—you're attracting a bunch of people from different backgrounds, and putting them in a dark room and a culture all about drinking. That's a good thing and a bad thing, all rolled up into one."
McGarry's personal experience speaks to the issues facing bartenders. McGarry moved from working behind one of the world's most highly acclaimed bars, at The Merchant Hotel in Dublin, to opening Dead Rabbit in 2013, which was rapidly recognized as among the world's best. Nothing had prepared him for the publicity, or the stress. "I opened Dead Rabbit when I was 22 years old, and we had a tremendous amount of publicity—I felt like I had such a weight on my shoulders, and the thing that helped me through was alcohol," he says. "It worked for me for a while, but at a point, it stops working—and then it just became about survival. And it got to the final stage of desperation, I couldn't continue like this—the pain was unbearable. I was using alcohol, I was using the celebrity of the bar, to run away from all my problems."
Everything came to a head on March 26, 2016. McGarry had stopped drinking two months previously, and doctors and psychiatrists had prescribed an array of medication for depression and anxiety; he was putting on weight, and he felt unable to contribute anymore. He'd had enough. "I thought, 'Fuck it, I'll go out and get hammered,' " he says. "I got drunk to the point where I can't remember anything, and on my way back to my apartment I went to four or five different places"—he later retraced his steps using a bank statement detailing use of his card—"and bought a bunch of sleeping tablets. I blended them all up and drank them, and I must have called the ambulance. The next day I woke up in the hospital, with my stomach pumped. That was rock bottom."
What also distressed McGarry was that, considering the success he'd been enjoying, his story should have been so different, yet it's a similar situation experienced by many of his colleagues. "I felt I shouldn't be doing this—the bar's doing well, I have this reputation, and everything on the veneer was that I had nothing to be depressed or anxious about," he says. "But when I hit rock bottom, I knew I had to get better. I knew I had to go into therapy and get help, but I also knew I needed to talk about this openly. We don't talk about this as an industry. The [cocktail] festivals are all about drinking and entertainment, and all the big companies have the same 'Drink Responsibly' thing, but nobody's doing anything—there's no education about it, or talking about looking after ourselves. We're not built as an industry to look out for these issues. For me, the very first step was to talk about it openly, and that's what I've done, along with Sother, Giuseppe [Gonzalez, another New York bartender open about his own recovery], and others. It's all about building an industry that can help people when they're in this spot, and get it out in the open."
Substance abuse is rife throughout the hospitality industry, and for bartenders, alcohol can pose a unique threat—it's the source of both your livelihood and, potentially, your biggest problem. "You're the fox in the henhouse, and nobody's watching," Teague says. "There's an opportunity to be radically out of control, and it's literally at your fingertips."
The party atmosphere of a bar, and the master of ceremonies role—the need to always be "on"—that comes with tending a busy bar, can also contribute to a bartender's problems with depression, anxiety and substances. "You get to a spot where you start to resent the position," Teague says. "I have to hit the reset button sometimes when I go into work, and I'm not into it at all, and I have to put on this fake thing. No shift here is shorter than 10 hours, but it's really 12 hours, because I'm mentally gearing up for two hours before going to work. You have to prepare yourself for that person to walk in who's difficult, or you have to gear yourself to give people they experience they're looking for—there are all of these crazy expectations that are there. That creates a huge internal pressure on someone, especially if you have anxiety issues."
Kinsman agrees. "You feel like you have to be on, and sparkle more brightly than anybody else," she says. "Depending on the clientele, it can really pump you up and make you love humanity, but it can be very draining—to flip that switch and be on, even if you feel like a worn-out husk of a human being, it can be incredibly exhausting. People don't realize the emotional labor that goes into being front of the house like that."
Substance abuse is rife throughout the hospitality industry, and for bartenders, alcohol can pose a unique threat—it's the source of both your livelihood and, potentially, your biggest problem.
When Teague posted his story on Facebook last year, Kinsman got in touch, asking if he'd share his experience with a larger audience. His story was published on Chefs With Issues the following day, and the outpouring of stories and support from other bartenders and restaurant workers was both energizing and overwhelming, Teague says. But what it also prompted was a greater understanding of the need to share similar stories, and to help others in similar circumstances to find the help they need.
Chefs With Issues offers a number of suggestions for available resources (many of them free, or low-cost), and the Facebook group with the same name is very active, with more than 700 users. "If someone is in active crisis, they can text 741-741, which is a crisis text line," Kinsman says. "I've been through their training—it's an amazing resource, and it's free. If someone is in a dire state, they can talk them back from whatever they're dealing with and help find local resources. You don't have to give them personal information, but they can help you find local resources that are free or low-cost."
Kinsman also notes resources such as Ben's Friends, a group composed of industry professionals in recovery and started in Charleston, South Carolina, by three chefs who came together after a friend relapsed and died. "And the [Chefs With Issues] Facebook group is helpful because this can be so isolating, and finding community is important," she says. "The beauty is that people come together and form a life raft for each other—that generosity of spirit comes into play."
The first step, these professionals agree, is to start a conversation. "People are willing to help—it's a matter of making that first overture," Kinsman says. "I think when Sother was willing to put his story out in the world, it cracked open so many conversations. I can't overstate his bravery and generosity in doing what he did. He shined some light into the cracks, and I can't imagine how many lives he's touched by doing that."
McGarry emphasizes that the bar industry as a whole also bears responsibility for helping its members find the support they need. "There are so many people in this industry who've had to leave, or are dead—we don't have to lose people that way," he says. "Liquor companies have huge budgets, they're always using bartenders to sell their products, and they have a responsibility to help those bartenders, as well," he says.
Now that he's two years into recovery, McGarry is looking at ways to help others in the industry. "When I started talking about this, it helped me. But now that we can have a conversation about it, what are the next steps?" He's currently working with a nonprofit called Restaurant Recovery, exploring the very early stages of a project that's aimed to help bartenders and restaurant workers without health insurance arrange consultations with therapists and psychiatrists. He's also looking at ways to make recovery and support more realistic options for bartenders, by aiming at having regular meetings in New York to share stories and everyday issues. "It's very different from your regular AA meeting—being away from alcohol isn't a reality for bartenders," he says. "It's about learning how to look out for your mental health in this industry. We're losing tons of people. We need to look at this industry, and bring it into the 21st century."
---
Like what you see? Get more of the best of liquid culture when you sign up for our bi-monthly magazine. Subscribe now and save up to 59%—it's just $21.95 for one year or $32.95 for two years. Click here for details.