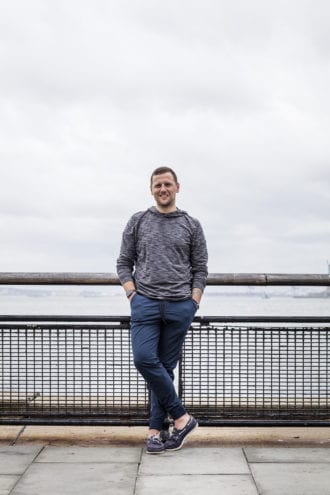 Jack McGarry is one of the world's most accomplished bartenders, having worked the award-winning bar at Belfast's Merchant Hotel before going on to co-found New York City's Dead Rabbit—widely recognized as one of the world's best cocktail bars—as well as BlackTail, also in New York City.
But this isn't about the cocktails.
Even as McGarry raked in accolades for his talents and his bars, alcohol abuse and depression drove him into a spiral of despair, culminating with a blackout-drunk suicide attempt in 2016. With medical treatment, therapy, and the support of his family and friends (and, significantly, his insurance provider), McGarry is now in recovery. But recognizing that he's far from alone in the bar and restaurant industry when it comes to grappling with substance abuse and mental health, McGarry became an outspoken advocate for access to treatment and services. And now, as the vice president of Restaurant Recovery—a non-profit organization dedicated to finding and providing support to those in need—McGarry is playing a particularly vital role in today's bar culture.
"When I was getting sober, I realized that I was at a huge advantage because I had health insurance—but a lot of bartenders don't have that," he says. "That's very troublesome. I wanted to make sure that my long-term plan included working with a company or non-profit that allocates resources for people to get better. It's all well and good for us to talk about mental health and drinking responsibly, but there's no actual way to get better if you're a bartender and you don't have insurance."
Having worked in bars his entire adult life, McGarry has seen a constant stream of colleagues face similar situations as those he experienced. "You take people from different backgrounds, put them in a dark space filled with alcohol, and it's going to be a breeding ground for these types of issues," he says. Helping others who are struggling with the same problems is increasingly a part of his process of recovery, he says. "When I first realized that problem, I used my platform. We have problems in this industry in terms of mental health, and there's no harm in talking about it, no stigma. But it takes more than talk—we need to be aggressive. There's a certain point where it's self-indulgent to talk about your recovery, I wanted to make sure we're doing work that makes it easier for the next generation coming through."
Working with other bar and restaurant professionals, McGarry saw an opportunity for an organization like Restaurant Recovery to fill an important role. "Bartenders and people in the restaurant industry identify their problems, and we can intervene in terms of getting mental health professionals involved," he says. "Another aim is to set up meetings within multiple cities so if you do have issues, you can talk to people in the industry and see how they're doing. If you go to AA, you'll often run into people who are hard line [against alcohol]. I don't think you have to leave the industry—you can work here, provided there are structures in place. It's allocating resources, connecting the dots for people in the industry, and getting support—that's what we're trying to do."
Restaurant Recovery is still in its infancy, but 2019 should see the organization's first steps. In addition to fundraising to support the organization's goals—part of a total-transparency program designed to build trust among both the bar community and the organization's funders—McGarry and the nonprofit's team are spreading the word about the organization, with an aim at starting and refining operations in New York City and Miami before expanding nationally in 2020.
McGarry sees an initial goal as having a strong presence in New York, with a working plan for engaging mental health professionals. "The other thing would be to have monthly meeting, like Ben's Friends [a support network founded in South Carolina by friends of a chef who committed suicide following a relapse]," he says, with financial and outreach support from some of the same distributors and spirits companies that regularly turn to these bartenders for help in promoting their brands. "It's a difficult dance in this industry when you talk about addiction—a lot of these brands have large resources for 'Drink Responsibly' [an effort from the Foundation for Advancing Alcohol Responsibility, a not-for-profit created and funded by large liquor companies], and I think there's something there we can do together."
---
Did you enjoy this article? Get more of the best of liquid culture when you sign up for a print or digital subscription to Imbibe Magazine. Click here for special savings!