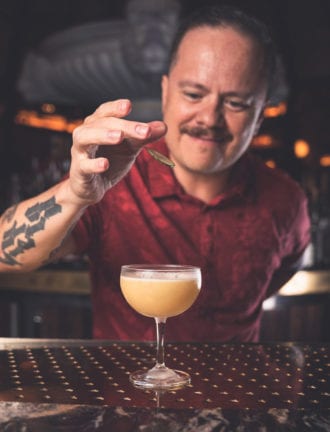 San Diego bartender Erick Castro has a knack for immediately putting guests at ease when they walk into his podcasting studio, a small but well-outfitted nook in the back of the one-bedroom apartment he shares with wife Amelia (who edits the episodes these days). Known for his genuine warmth and seemingly endless supply of energy and positivity, Castro is a career bartender, with a resume that spans both coasts, at bars like San Francisco's Rickhouse and Bourbon & Branch and New York City's Boilermaker. These days, he can be found at San Diego bars Raised by Wolves (our 2019 Cocktail Bar of the Year) and Polite Provisions (our 2014 Cocktail Bar of the Year), but he still finds time to host his weekly Bartender at Large podcast.
Aimed towards "hardcore cocktail lovers," the four-year-old show has featured bartenders, bar owners, brand ambassadors and more, including guests like Bobby Heugel, Jillian Vose, Julio Cabrera, and Ashtin Berry (and our very own Paul Clarke and Emma Janzen), and each episode delves into matters both entrepreneurial and spiritual. As the podcast reaches its 200th episode,  we caught up with Castro to talk about the evolution of the show, some of its most notable guests, and where things go from here. This interview has been edited for clarity.
Imbibe: Before we dig into the backstory of the show, tell me who you picked for the 200th episode! 
Erick Castro: Dale DeGroff, the cocktail legend and someone that we have been trying to sit down with for a few years now, but for one reason or another we could never make it happen. I am super excited to finally be getting him on for a special two-part episode. He is someone that has been such a huge inspiration to me and so many other bartenders out there that it's going to be great to have him on.
200 episodes is a lot, especially for a weekly show. Did you have this kind of longevity in mind when you started the podcast? 
When we first started the show, we never in a million years thought that it would make it to episode 200. Initially we started it up to get the word out regarding our documentary of the same name, but it's funny because eventually the show took on a life of its own and eventually eclipsed the film altogether. Today we probably have listeners who don't even know that there was ever a movie to begin with, but we don't mind because the show just keeps getting better and better as time goes on. 
When did you feel like it really started to take off?
Honestly, I don't even think the show got good until around episode 50, the episode where we addressed experiencing burnout in the bar industry. Before that, we had this idea of what the show was supposed to be—we thought we always had to show the happy side of the industry, but that's not realistic. On a fundamental level, we are all human, and it isn't necessarily natural for any given human to always be happy, and because of that we decided to address it. The audience response to that one was overwhelming. It gave us the encouragement that we needed to allow the show to evolve naturally, while giving us the confidence to pursue a wider variety of topics, such as addiction, mental health and inclusivity. 
Tell me about a particularly memorable interview or two.
In addition to the one on burnout, another episode that changed the trajectory of the show and expanded its parameters was when we had Nectaly Mendoza of Herbs & Rye on and discussed his path to sobriety. Because substance abuse has been such a taboo subject within the bar world for so long, our audience was elated and relieved to finally hear their peers in the industry speak about it without holding back. That was by far the most overwhelmed we had been up until that point in regards to audience response. Afterwards, we got flooded with DMs and emails from listeners who said they broke down in tears while listening to the show. That is when we truly realized the reach and responsibility we had.
That must have been a pivotal moment for you. Reflecting back now, what impact do you think this podcast has had on the bartending industry, ahem, at large?
HAHA, I don't know if I am really the right person to answer this question, but I guess on the serious side, I would really like to think that we have helped to play a part in normalizing the bartender experience within the community in regards to some of the heavier topics that I just mentioned. In other words, I hope that we helped remind them that are not alone and that others have overcome and dealt with the very same issues that might be plaguing them. On the lighter side, I hope that we have helped inspire them to dive deeper into the craft and gain a bit more knowledge into the world of spirits and cocktails. If we could manage to do any of that while entertaining them in the process, then that would be more than we could have ever hoped for.
Will there be a 500th episode? A 1,000th?
The success of the show has been such a blessing and we have been pleased to see it continuing to grow, so we have no plans to stop. If anything we have really ramped up our global reach over the last year or so by interviewing more and more talent from around the world. We always want to make sure that the show is bringing everyone the most relevant information in the industry and quite often that requires us to make sure that we are showcasing the best from around the globe and not just the USA and Canada.
Do you think you'll ever run out of topics to talk about?
No way. As long as as there are cocktails being made and bars still serving them, there will always be important and topical discussions to be had about them. Whether we are talking about diversity behind the bar or the minutia of modern distillation, we will always find a way to boil down that information for everyone while still having fun.
---
Did you enjoy this article? Get more of the best of liquid culture when you sign up for a print or digital subscription to Imbibe Magazine. Click here for special savings!