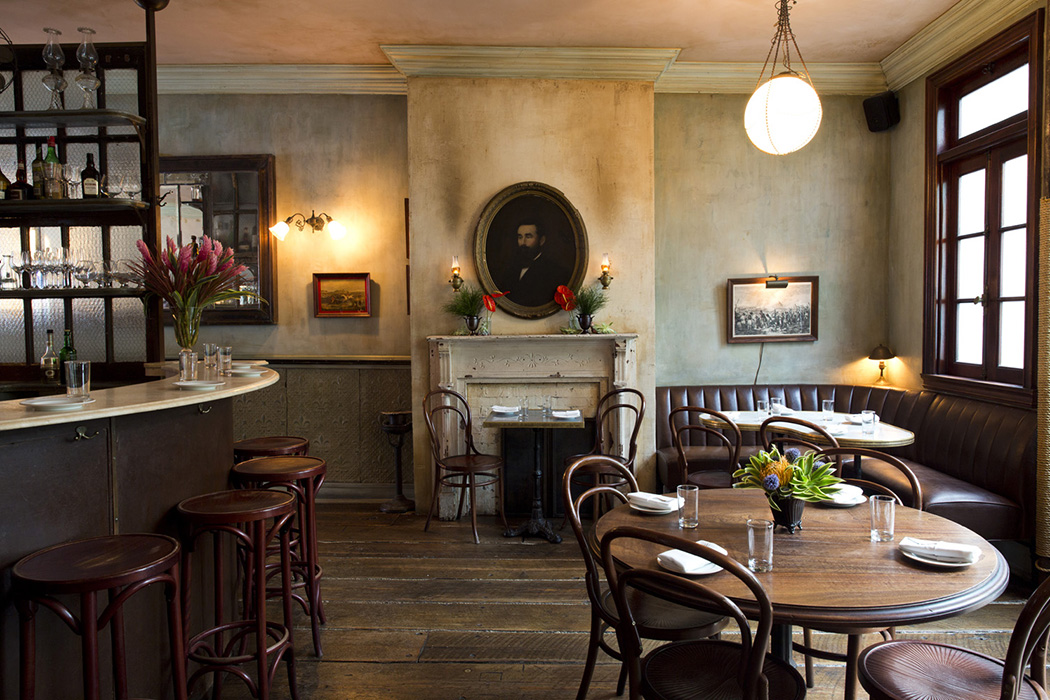 A well-designed interior is one of many elements that can elevate a drinking experience from good to memorable, and that was the inspiration behind our March/April 2016 Design Issue, where we feature 50 of the most beautiful drinking spaces in America. But beyond our own choices, we were curious to find out which interiors bartenders admire most. From the creative minds behind Death & Co., Leyenda, Polite Provisions and more, here are their picks.
Arnaud's French 75, New Orleans
Manifesto's Ryan Maybee is a fan of classic bar design. "I love a long, straight bar that is situated close to the front door; I don't think it's a good idea to require guests to navigate their way through a dining room full of tables in order to grab a barstool. It's also imperative that the bar have simple amenities like a footrail, hooks and comfortable stools, and lighting is also a priority, with plenty of lights that can be dimmed, and candlelight to create a glow." For these reasons, Arnaud's French 75 is his top pick. "It's classic, beautiful and timeless," he says. "And while it's upscale, it is also incredibly warm and welcoming."
Dear Irving, NYC
The venerable Julie Reiner (of Clover Club, Flatiron Lounge and Leyenda) says Dear Irving in New York City is one of her favorite bar designs. Bartender Meaghan Dorman and Delphone Mauroit (who also designed Raines Law Room and The Bennett) creamed up the lush, fanciful interior. "The decor is sexy, comfortable and warm, and the cocktail menu is always topnotch," says Reiner. "It's a great date night spot as well."
Smuggler's Cove, San Francisco 
"I am someone who always puts a high value on the look and feel of a venue," says Erick Castro (of Polite Provisions and Boilermaker). "After all, designing a space and the way it's put together takes just as much thought and creativity as a chef or bartender putting together a menu." Castro loves the tiki-soaked interior of Smuggler's Cove. "The look and feel of the bar never compete with the service and cocktails. Instead it works in tandem with the offerings to further accentuate the experience. This is what every bar should aim to achieve; a transformative experience with no disconnect in aesthetics."
Bar Agricole, San Francisco 
David Kaplan of Proprietors, LLC (Death & Co., Honeycut, Normandie Club, The Walker Inn, Nitecap and One Fifty One) picks Bar Agricole as one of his favorite spaces in the country. "It's stunning for its modern minimalism, and the drink program is just as impactful," he says. Designed by Aidlin Darling Design, the design references the surrounding urban neighborhood with industrial materials contrasted by softer, natural elements, such as reclaimed wood and plenty of natural light.
Midnight Rambler, Dallas
Another of Kaplan's favorite bars can be found in the basement of The Joule Hotel in Dallas. With a drinks program run by Chad Solomon and Christy Pope (Cuffs & Buttons, Milk & Honey family), the bar's design—schemed by owners Headington Companies— is inspired by the dark glamour of old-school rock and feels like the underground dwelling of a "wealthy art collector with phenomenal taste," Kaplan says. "The space feels very luxe but bullet-proof enough to throw a great party. The cocktails are some of the best in the world, and the environment lives up to the libations."
Maison Premiere, NYC
It might seem obvious for a New Orleanian to love a bar so heavily influenced by his home city, but Neal Bodenheimer (Cure, Cane & Table, Bellocq) can't resist the interior of New York's Maison Premiere. "It's an amalgam of all of these classic places that I love, but put together in an original way," he says. "Great design is transporting, and Maison Premiere makes me imagine that I'm walking into an idealized version of the Old Absinthe House, before our trademark New Orleans decay had its way."