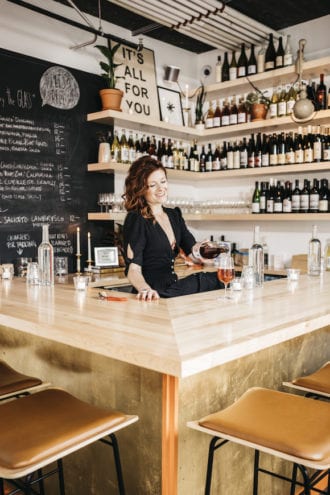 "Wine folks are always trying to out-cool each other. I'm not here for that," says Lauren Friel, talking about her new wine bar Rebel Rebel. Though the name may be in homage to David Bowie, it's also an apt descriptor for Friel's approach to wine—and one of the reasons she landed on our 2019 Imbibe 75 list of People to Watch.
Friel tends to do things her own way. It's how she went from studying poetry at Harvard to transforming a casual interest (first in cheese, then in wine) into a full-fledged career. She worked as wine director for Sarma and Oleana in Boston. She founded her own consultancy, VinDrop, and wrote wine programs for shops and restaurants up and down the East Coast, including an acclaimed all-female list for Dirt Candy in New York City. But with Rebel Rebel, Friel finally has the opportunity to build a wine list for her own bar. "I thought, 'What would my perfect wine bar be?' Because if I'm gonna do this, it's going to be 110-percent exactly what I want it to be," she says.
Located in Somerville's new Bow Market, a rehabbed storage facility that provides retail space for more than 30 independent businesses, Rebel Rebel is Friel's micro-sized dream come true. "My favorite places are the tiny Paris wine bars where you're spilling out into the street, and people are hanging out on the sidewalk just drinking, and there's no food. Or maybe someone has a bag of potato chips. Those are my favorite places because it's about community and hanging out with your friends."
While working with such a limited amount of space would be seen as a hindrance to some, Friel uses it to her advantage by curating a dynamic, ever-changing program. "When your list is tiny, there's no room for bullshit. Some of the wines land in baller territory, and some are everyday stunners, but they're all special for one reason or another."
Working with only about 50 labels at any given time, Friel's diverse selection of natural wines includes everything from old-vine California Riesling to under-the-radar Greek wines, for which she is an unofficial but enthusiastic ambassador. "Besides the fact that the terroir [in Greece] is bonkers and there are native grapes being discovered, like, every day, there's a ton of energy and potential there," says Friel.
It's an enthusiasm that speaks to Friel's larger mission: Education and engagement. "The list is just a starting point. People can give me a sense for what they're interested in, and I can make suggestions for other things we have open, or I can open something for them. It's meant to be almost a custom experience," says Friel. "To have enthusiastic, knowledgable drinkers out there—we're all going to benefit from that."
Friel's stripped-down approach is exemplified by one of her current favorite bottles, the "Albone" Lambrusco from Podere il Saliceto. "Folks asking for blue chip stuff we don't work with love it. Uber-nerds love it. Master somms love it. Newbies love it. It does everything a tiny wine bar needs it to do: delight and satisfy. It's our mission in a bottle."
---
Did you enjoy this article? Get more of the best of liquid culture when you sign up for a print or digital subscription to Imbibe Magazine. Click here for special savings!