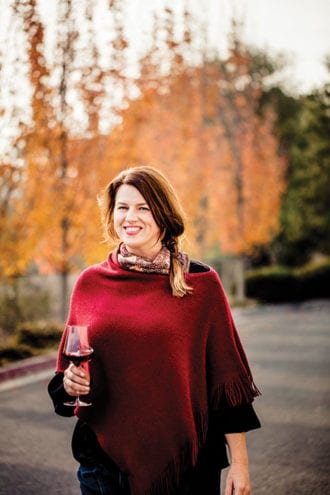 It was financial necessity more than romantic notion that brought Amy Bess Cook to the wine world. In 2008, with a background in publishing and communications, she'd left San Francisco for Sonoma and, like many, she was digging herself out of the recession. "I figured I needed to learn about either grapes or cows. That's how I wound up in the wine industry," Cook says.
She took a job with a winery where she played a part in nearly every element, from the vineyard to the branding, and also did freelance work for other wine-industry clients. For eight years she received a hands-on education in the wine business, an experience for which she's deeply grateful, but which she also found eye-opening for its inequities, especially those faced by women on every rung of the ladder. "Economic hardship brings stigma that's heavy to shoulder, particularly in a luxury industry," says Cook. "Female entrepreneurs face unique obstacles, notably discrimination in the funding process. Only 2.7 percent of venture capital went to women in 2017, for example. To say the odds are stacked against working women in the wine biz is an understatement."
By the fall of 2017, when the #MeToo movement began to unveil discrimination and harassment in virtually every industry, Cook says she felt as if a dam had burst. "It was right in sync with my own observations and experiences," she says. "I just thought, 'If I'm going to change anything, it has to start with me putting my dollars toward women.' And when I went online and tried to do that, I found that I couldn't."
Instead, Cook created the platform herself. In October 2017 she launched Woman-Owned Wineries (WOW), an online directory, editorial forum and wine club. Initially focused on wineries in Sonoma, the project received a response that was immediate and overwhelming. "I had no idea that people would be as interested as they were, and that it would hit on national and even global interests in that topic," Cook says. "To me it was quite personal—I wanted that information to exist."
By last spring, WOW had grown into a nationwide directory, and Cook was working with women throughout the industry, such as wine writer Melanie Wynne, Stevie Stacionis of the Bâtonnage forum, and Deborah Brenner of Women of the Vine and Spirits. "There's so much of this type of work going on, and it all works better if we support each other," says Cook. "I don't think anything changes until more women are in charge. Women have no voice on the issues that most affect us—equal pay, sexual harassment, reproductive health care—unless we're in an ownership role."
As Cook continues to advance the project, from highlighting the experiences of individual makers to working with restaurants to help them utilize the directory, she's finding encouragement at every turn. "I feel the support of this whole network that I didn't even know would exist, and it feels really good," she says.
---
Did you enjoy this article? Get more of the best of liquid culture when you sign up for a print or digital subscription to Imbibe Magazine. Click here for special savings!