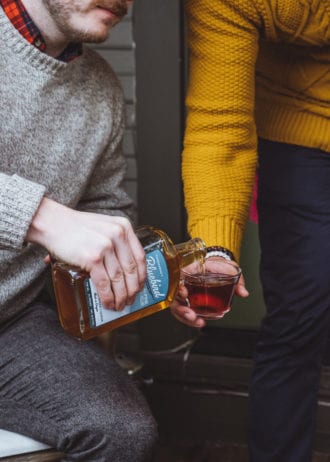 Today's alpine liqueurs are descendants of those created centuries ago by farmers, mountaineers and monks, who would harvest the native flora to harness the flavor of the mountains in an herbal spirit. Often sipped solo as an aperitif or digestif, alpine liqueurs can also lend an intriguing depth to cocktails or a boozy boost to hot cocoa. From European distillers using traditional recipes to American makers tapping the flavors of their regions, here are five to try.
Zirbenz Stone Pine Liqueur of the Alps
The Arolla stone pine is sometimes referred to as the "agave of the Alps," as it can take up to 30 years for a tree to produce the fruit used in this signature spirit of Austria. Produced seasonally with the harvest by the centuries-old Josef Hofer family distillery, the crimson liqueur carries the aroma of juicy red fruit and alpine flora with a smooth sweetness and a hint of menthol. $32.99, klwines.com
Leopold Bros. Three Pins Alpine Herbal Liqueur
Denver-based Leopold Bros. looks to the Rocky Mountains to create a blend of 15 mostly native herbs and flowers. The Three Pins Alpine Herbal Liqueur, named with a nod to the old style of telemark ski bindings, is bursting with flavors of pine and clove, with a cola-like sweetness and a gently bitter finish. $34.99, klwines.com
Townshend's Bluebird Alpine Liqueur
Produced by Townshend's Distillery, the spirits wing of Portland, Oregon's Townshend's Tea Company, Bluebird Alpine Liqueur is made from a roster of aromatic herbs and spices, such as fennel and angelica. A fragrance of sweet mint is balanced by a snap of licorice and warming spices. $32, seelbachs.com
Dolin Génépy des Alpes
A hallmark liqueur of the Savoy region in the French Alps, génépy recipes date back centuries and include a range of botanicals, specifically a variety of Artemisia (commonly called mugwort or wormwood) native to the region. Lush with the aroma of pine, Dolin Génépy is the sweetest liqueur of the bunch, but with an herbaceous depth of licorice and spice. $29.50, bittersandbottles.com
Cascadia D'Amore American Bitter Liqueur
An interpretation of traditional European herbal liqueurs by way of the Pacific Northwest, Cascadia D'Amore, made by Portland's New Deal Distillery, is a love letter to the Cascade Mountain Range. Incorporating a blend of local flora, including lavender and rose, the liqueur is smooth and sweet up front but with a spicy, bitter finish. $32.50, bittersandbottles.com
---
Did you enjoy this article? Get more of the best of liquid culture when you sign up for a print or digital subscription to Imbibe Magazine. Click here for special savings!