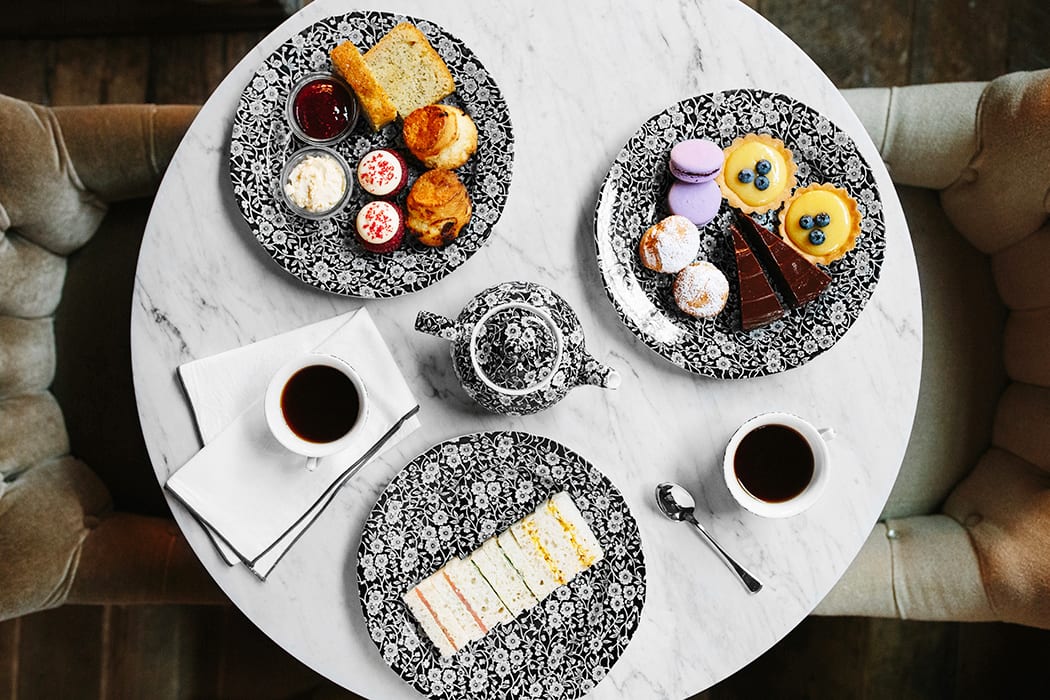 Afternoon tea often conjures images straight out of a Jane Austen novel—fancy china, dainty sandwiches and pinkies up. Today, hotels around the world, including The Plaza in New York, The Empress in Victoria and The Langham in London, still stay true to many of those traditions, but as tastes change and traditions evolve, spots like The Allis in Chicago and The Heathman in Portland, Oregon, are incorporating a variety of cultural influences and modern inspirations for afternoon tea.
The origins of afternoon tea are steeped through gauzy layers of legend and history. Many point to Anna Russell, Duchess of Bedford, who would supposedly order tea and cakes to her bed chamber during the long hours between lunch and dinner in what became a social affair among aristocrats. Bruce Richardson, co-author of A Social History of Tea and owner of Elmwood Inn Fine Teas, points to a broader evolution. "There was no genesis event for afternoon tea," he says. "In the early 1800s, tea was a very important part of daily rituals. When people came over it was how they socialized, but it was not an afternoon tea as we now think of it. It was simply tea in the parlor with maybe a piece of toast or a cake."
The elaborate service known today with three-tiered trays of scones, sandwiches and petit fours began in the hotels of London in the late 1800s and was exported across the Atlantic and adopted in places like The Copely Plaza in Boston, The Willard in D.C. and The Fairmont in San Francisco throughout the early 20th century. "They all had beautiful rooms often modeled after the grand solariums and gathering rooms that you would find in hotels in London, and they were serving afternoon tea, which was very popular between 1904 and 1920," says Richardson.
Today, the tradition continues to incorporate both traditional and modern elements. At The Allis in Chicago (pictured above), daily tea service offers classic items as well as seasonal options like cranberry macaroons and lemon-blueberry tart, along with teas from Chicago's Rare Tea Cellars, including Italian Green Almondine, Mallorca Melon and Chocolate Pu-erh. "We've been pleasantly surprised by the age range of people it has attracted," says head pastry chef Eric Estrella. "Everyone from little girls and college students to the typical 'ladies who lunch' crowd and 20-something Instagrammers."
At Cha-An in New York City, the Japanese prix fixe tea service includes a seven-grain rice porridge, a savory side dish and desserts like mochi or black sesame creme brulee. Samovar in San Francisco offers a global assortment of tea services, including Chinese, with veggie stir-fry, squash dumplings and blood orange pu-erh, and Moorish with veggie kabobs, kale salad and mint tea. And at The Heathman Hotel in Portland, Oregon, which has long served a traditional English tea service, Headwaters chef Vitaly Paley drew inspiration from his own roots to offer a new Russian tea service. "I came to this country when I was 13 but only recently did I begin to explore my Russian roots through food," says Paley. "It became natural to bring that flair into the tea because Russians have a centuries-old tradition of tea drinking."
In addition to teas from Smith Teamaker, including proprietary blends like the smoky black Georgian Caravan served from a traditional samovar urn, Paley serves a deluxe spread of Russian foods both sweet and savory. "To mimic an English version of the crustless, white bread tea sandwiches, the Russians would serve what's called a buterbrodi—small open-faced rye bread topped with various toppings like a garlic cheese spread, which is my grandmother's recipe, a herring smear with some local smoked salmon, and a little sausage with honey mustard and pickle," Paley says. "We also serve my grandmother's sour cream cake called steopka, which is something that I remember eating as long as I remember eating."
"Style is changing," adds Richardson. "Chefs are much more willing to incorporate different cuisines within their tea service. When I go to Great Britain, I pretty much expect that I'm going to have an egg and cress or a smoked salmon. But the thing about America is that we can embrace all the traditions."


---
Like what you see? Get more of the best of liquid culture when you sign up for our bi-monthly magazine. Subscribe now and save up to 59%—it's just $21.95 for one year or $32.95 for two years. Click here for details.