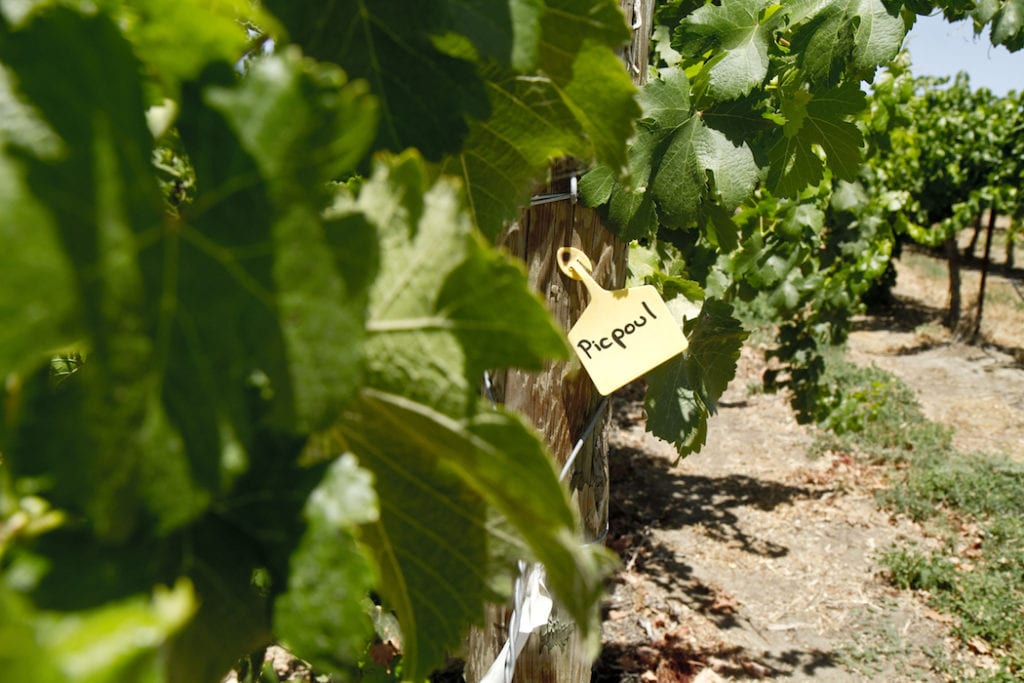 Long a grape variety used in blends, Picpoul (or Piquepoul), is finding more favor as it moves into a leading role. Brightly acidic with crisp fruit flavors, Picpoul is a natural match for seafood and light summer fare. As a bonus, most bottles go for well under 20 bucks. Hailing from a tiny slice of the Languedoc-Roussillon region near a string of lagoons called Bassin de Thau, Picpoul de Pinet benefits from cooling Mediterranean breezes but is protected from nighttime temperature swings as the warmer waters of the lagoon keeps the area from getting too cold at night. The marine vineyards stand among the oldest in the region, but after the Great French Wine Blight, Picpoul fell from favor as it was particularly susceptible to diseases like powdery mildew. By the mid-2000s, less than a quarter of a percent of the appellation grew the varietal. However, it continued to be used in blends, and it is one of the primary grapes used in French vermouth Noilly Prat.
Picpoul has a lot to offer: minerality, saline, weight and striking acidity to the point that you won't even have to add lemon to your oysters.
"Picpoul has long been a blender in southern France. But with a single region focusing on the grape, there has been very little public face for it," says James Mantone, winemaker at Syncline Wine Cellars in Washington's Columbia River Gorge. Focusing on Rhône varietals, Syncline is one of multiple stateside vineyards experimenting with Picpoul despite its temperamental tendencies. "It is late-ripening, susceptible to mildew and takes attentive thinning and proper harvest timing," Mantone says. "But Picpoul has the great combination of ample acidity and racy flavors that we find so appealing in wines, so we're seeing lots of interest from growers, winemakers and consumers."
Importer Jean Luc Lametrie, who grew up in the region, calls Picpoul the Muscadet of the Languedoc. Lametrie imports Picpoul exclusively from natural winemaker Julie Benau and currently offers four different cuvées, including her Libéro, which she submerges in an oyster bed for six months. "Picpoul has a lot to offer: minerality, saline, weight and striking acidity to the point that you won't even have to add lemon to your oysters," he says.
Because of the wine's affinity for food pairings, Picpoul is also making appearances on more wine lists. "I often describe its aroma as being much like a bouquet of flowers. On the palate, the wines tend to be bright with lemon, white pepper and honey notes and a bone-dry finish," says Caroline Styne, wine director for The Lucques Group of restaurants. "I think it may be becoming more popular now as Americans become more exploratory and experimental in our wine drinking… we seek out lesser-known varieties and start to prefer wines like Picpoul that are leaner, racier and higher in acid.  It was strange to see Picpoul on a Los Angeles wine list 15 years ago, but not anymore!"
Check out our July/August 2017 issue for a list of some of our favorite bottles.
---
Like what you see? Get more of the best of liquid culture when you sign up for our bi-monthly magazine. Subscribe now and save up to 59%—it's just $21.95 for one year or $32.95 for two years. Click here for details.