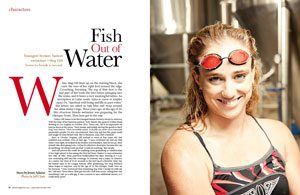 When Meg Gill lines up on the starting block, she curls the toes of her right foot around the edge. Crouching. Focusing. The top of that foot is the last part of her body she sees before plunging into the water, and it bears a very meaningful tattoo. An inscription in Latin reads: Salus et vitam in simplex aqua. Or, "Spiritual well-being and life in pure water." The letters are inked in Yale blue and wrap around her alma mater's logo. Three years ago, at the age of 24, this vivacious blonde swimmer was preparing for the Olympic Trials. Then beer got in the way.
Today, Gill claims to be the youngest female brewery owner in America. With the help of her business partner Tony Yanow, she opened Golden Road Brewing in Los Angeles in October 2011. Turns out, Gill is as impressive on land as she is in the water. "She's brassy, and luckily she has the goods to back it up," says Yanow. "She's incredibly smart. Probably one of the more intensely passionate people I've ever encountered. She's tiny and has this giant smile and tangle of crazy blonde hair. But in business, man, she's a badass."
Born in Chester, Virginia, Gill learned to swim at four years old. Her ambition was evident, even at that age. "I once overheard my dad say that when I was eight, he looked at my mother and remarked, 'Just let her go. She's already who she's going to be. Let her do whatever she wants, because she can do anything.' He always told me that I could do anything," she recalls.
And Gill proved she could do anything, from graduating as valedictorian of her high school to becoming the first kid from Chester to earn admission into Yale. At Yale, swim practices bookmarked her days, starting at 6 a.m. and continuing well into the evenings. In between was a major in Classics. As a senior, her time of 22.26 seconds in the last leg of a freestyle relay was the fastest time in Ivy League history. After graduating, her long distance times began to improve, and by the age of 24, the Olympic Trials were on her horizon. "I was convinced that swimming was what I would do with my life," Gill says. "Even when I first got into the craft beer scene, selling beer was something I saw as a side gig. It was a means to earn additional money, so I could swim more."
In 2008, she took a sales position with Colorado's Oskar Blues Brewing. Her first day on the job began with a 45-foot R.V. and a 31-year old colleague named Chad Mellis. Mellis picked up a 22-year-old Gill, and the duo set out on a road trip to promote the brand at several professional cycling events. "I think the first thing that's immediately apparent about Meg is her unbridled enthusiasm," says Mellis. "She's a small person, but she's got this massive personality. She always wants to make something bigger than what it reasonably should be. My favorite example is from that trip. We were at a cycling event called the CRIT Finals in Las Vegas. We wanted to make an impact, and we had been talking to Mandalay Bay about sponsoring the last event. It wasn't in our budget. The day of the finals, Meg drives up to the back gate in the R.V. She gets out and talks to the security guy for a moment. I have no idea what was said, but all of a sudden, we're parked inside the event with 30 people drinking beer on top of our rig. It was unofficial and uninvited, but we sponsored that thing."
In 2009, Gill moved to San Francisco to work for a brewery called Speakeasy. Jumping in headfirst, she saw Speakeasy as an opportunity to learn about the financial side of the business as well as the importance of controlling distribution. "The brand was 13 years old and was very different from Oskar Blues," she says. "It was settled and a bit dusty in markets where it wasn't being supported. I went after it from the local beer angle through our marketing and relied heavily on supportive distributors."
Instead of acquiring new markets, Gill began pulling the brand back. It was a bit of foreshadowing for her current model at Golden Road, where she also focuses on selling locally, growing the brand as a symbol for a single city. "I terminated 18 states in six months at Speakeasy," she says. "It was hard to do that with distributor contracts, and I had to learn the law. While I was working there, I also had a pretty life-altering event."
Continuing to work on her swimming distance times, Gill signed up for a relay in Lake Tahoe, joining an all-women team that collectively swam from the Nevada shore of the lake to the California side. "That was my first big-water swim, and we won," she recalls. "Directly after the race, I went to see a few distributors at a celebrity golf tournament. I was driving back, and that's the last thing I remember."
Gill lost control of her car on the freeway, resulting in a catastrophic wreck that left her with a massive concussion and total memory loss for more than a month. "Apparently I was experiencing vertigo from the swim from the water temperature and the waves," she says. "My balance was off, and that caused the wreck. While it caused it, the doctors felt that the adrenaline from the race probably saved my life as well. Recovering from something like that, you have to put your life back together. Things are different. My priorities shifted. Before, I thought of beer as a hobby so I could pay the bills and swim. During my recovery, I couldn't swim as much, and that's when I fell in love with the business of beer."
Yanow first encountered Gill in 2009 while running his beer bar, Tony's Darts Away in Burbank, California. "I'd heard a lot about her before I met her," he says. "She had quite a reputation in the craft beer scene in California. And it's funny, because I didn't hear, 'Oh, she's young and cute and sporty.' I heard, 'powerhouse in the beer industry.' I went to Speakeasy to meet her. I was instantly impressed."
The two fostered a working relationship, and later that year, Gill began looking at restructuring and buying part of Speakeasy. "I was working on my fifth proposal of trying to raise money to refinance it," she says. "Speakeasy was actually out of beer, so it was going to be a huge investment."
In the process of trying to wrangle investors, Gill took several trips up and down the California coast to meet with investors and distributors. She and Yanow reconnected and began to hatch plans for something new and fresh for the Los Angeles beer scene. In February 2011, she left Speakeasy and San Francisco behind. "During that process, Tony convinced me that L.A.'s distribution network desperately needed my attention and that together, we could turn L.A. into a beer town," she says. "That distributor fan base has been a huge resource in building Golden Road."
Last October, more than 1,000 people showed up for the opening of Golden Road Brewing, and within six months, the brand was on 400 taps in Los Angeles County and had 1,500 retail accounts. In less than a year, Gill and Yanow expanded production to more than 5,000 barrels, and while the Brewer's Association won't tally Golden Road's efforts until its first birthday, at this rate, it looks like Gill will set records on land as she's done in the water. "We want to be the local, L.A. craft brewery," she says. "Every beer we make is a beer we know L.A. would love. The way we determine what to make and how to sell it is not by hiring MBAs to do market research. It's by being on the street."
From the outset, Gill and Yanow agreed they wanted to focus on beer in cans—a natural inclination for Gill after working for Oskar Blues. She took it one step further, however, to an entirely new avenue of beer branding. "We hired photographers and drove around Los Angeles," she recalls. "We selected a shot they took of the Shakespeare Bridge in Los Feliz and another shot of a ridge in Echo Park beside Dodger Stadium. I called the manufacturer and was like, 'We will put these two photos on our cans!' He goes, 'You can't do that because you can't put photos on a can.'"
As is typical for Gill, she saw this as minor hurdle, not a roadblock. She contacted Ball, an aluminum producer working with a new program called Eyeris. The Eyeris technology allows high-resolution photos to be printed on aluminum. "We knew the Eyeris idea was a bit of a risk, but everything we've done is a bit of risk," laughs Yanow. "We built a brewery at breakneck speed. We had only a lease last spring, and now we have more than 70 employees. We're now doing about 150 barrels a week, and we have a fully functioning restaurant and pub."
In between meeting distributors, wholesalers, retailers and managing 50 employees, Gill still makes time for swimming. "The water is her retreat," says friend and fellow swimmer Fiona O'Donnell-McCarthy. "If she can only get there for half an hour a day, she'll go. On Saturdays, we might each do a two-hour, 5,000-meter swim. She'll get out of the water, call me and say, 'I thought up something new for the brewery in the pool.' She's still a fierce competitor, but these days she's competing in her business role as well. She can do anything she puts her mind to. And she pretty much does."