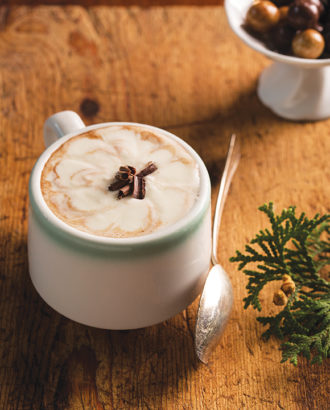 As the real chill of January finally starts to settle in, that means one thing—it's time for hot chocolate! Here are some of our favorite recipes, from coffee-spiked versions to those elevated with a nip or two of booze.
Mocha Sipping Chocolate
Chef Tal Ronnen of LA's vegan restaurant Crossroads came up with this vegan-friendly recipe.
Tara O'Brady's Hot Chocolate
Cinnamon and espresso powder add extra richness and warmth to blogger Tara O'Brady's Hot Chocolate recipe.
Pratos E Travessa's Hot Chocolate
Pratos e Travessas Hot Chocolate-recipe is tempered with a bit of sugar and—best of all—ruby port.
Mexican Hot Chocolate
Spice things up with this sultry mix of Latin American spices and a touch of sweetness from coffee-flavored liqueur.
Dutch Cocoa (pictured) 
In this rich indulgence, genever introduces a subtle maltiness, while Chartreuse lends an herbaceous complexity.
Serrano Mocha
Chili powder, honey and espresso flavor Tony Serrano's namesake mocha.
Malted Hot Cocoa Mix
Adapted from an Alton Brown recipe, just add water and stir for a superbly creamy and dreamy mug of malted hot cocoa.
Ranger Hot Chocolate
We are enamored with this creamy, coffee-spiked recipe from Portland, Oregon's Cup & Bar, the café and storefront for Trailhead Coffee Roasters and Ranger Chocolate.