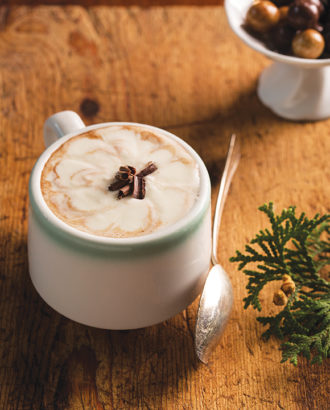 "The ingredients all work in such harmony," says bartender Brandon Wise of this Dutch Cocoa, noting that the genever introduces subtle maltiness, while Chartreuse lends an herbaceous complexity. "It's an anytime drink during the holidays," Wise adds, "perfectly suited for caroling, raucous holiday parties or watching the snowflakes descend from the heavens."
5 oz. freshly made hot chocolate
1 oz. genever
¼ oz. green Chartreuse
¼ oz. triple sec
Tools: barspoon
Glass: mug
Garnish: Chartreuse whipped cream
Chartreuse Whipped Cream
¼ cup heavy whipping cream
½ oz. green Chartreuse
1 tsp. granulated sugar
Whisk ingredients together in a small bowl until soft peaks form. Refrigerate for up to 1 week. Makes about a ½ cup.
Combine all ingredients in a mug and stir to combine. Garnish liberally with Chartreuse whipped cream and top with chocolate curls, if desired.
Brandon Wise, Denver