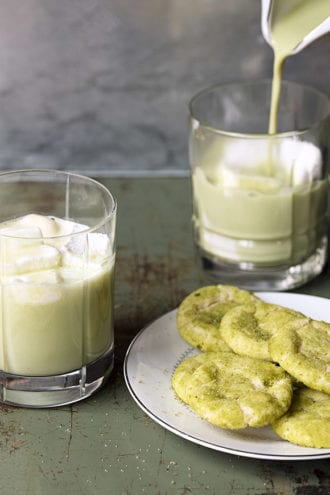 White chocolate creates a decadent base for matcha and mint in this hot chocolate recipe from Chicago pastry chef Mindy Segal. As featured in the America the Great Cookbook, these measurements make enough for 2 servings.
Ganache
⅔ cup chopped white chocolate
½ cup heavy cream
Pinch of kosher salt
½ tsp vanilla extract
Hot Chocolate
¼ cup whole milk
¼ cup heavy cream
1 ½ cups chopped white chocolate
2 tsp matcha tea
2 tsp crushed fresh mint
1 tsp vanilla extract
¼ cup granulated sugar
Tools: whisk, strainer, knife
Glass: tumbler
Garnish: 4 marshmallows
For the Ganache: Melt the white chocolate in a heatproof bowl set over a pot of simmering water (don't let the bowl touch the water). Bring together with a spatula to make smooth. Remove from the heat and add the cream and vanilla. Whisk together to incorporate completely. Refrigerate for 2 hours or up to overnight. When ready to serve, transfer the mixture to the bowl of a stand mixer fitted with the whisk attachment and whip the ganache until medium peaks form. Set aside.
For the Hot Chocolate: Bring the milk and cream to boil over medium heat. Add the chocolate, matcha tea, mint and sugar. Remove from the heat and let steep for 3 minutes. Whisk together until well blended, then strain through a fine-mesh sieve. In each of two 1-cup (240-ml) glass tumblers, place a dollop of ganache. Slice the marshmallows in half and divide between the glasses. Pour the hot chocolate on top and serve.
Reprinted with permission from America the Great Cookbook. Edited by Joe Yonan; published by Weldon Owen. Copyright © 2017 Weldon Wen. All Rights Reserved. 
---
Did you enjoy this recipe? Sign up for our newsletter and get our favorite drink recipes of the moment in your inbox every month.