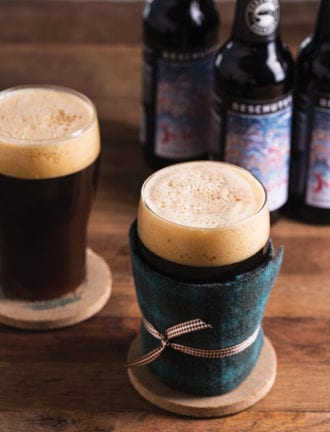 It's thats time of the year! Holiday beers are back, and in the November/December 2016 issue, contributing editor Joshua M. Bernstein has the backstory on perennial favorites like Sierra Nevada's Celebration, Deschutes' Jubelale and more. Read the story here, and then dig in to this list for the rest of his holiday beer recs.
Sierra Nevada Celebration Ale
Chico, CA and Mills River, NC, 6.8% ABV
This pine-forward, citrus-scented IPA's secret is freshly harvested Chinook, Cascade and Centennial hops. The beer's been a boldly festive standby since 1981.
Brasserie Dupont Avec les Bons Voeux
Tourpes, Belgium, 9.5% ABV
The Belgian brewery once reserved this Christmas ale ("with our best wishes") for its best customers; today, everyone can savor this hazy golden looker, layered with flavors of lemons, peppercorns, apples, and cloves.
Troëgs Independent Brewing Mad Elf
Hershey, PA, 11% ABV
Honey, heaps of cherries and a nice, spicy Belgian yeast strain make Mad Elf a wine-like, fruity indulgence suited for sipping beside a fire.
Lagunitas Brown Shugga' Ale
Petaluma, CA, 9.8% ABV
Back in 1997, Lagunitas added brown sugar to a batch of misbehaving barley wine, accidentally creating a sweet new holiday tradition.
Schloss Eggenberg Samichlaus Classic
Vorchdorf, Austria, 14 % ABV
Samichlaus—Swiss-German for Santa Claus—is brewed every December 6, then lagers for 10 months. The muscular, vinous elixir (14 percent ABV) is ideal for cellaring.
Hardywood Park Craft Brewery Gingerbread Stout
Richmond, VA, 9.2% ABV
Richmond's Hardywood deploys Virginia ginger and wildflower honey, plus Vietnamese cinnamon and Madagascar vanilla beans, in its creamy ode to Christmas cookies. The Christmas Morning variant thrums with coffee beans.
Southern Tier 2XMAS
Lakewood, NY, 8% ABV
Sweden's spiced glögg inspires Southern Tier's rich holiday seasonal, laced with orange peel, figs and spices, including cardamom and ginger.
Deschutes Brewery Jubelale
Bend, OR, 6.7% ABV
Each year, Deschutes selects a different artist to create the label for its long-running winter warmer, redolent of toffee and chocolate and pleasantly bittered with Pacific Northwest hops. Occasionally, Deschutes releases imperialized versions of Jubelale.
Great Lakes Brewing Company Christmas Ale
Cleveland, OH, 7.5% ABV
In Cleveland, festivities don't start with decorating a tree; they begin with a glass of this robust, deceptively potent ale warmly spiced with honey, cinnamon and ginger. Pro tip: A Great Lakes vet devised Thirsty Dog's similarly spiced 12 Dogs of Christmas.
Anchor Brewing Our Special Ale
San Francisco, CA, Varies
For the 42nd formulation of its beloved seasonal rite, Anchor nosed the ABV north a smidgen and knocked down the spicing, making it better suited for aging.
---
Give the gift of Imbibe this holiday season. Gift subscriptions are only $19.95 each after your first $21.95 gift subscription purchase, plus you'll receive a free download of our Holiday Punch Guide, AND through 12/31, $1 of every online subscription order goes to the Red Cross! Click here for details.