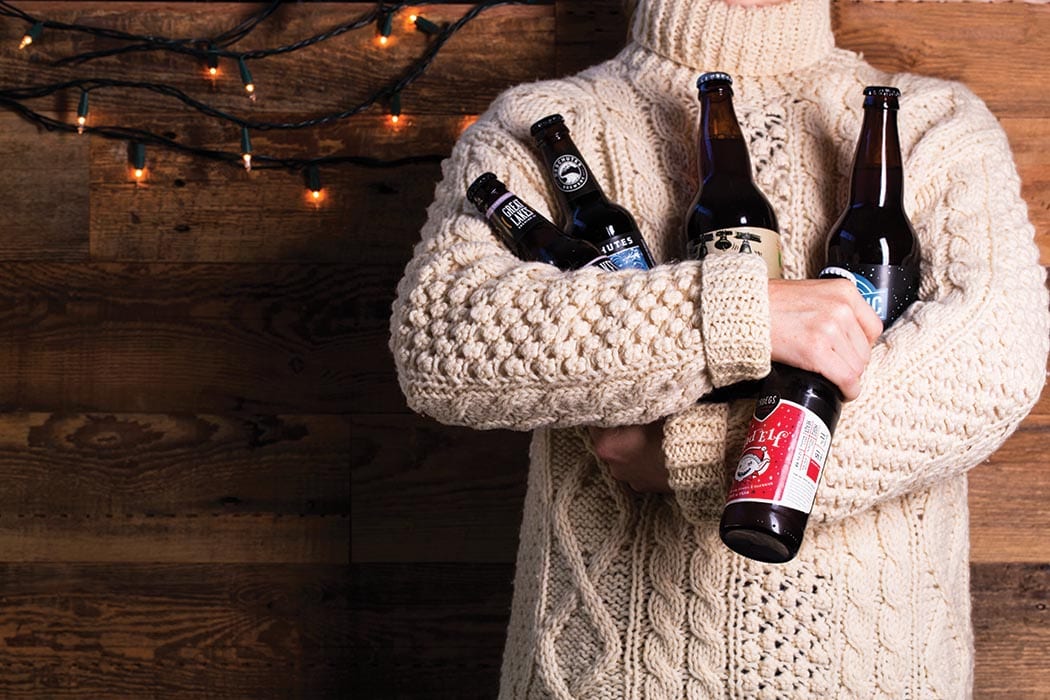 From the inception, everything about Tröegs Mad Elf was insane.
To toast Christmastime, sibling co-founders Chris and John Trogner devised a hulking Belgian-style ale massed with honey and cherries, the hue a seasonally suited red. Mad Elf, released in 2002 on draft, was supposed to skip Santa's distribution sleigh ride, partly due to pricey raw materials and partly to an arduous brewing experience. The first brew day, the brothers added fruit and honey to the mix and clocked out. Upon returning days later, "You could smell this really fruity aroma in the air," says John. "We ran back to the fermentation tanks and there was a foamy mess all over the ground." Nearly half the batch bubbled down a drain.
What remained quickly ran dry, a toy craze on tap. The beer struck a nerve; its 11-percent ABV brightening moods like holiday lights, and its vinous verve bridging the divide between beer and wine. "It appeals not only to people outside craft beer, but also the beer category," says John. Mad Elf entered bottles in 2003, the cases spoken for before leaving the brewery. "It was that way for 10 years," John says. Pennsylvania's case-only liquor laws had an unexpected benefit. "You had 24 bottles, and you could bring it to your friends and family," John says, later adding, "People were drinking Mad Elf around the holidays, who don't drink beer all year."
Mad Elf became entrenched in Pennsylvanians' holiday customs, a tradition some maintained by any means. Last year, Chris helped a grandmother load Mad Elf cases into her car. "She and her family would sit around the fire, drink it and decorate the tree," he learned. Trouble was, she'd moved to West Virginia, outside Tröegs' distribution area. "She was bootlegging to continue her family tradition."
The holidays are a marathon of parties, gift giving and family gatherings, equally celebratory and maddening. In short, it's the most wonderfully necessary time of year to crack a beer, from Short's Juicy Tree IPA, jolted with cranberries and spruce tips, to St. Bernardus Christmas Ale, a boozy Belgian quad redolent of dark fruits. "It's the rare brewery that does not make a Christmas beer," says Christmas Beer author Don Russell. Acquiring beers for his 2008 book required tons of travel and outreach. Nowadays, he says, "I could easily get 200 Christmas beers at my corner store."
Like the season's first snowfall and A Christmas Story on endless loop, the arrival of yuletide beers is a seasonal signpost, a liquid advent calendar leading to a festive end—and encouraging behavior bordering on the obsessive.
Great Lakes' Christmas Ale has inspired customers to pen songs and poems, while in Bend, Oregon, locals will ski through town for pints of Jubelale at the Deschutes pub. Others hoard annual Anchor Our Special Ale and Sierra Nevada Celebration, cellaring the beers for posterity or to pull out in blazing summer, a taste of cooler, cheerier times.
'Tis the Seasonal
Historically, winter has been aligned with strong, sustaining ales fit for stoking internal fires and toasting with family and friends. Hark back to 18th- and 19th-century England, and you'll find a host of malt-rich beers, old ales and barley wines alike, as thick and opulent as pudding. Winter warmers, as they're now loosely known, lay holiday beer's cornerstone.
Modern British benchmarks include Samuel Smith's 1990-born Winter Welcome, a fruity, caramel-focused companion to ham, and St. Peter's Christmas Ale, tasting like creamy toffee candy. Stateside, Full Sail goosed the formula by seasoning wintery Wassail Winter Ale—initially brewed in 1988—with Pacific Northwest hops. It's a similar tale for Deschutes Jubelale, also unveiled that year. "We wanted to brew a winter warmer with American hops," says then-brewmaster John Harris, now at Ecliptic Brewing. Jubelale's mixture of figs, plums, earthy bitterness and an annually refreshed label (there's a new artist every year) just "warms the soul," says assistant general manager Melissa Talbott, who's worked at the Bend brewpub for more than 25 years.
To usher in the season in the first few years following the beer's debut, brewers would roll in the inaugural Jubelale keg, ring a bell and tap the keg—and while the keg-rolling and bell-ringing may no longer be a part of the process, the first flow of Jubelale is still a signifier of the season. "That's the official start of winter," says Talbott, noting Jubelale's annual Bend debut—it's tied to a poster-signing bash for the latest label artist—continually draws out-the-door lines. "It comes out when people anticipate Bend's first snow and are excited about the ski season starting."
After the hoped-for snowfall hits, blanketing the town white, piles of powder don't keep locals from savoring their seasonal treat. "We've had heavy snows and people will cross-country ski to the pub just so they can get their Jubelale," says Talbott. "It brings it back old-school to when the town would shut down and everyone would snowshoe or cross-country ski to the pub."
Instead of a thermometer drop, other breweries tie seasonals to feel-good foods, the kind made by Mom and Grandma. During December, we feast on gingerbread cookies, nutmeg-spiced eggnog and fruitcake, traditional flavors long sprinkled into holiday beer. Harpoon's Winter Warmer, a go-to since 1988, is spiced with cinnamon and nutmeg, while Saint Louis Brewery's coppery Schlafly Christmas Ale is charged up to 8 percent ABV, agog with juniper berries, ginger, cardamom, cloves and honey. That last ingredient is the bee's knees for Cleveland's Great Lakes Christmas Ale, also flavored with ginger, cinnamon and mania.
"Last year, in eight hours, we poured a pint of Christmas Ale every 14 seconds," says public relations supervisor Marissa DeSantis. She later adds, "People that used to live in Cleveland tell us it doesn't feel like Christmas until they come home and have their first Christmas Ale."
First packaged in 1992, the smooth, sneaky-potent ale has become a Cleveland ritual. Locals have written songs ("Oh, Christmas Ale" jokily chronicles friends losing jobs and wives amid Christmas Ale's spiced thrall), created replicas of the label's train and, for the brewery's First Pour contest, penned Christmas Ale–inspired poems for the honor of taking the season's first sip. Behold, an excerpt from Steve Ormiston's 2015 winning entry:
If Scrooge had had a Christmas Ale,
he'd not have needed ghosts,
would have written bonus checks
and led the Christmas toasts.
"When people come on tours, the first question is usually, 'Do you have Christmas Ale yet?' " says DeSantis. Brewmaster Mark Hunger ascribes the appeal to Christmas Ale's reliance on natural ingredients and seamless flavor integration. "It's not overpowering in spices," he says. "Some of these spiced beers are a bowl of potpourri, but it's not quite that. A light lager drinker can sit down and enjoy it as much as other people."
Not long after Hunger started at Great Lakes, he hosted a holiday party. "Some of my friends who drank nothing but light beer brought Miller Lite," he says. "At the end of the party, all the Miller Lite was in the fridge and the Christmas Ale was gone."
A Bitter Gift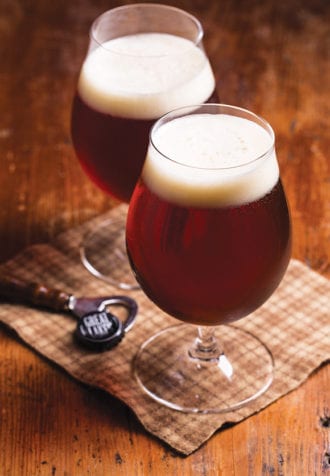 Sprinkling nutmeg or allspice into a malt bomb can be both turn-on and turn-off. I fall in the latter camp, and seek sweater-like comfort in stouts, both standard and imperial, and IPAs. It might be the most seasonal move.
Consider the hop. In the Pacific Northwest, the fragrant green flowers are fat and ripe in late summer, and are harvested, processed and shipped to brewers throughout the fall, just in time to crank out IPAs with pine freshness worthy of a Christmas tree. Which brings us to Sierra Nevada.
By 1981, the IPA was about as forgotten as the telegraph. That year, Ken Grossman found a gorgeous field of floral, citrus-smacked Cascade hops, which starred in Celebration Ale. It wasn't an IPA, per se, but it hit every stylistic hallmark—finely bitter, a fragrant fiesta of grapefruit and pine, a not-too-sweet malt framework. "I don't know if people really consider it an IPA," says brewmaster Steve Dresler. "It's always just been Celebration Ale. It's elevated above categorization."
Celebration's recipe has evolved to include newer hop varieties, such as the intensely floral and citrusy Centennial and piney-herbal Chinook, freshly reaped. (Celebration is now labeled a "fresh IPA.") The flavorful, aromatic intensity can sometimes cause sensorial misfires. "Over the years, so many people would ask me, 'What spices are you using in the beer?' " says Dresler. "They would interpret the fresh-hops qualities and aromatics as an herbal contribution, which it is, in a way."
In a beer world saturated by the new and the novel, Celebration has endured and thrived, remaining Sierra Nevada's most anticipated release. "People are more passionate about Celebration Ale coming out than anything else we've ever done," says Dresler. "Within my peer group of brewers, this is the beer that they go out and immediately buy when it hits the shelf." Adds Russell, "I have a friend who probably goes through 15 cases of Sierra Nevada Celebration every Christmas. He just loves the hop flavor."
Given America's collective IPA madness, it's inevitable that brewers would stake claims to cold-weather IPAs. Saranac's caramel-kissed West End Winter IPA plies pinecone resin, while Rueben's Brews releases the chocolaty Roasted Rye IPA, and Faction's Winter IPA features tropical Citra and spicy Olympic hops. (The Bay Area beer maker brews different seasonal IPAs.) In addition to Mad Elf, Tröegs makes snowfall-smooth Blizzard of Hops, laced with Jolly Rancher–like El Dorado hops and wheat, which is also housed in New Belgium's wintery Accumulation.
For Harris, who brewed for both Deschutes and Full Sail before opening Portland, Oregon's Ecliptic, making a frosty-weather IPA was based on past employment. Instead of a malty, English-influenced beer in the vein of Jubelale or Wassail, "I wanted to go the other way and brew a bright, golden beer that reminded people of the sun and summer. " Filament Winter IPA, one of the first to bear that designation, is sunshine-gold, with a honeyed flavor profile brightened with rays of citrus and pine. "It's a beer that's not tied to darkness," Harris says.
The Big Short
A huge component of holiday beers' allure is ephemerality. They chase Oktoberfest lagers and pumpkin ales, burning fast and bright like kindling across November and December. Then thuds January 1. After days and days of decadence, who craves another slice of fruitcake, much less Ridgeway Brewing's Reindeer's Revolt?
"We're hopeful it's gone by New Year's," Chris Trogner says of Mad Elf, which sees a staggered release—bottles by Halloween, draft after Thanksgiving. Great Lakes affixes Christmas Ale with a 126-day expiration date, about the maximum time before flavors fly south, says brewmaster Hunger. Perception, not flavor degradation, led Ecliptic's Harris to nix any holiday mention from Filament's label. "Going with a winter theme gives it a longer shelf life," he says.
Lifespan is a curious quirk of holiday beer. Many can endure time's ravages, just not consumer fickleness. "These are big, strong beers that will generally still be good on January 25 and February 25," says Russell. What about December 25 the following year? Or the year after? Flocks of fans cellar holiday beers, whether or not they'll improve with age. When Karl Strauss designed its "12 Days" series of Southern California–inspired holiday ales (Parrot in a Palm Tree is a Baltic porter, Two Tortugas a Belgian-style quad) in 2010, the intent was for people to buy a 12-bottle case, age it and do a vertical tasting in 2021, when the series concludes. "We encourage you to lay it down because we think the beer will be better," says brewmaster Paul Segura.
Alternately, Anchor Brewing never intended its Christmas ale to endure. Brewed since 1975, with an annually revised tree label and recipe, the beer has a moderate alcohol strength (around 5.5 percent ABV) and a sprinkling of never-revealed spices, both of which curtail life expectancy. "Critically, you can only really taste the last three years," says brewmaster Scott Ungermann. "After five years, oxidation takes hold."
Try 30. Recently, someone brought a bottle of 1986 Christmas beer to Anchor. "It tasted like prune juice and shoe polish," says Ungermann. "It was just way too far gone. It's unfortunate, but he should've had that beer a long time ago. People get inspired to age Christmas Ale." (This year's version features a slightly stronger ABV, helping the beer age better.)
Sierra Nevada's Celebration also defies conventional wisdom that hop-forward beers are best fresh. "No one would think to cellar our Torpedo IPA, line up five years [worth of releases] and invite friends over for a tasting," says Dresler. "People do it with Celebration."
Holiday beers hold strange quarter in drinkers' hearts and minds, associated with good, warm times and worthy of being tapped whenever—even if the calendar doesn't jibe with jolly Saint Nick. Deschutes sometimes tosses a Jubelale in July party, Great Lakes brews fresh batches of Christmas Ale for its Christmas in July party and Port Brewing releases bourbon-barreled Santa's Little Helper for its annual summertime fundraiser. This year, Tröegs created a new summer tradition by releasing its funky Wild Elf during the summer, and Shmaltz tossed the Chanukah in July Hoedown (petting zoo, bluegrass, special release of barrel-aged Chanukah in Kentucky … in July), proving that holiday beers transcend religion and time. Tradition is not fixed in style or a date on the calendar; tradition is what we make up as we go along, repeated until it's entrenched in our individual, idiosyncratic narratives. "Personally, I like the tradition of holding on to a few Christmas beers and opening them up in July," says Russell. "I'm one of those people who likes a strong beer in the middle of the heat wave."
---
Give the gift of Imbibe this holiday season. Gift subscriptions are only $19.95 each after your first $21.95 gift subscription purchase, plus you'll receive a free download of our Holiday Punch Guide, AND through 12/31, $1 of every online subscription order goes to the Red Cross! Click here for details.