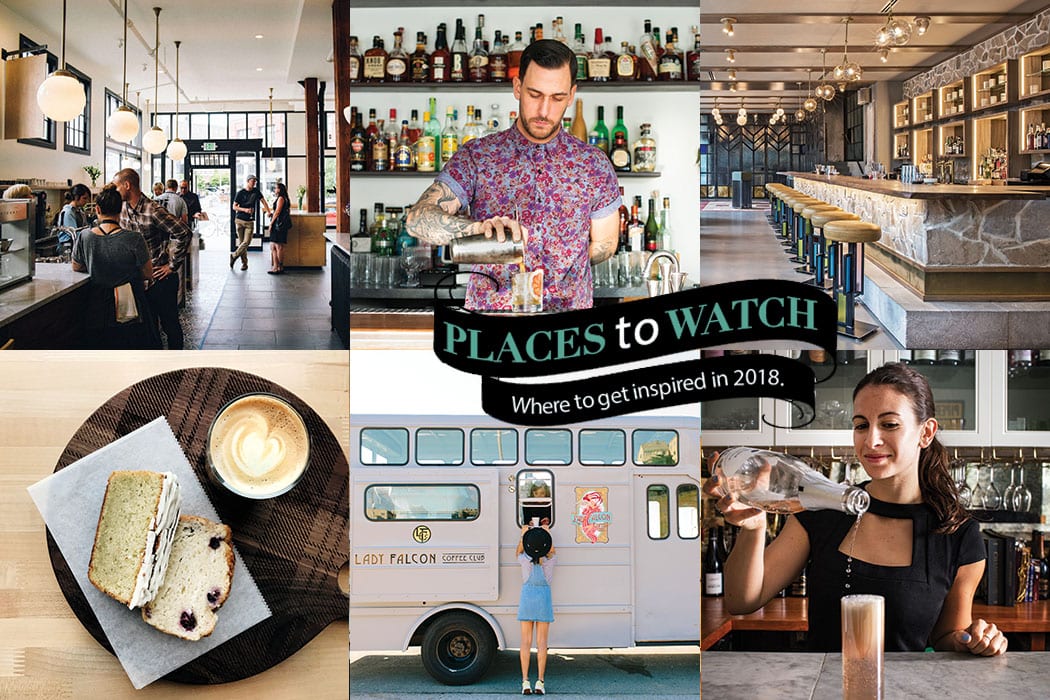 What makes a coffee shop, beer bar or cocktail bar memorable? Usually it's just the drinks, other times it's the atmosphere, often it's the hospitality. For us, it's the harmonious blend of all of these things and more. This kind of quest for excellence keeps us inspired about the world of drinks, and keeps us wanting to explore more. Check out our 2018 Places of the Year below, and grab a copy of the 2018 Imbibe 75 print edition to see the full list of Places to Watch.
Cocktail Bar of the Year: Living Room Bar, The Dewberry Hotel, Charleston, SC
Many hotel bars have long persisted as bastions of uninspired drinks, home to overpriced, watery Martinis and cocktails that summon unwelcome memories of the '80s. But cocktail culture has become so pervasive that some of today's best drinks destinations are in hotels, as exemplified by the Living Room Bar at Charleston's Dewberry Hotel. "People in big cities spend a lot of time in hotel bars," says Ryan Casey, the Dewberry's beverage director. "We wanted our hotel guests, and people in Charleston, to treat it as their second living room. To come in for meetings and coffee during the day, and cocktails in the evening."
Like its hotel home, which opened in a renovated 1960s Federal office building in mid-2016, the Living Room Bar emphasizes a "Southern reimagined" aesthetic. The Dewberry's interior was designed by Workstead, a firm that took a holistic approach to the project, including the furniture, lighting, custom millwork and interior finishes. "It's genteel, warm and hospitable, Southern-bred but well-traveled, so we understand touches like proper service," Casey says.
Given the Dewberry's midcentury architecture and décor, it made sense to approach the bar similarly. "It was already a beautiful room—we wanted to bring it to life with classic-style cocktails to match the space," Casey says.
Crystal stemware and hand-chipped ice reflect the hotel's aesthetic, while drinks such as the Panic Button (a combination of bourbon, Averna, Campari, lemon and cherry liqueur) or the Dark as Night are flavorful but not fussy. "We looked at where cocktail culture came from, then looked to the future, with the glassware, ice and spirits we have available to us."—Paul Clarke
Wine Bar of the Year: L'Oursin, Seattle, WA
Just over a year ago, as we prepared to send 2017's Imbibe 75 issue to press, we hurriedly added a just-opened Seattle restaurant to the list. L'Oursin first attracted our attention for its French-inflected cocktail menu, developed by co-owner Zac Overman. L'Oursin's cocktail performance remains strong, but the bar's imaginative approach to wine has transformed the restaurant into an essential destination for wine drinkers, earning L'Oursin an unprecedented return visit to this year's Imbibe 75 as our Wine Bar of the Year.
With an all-natural wine list presented in a refreshingly engaging style—"Cherry cordial, mandrake, sage, cast iron, a hint of smoke, a lock of your loved one's hair, an old photograph, a desolate clearing in a dark forest, maybe some nude dancing under a full moon," reads wine director Kathryn Olson's recent description of an Oregon Syrah—L'Oursin is determined to bring novices into the natural-wine fold. In keeping with the restaurant's overall approach, the list is largely French, fleshed out with little-known bottles from the Pacific Northwest and elsewhere, many available by the glass and accompanied by Olson's descriptions. "We're not trying to intimidate anyone with knowledge," Overman says. "It's sometimes better if someone comes in totally blind—the funky-saison beer drinker has been great for us. We have people come in who don't like wine, then they come back for our wine. The whole idea was to obliterate that notion that a wine list has to be intimidating."
L'Oursin is currently among only a few places in Seattle with an emphasis on natural wines, and Olson admits it's sometimes a challenge—but the kind of challenge that pays dividends. "There are days when every single person in the restaurant has this magic moment, and then a night when it doesn't translate quite as fluidly—but that's wonderful, too," she says. "It's a great exercise in sharing ideas and finding ways to make sense of what we're doing to folks coming in with different expectations." —Paul Clarke
Beer Bar of the Year: Goed Zuur, Denver, CO
"The basement was the biggest reason that we took this space," says Goed Zuur co-owner John Fayman. "We excavated something like 6½ feet, then poured concrete." It was an ambitious undertaking befitting Goed Zuur (Dutch for "good acid"), America's first bar singularly celebrating of-the-moment sour beer.
No bar provides a pulpit for sour worship quite like Goed Zuur. It charms from the first step inside, windows washing the open space with Denver's ample sunshine, a massive wooden clock cobbled from reclaimed timber giving the room a warm, lived-in feel. At the wraparound copper bar, barkeeps deft in discussing pH and souring techniques dole out 26 assiduously sourced drafts and 80-odd bottles—aged in the all-important cellar—that slide up and down the sourness scale. It mixes sought-after Belgian imports with cultish gems from Creature Comforts and Russian River and Denver's own Black Project and Crooked Stave. "John has been able to get the beer that other people really can't," says co-owner and chef Anthony Lopiccolo.
As in the best Belgian bars, Goed Zuur puts a premium on proper glassware. To enhance aromatics, Goed Zuur serves kettle sours (a faster way to create a pucker) in thinner fluted glasses, leaving ample headroom for a nice nose, while lambics and mixed-fermentation beers go into wine-style glasses. Then there's the 25-ounce decanter. "It's our version of the pitcher," says Fayman, who also owns Boulder's Backcountry Pizza & Tap House.
Food is no afterthought. While Denver is charcuterie-driven down to its marrow, Lopiccolo instead focuses on fromage. "Sour beer and cheese go hand in hand," he says. The selection is molded around modern producers including Vermont's Jasper Hill and Brooklyn's Crown Finish Caves. The menu may also feature gose-poached pork legs and popcorn drizzled with duck fat. "The food is all for showing off the beer," Lopiccolo says. "I make sure everything on the menu flies with sours."
Goed Zuur serves as the North Star for experienced drinkers and neophytes alike, taking each customer to a flavorful new destination. "People come here wanting to try something different," says general manager Cody Boll. "They let us be their tour guide to sours." —Joshua M. Bernstein
Coffee Bar of the Year: Blueprint Coffee, St. Louis, MO
A blueprint outlines an intelligently designed approach to a challenge. For the team behind Blueprint Coffee, that challenge was to create a smart café that narrowed the communication gap between coffee and its consumers. Including several coffee vets from well-respected roaster Kaldi's, the experienced group—comprised of Mike Marquard, Andrew Timko, Nora Brady, Kevin Reddy, Mazi Razani and Brian Levine—planted their first café and roastery in St. Louis in 2013. Five years later, Blueprint is invested more than ever in cultivating lasting relationships throughout the coffee chain. "We're the least complacent group you could find, so every day presents a new opportunity or challenge," Marquard says.
Blueprint's owners (Brady has since left the team) strive to address ever-present issues in the coffee industry—from prioritizing farmer wages to discussing how to approach maternity leave for their employees. "I want somebody to be able to be a barista for their entire career," says Marquard.
This holistic approach to coffee also applies to their outlook on St. Louis' coffee scene, where Blueprint makes it a point to support and collaborate with other local businesses and to foster a sense of community through coffee. "We want to create an environment where people can come to feel inspired, welcomed and comfortable," says Marquard. A newly opened second retail location in the Lindenwood Park area will allow them to expand this community even more. "We tried to plug into a neighborhood that might not have access to great coffee," Marquard says.
And as coffee prices rise globally (resulting in higher prices for roasted and brewed coffee), Blueprint is doubling down on barista training and consumer education with the hope that they can generate even more appreciation for the value of a good cup of coffee. "We started our business with the mentality of building a blueprint for coffee," says Marquard. "To create a smart café that really helps people better approach and understand coffee." —Emma Mannheimer

---
Like what you see? Get more of the best of liquid culture when you sign up for our bi-monthly magazine. Subscribe now and save up to 59%—it's just $21.95 for one year or $32.95 for two years. Click here for details.