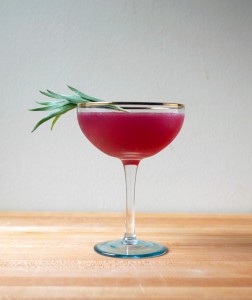 Bright, herbal flavors blend in this tarragon cocktail from blogger Elana Lepkowski.
2 oz. white rum
1 oz. fresh lime juice
1/2 oz. creme de cassis
8 tarragon leaves
Tools: shaker, strainer, muddler
Glass: coupe
Garnish: tarragon sprig
In a shaker, add the tarragon leaves and lime juice. Lightly crush with a muddler. Add ice. Pour in rum and creme de cassis. Shake and strain into a chilled coupe. Garnish.
Elana Lepkowski, StirandStrain.com