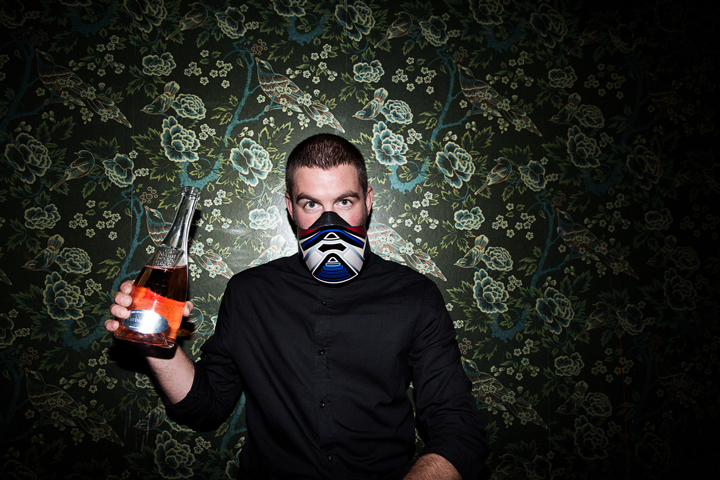 Maxwell Leer is rapidly becoming one of the country's most well-known wine pros. Since leaving his sommelier position at Bestia in late 2014, he's thrown himself into some new projects, most notably Wine Rave. Got a visual of that in your head yet? Think total sensory immersion—dancing, LED lights, and wine-based cocktails that make even the most jaded drinkers take notice. We caught up with Leer to talk about where he wants to see wine culture heading and what the heck this wine rave thing is all about.
Imbibe: How would you characterize the wine culture of LA?
Maxwell Leer: The city is getting a lot better. When I first got here, it was difficult. At least now, people understand that to get good wine you have to go to a wine store. In other words, You have to actually go to a reputable merchant the way you would if you were getting a piece of meat or a good loaf of bread. But still, great wine shops are few and far between—they require going out of your way, and in LA, people spend way too much time in their cars, so if you ask them to add any time to their trip, I think that's a significant hurdle.
Imbibe: Where would you send people to buy wine in LA?
I send people to two shops, Lou's, which is on Hillhurst near Echo Park. Lou Amdur is the proprietor, and he's essentially the godfather of wine in LA. I don't think there is anyone in LA who knows more about wine. He's an encyclopedia, but he's really humble, just a super-nice guy. I also send people to Domaine LA, a wine shop on Melrose. Jill, the proprietor, has great selections. The wines are affordable and drinkable, but you can also find serious bottles if you want to get serious.
By stripping the wine of color, we're forcing people to actually focus on what they smell, what they taste and how to talk about it in a way that's meaningful.
Imbibe: Let's say people who love wine are coming LA. They've got a couple of nights and they want to drink great wine and they want to have a uniquely LA wine experience. Where do you send them?
I would send them to Night+Market. My friend Kris Yenbamroong has this really cool restaurant. He's not a classically trained chef—he went to NYU for film. His parents always owned restaurants, so he kind of got into this food culture, but through the purview of what he grew up eating, and then he took to that a love of wine. So he mostly serves inexpensive table wines from France, which are immensely complementary to his food, and I would say that if I were to go drinking at Night+Market I would find myself drinking Reisling or anything off-dry. It doesn't matter if it's red or white or sparkling, but a little bit of sugar with the tenacious volume of chilis that are in his food would be very complementary. For self-serving purposes, I would go down and have a glass at Bestia. Even though I'm not running the program there anymore, Ryan and Jessie are two of the most gifted people in the city regarding wine. What they're doing is incredible and very rare. Jill at Domaine LA and Lou at Lou's do tastings all the time, and I'd send people to them to participate in one of those. I enjoy the culture of what their tastings bring to the table. Just a totally random, motley crew—the kind of people that just show up and they have either no knowledge of wine, or maybe they're a winemaker from Switzerland or they could be an importer from Germany. You never know who could walk in off the street. I like that aspect of their wine culture because they aggregate a unique subset of the population in LA. So I'd say Night Market, Bestia, Lou at Lou, Jill at Domaine LA. Outside of that, I usually just drink with friends.
Imbibe: So what's the story with Wine Rave?
It's about trying to transform our definition of value in wine. What happens in this setting is that every product—whether it's white, red or rosé—is stripped of its color and then forced under black light, which modifies everything. It forces a conversation that's focused on a person's sensory relationship to the product regardless of its color. By stripping the wine of color, we're forcing people to actually focus on what they smell, what they taste and how to talk about it in a way that's meaningful.
Imbibe: When people go to a Wine Rave, you hand them a rosé & tonic. What's that about? It sounds delicious!
It's one of the drinks that we've made up because obviously quinine is reactive under black light. If you cut rosé that's 13.5% alcohol with tonic, you're dealing with a 7% beverage, which is kind of like a high-octane beer, which means that you can keep going for a long period of time. And it's delicious.
Imbibe: If someone's coming through LA in 2015, will they be able to come to a Wine Rave?
It's something that we will definitely be doing for a significant period of time. The venue may change, the style of service will most likely change, and it will probably get even more ridiculous than it is right now, at least that's what I hope. I can honestly tell you that I'm open to the venture failing or succeeding, but I have a feeling that it's going to work. Interestingly, most of the interest has come from the bartending community who I think would just as soon drink a low-ABV drink. Wine is a great vector for that. Dave Fernie, the general manager at Honeycut, has been a great supporter of Wine Rave. He and Adam, who is my business parter—we're like the 3 Muskateers. Dave is one of the most talented bartenders in the world, and he drinks wine all the time. So I think that's very telling.
Imbibe: How do you imagine the Wine Rave evolving?
I imagine it growing into a more selectively curated space. Right now, we're operating within the framework of pre-existing spaces, but what I would like to see is more installation, more like a museum—where you walk into a space and it's completely transformed for the purposes of sensory experience. That goes for light, sound, smell and taste, of course. What I like about Wine Rave is going to a place and buying into an agreement to lose yourself in LED and bioluminescent culture and give way to a new interpretation of color, smell, sight, sound and feeling. I want it to be more about a new experience for people on a social, structural level with these elements, and using wine as a vector for it. My partner, Adam and I are looking to open a gallery space in Chinatown, so that's happening in the near future. The reason we're opening it is because we've realized that the commerce of the wine business is dictating the conversation, and there isn't a space for genuine interaction about food or drink that doesn't involve making money. And the danger of that is that the conversations are happening in closed circles and in lot of ways are more exclusive than they should be. So we're hoping that with this gallery space we can find a way to get even further along with this conversation, and encourage more people to come out and talk and share their feelings and thoughts about food and drink and build a community around that excitement. It's not about selling you a plate of chorizo or a high-end glass of premier cru Chablis—it's about breaking down the brass tacks and getting a little more comfortable with the culture of food and drink.