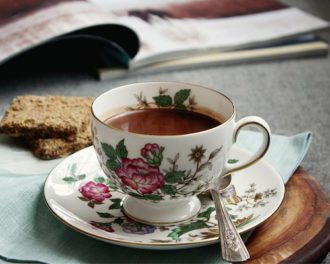 Cinnamon and espresso powder add extra richness and warmth to blogger Tara O'Brady's Hot Chocolate recipe.
3-4 Tbsp. granulated sugar
2 Tbsp. cocoa powder
1 tsp. instant espresso powder
1/8 tsp. ground cinnamon
1 ¾ cups milk
¼ cup heavy cream (or half and half)
2 oz. bittersweet or semisweet chocolate, chopped
Tools: saucepan, whisk
Glass: cup or mug
In a medium saucepan, whisk together the sugar, cocoa, espresso powder and cinnamon. Pour in a little of the milk and whisk until smooth. Pour in the rest of the milk, then the cream, stirring until combined. Add the chopped chocolate and heat until the mixture comes just under a simmer. Stirring constantly as to not scorch, maintain the heat at a simmer and cook until the chocolate thickens slightly, around 2-3 minutes. Remove from the heat, stirring now and again as it will continue to thicken as it stands, and cool to your desired temperature before serving. Serves 4.
Tara O'Brady, sevenspoons.net