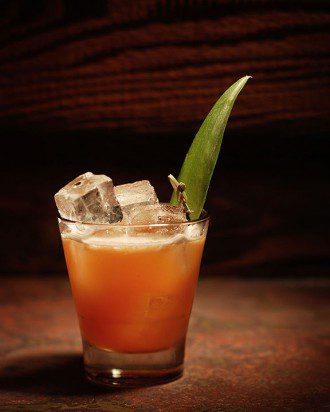 Contrary to its name, this Pineapple Trainwreck cocktail is a perfectly balanced blend of sweetness, spice and acidity and it's utterly refreshing.
1 1/2 oz. aged rum
1 1/2 oz. fresh pineapple juice
3/4 oz. spicy ginger syrup
1/2 oz. fresh lemon juice
1 dash each Angostura and Peychaud's bitters
Tools: shaker, strainer
Glass: Old Fashioned
Garnish: skewered sour cherry and a pineapple leaf (optional)
Combine all ingredients and shake with ice. Strain over fresh ice cubes into an Old Fashioned glass and garnish.
Ginger syrup: In a large sealable container, add 3 1/2 oz. of granulated sugar to 4 oz. of fresh ginger juice. Stir until sugar dissolves, add a small splash of vodka (optional, it acts as a preservative), seal, and keep refrigerated.
Ryan Magarian, Oven & Shaker, Portland, Oregon