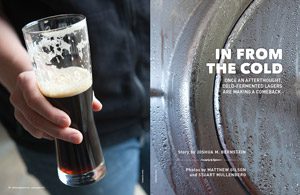 Portland, Maine is the Promised Land for beer lovers in the Northeast. In the seafaring city of 64,000, British-beer enthusiasts can sip malty brews from Shipyard and D.L. Geary, and fans of Belgian-style and barrel-aged ales can opt for Allagash. Hop heads have Maine Beer's fragrant pale ales and IPAs, while Rising Tide's inventive hybrids, such as a lightly smoky black ale, satisfy adventurous imbibers. Toss in Peak Organic's flavorful eco-conscious ales and the farmhouse-style suds of nearby Oxbow Brewing, and most every major beer category is covered.
Despite the embarrassment of brewed riches, veteran brewer Tom Bull noticed one style was strikingly absent. "No one was doing lagers," says Bull, 40, who previously brewed at Portland's Gritty McDuff's and now-defunct Stone Coast Brewing. "I saw the gaping hole in the market."
He hoped to fill it with a recipe for a rounded, golden-hued Munich Helles lager (helles means "bright" in German), which he spent 15 years refining on his homebrew rig. This is somewhat unusual for homebrewers, as lagers' bottom-fermenting yeasts require a lengthy cold fermentation in a stable environment. "I have one of the most tolerant wives in the world," Bull says, laughing.
Of their three refrigerators at home before starting the brewery, "one was dedicated to food, one was dedicated to primary fermentation and another was dedicated to lagering." Confident in his recipe, Bull partnered with local businessman Allen Jagger to found the Bull Jagger Brewing Company and, last October, debut half-liter bottles of Portland Lager. "The time is right for a craft-brewed lager," Bull says.
The last decade has seen brewers venture to the far fringes of flavor, crafting increasingly bitter, brawny ales. Tradition played second fiddle to innovation, as craft brewers distanced themselves from the dominant American beer style, the lager. Done properly, a crisp, nuanced lager is an easy-drinking thing of beauty. But in the brew kettles of beer behemoths the American lager lost its way, and lager became synonymous with lowbrow. "We want to show people that not all lagers are PBRs," Bull says, a rallying cry echoing among brewers crafting complex lagers that can stand head-to-head with ales. "I believe lagers can have as much flavor as ales," says Matt Brophy, the brewmaster at Maryland's Flying Dog Brewery, which recently released UnderDog Atlantic Lager. It's a notion catching on nationwide, as New Belgium's newest year-round release is the aromatic lager Shift, while Oregon's Full Sail offers a range of year-round lagers, and the IPA mavericks at San Diego's Ballast Point regularly feature seven lagers in rotation. Even more committed is Chicago's Metropolitan Brewing, which exclusively focuses on lagers and German-style brews, as does McMinnville, Oregon's Heater/Allen Brewing.
Don't Be Bitter
For much of the 20th century, lagers defined American beer. If you were sipping a beer, then you were likely drinking a lager. So when the craft-brewing movement started percolating in the '80s and '90s, brewers did not mimic the mainstream. "In the early days of craft brewing, there was a predisposition toward ales," says Bryan Simpson of Fort Collins, Colorado's New Belgium, which launched with the fruity Abbey and the biscuity amber ale Fat Tire. "Brewers wanted to get back to bigger, fuller-bodied beers." Sierra Nevada Pale Ale, Deschutes Black Butte Porter and Stone IPA were drastic departures from the status quo, demonstrating that beer and flavor were not mutually exclusive concepts.
This is not to say that breweries completely shunned lagers. Many trot out robust, full-bodied märzens for Oktoberfest.Samuel Adams Boston Lager and Brooklyn Brewery's namesake lager are iconic. And the pale lager known as pilsner is a common offering, though the intense aromatics are more in line with pale ales (and the word lager is conspicuously absent from most packaging). However, these are exceptions to the ale rule. That's largely because lagers are time-consuming to brew. From grain to glass, it can take six or seven weeks for a lager to finish fermenting, and the style leaves little margin for error. Defects can't hide behind heaps of hops or dark malts. By comparison, warmer- and faster-fermenting ales can be ready to consume in as little as 10 days, and the fruity flavors are more forgiving. For a start-up brewery desperate to pay down debt, focusing on lagers makes little economic sense. "If you have a choice between doing a lager or doing two batches of an ale and selling it, the choice is simple," says Rick Allen, 59, the founder and brewmaster of Heater/Allen Brewing.
Allen did not take the easy route. After more than two decades as a homebrewer, he founded Heater/Allen in May 2007 with a focus rarely found on the hop-mad West Coast: German- and Czech-style beers, such as the roasty, subtly smoky Schwarz, dark and complex Dunkel and the lively, grassy Pils. "People often say, 'This is a lager?' " Allen says. "I tell them they can come in all shapes, sizes and colors."
Whereas Allen's beers were once curiosities in an IPA-packed marketplace, he now sees the pendulum swinging away from palate-wrecking flavors. "People's tastes are changing," Allen says. "You're getting a backlash to the IPA. People want something that's crisp, refreshing and not heavy on the palate, and lagers fit the bill."
Those were the same guidelines that Flying Dog brewmaster Brophy followed when designing the UnderDog Atlantic Lager, which is a departure from the company's lineup. Flying Dog is known for full-throttle brews like the Gonzo Imperial Porter and Raging Bitch Belgian-Style IPA. While delicious, these are not beers suited for all-night imbibing—"and we like to have more than one beer," Brophy says. "Pretty much everybody in the brewery felt that we needed to have a crisp, flavorful lager."
Clocking in at just 4.7%, the golden UnderDog drinks brisk, with a soft and appealing fruitiness that leaves you craving another sip. "You could argue that you could have two of these beers for every double IPA," Brophy says. "People have gone to the extreme and are now coming back."

When Innovation Met Cold Fermentation
Concerning ales, American brewers have tossed guidelines into a trashcan and set them ablaze. Styles like IPAs and stouts have been altered willy-nilly, with brewers' creative impulses leading to deliciously mutated branches of beer's family tree. Not so with lagers. By and large with lagers, brewers are indebted to tradition, preferring to turn out pitch-perfect interpretations of age-old brews. "American brewers are really innovative with ales but not really with lagers," says Doug Hurst, 43, the brewmaster and co-founder of Metropolitan Brewing. "I'm out to prove that lagers can be flavorful."
When Hurst first fell under the sway of craft beer in the late '90s, he sought out imperial stouts, double IPAs and "anything with more hops." But after spending six weeks in Munich, Germany, studying brewing, he developed a deep appreciation for lagers' nuance and variance. "I was drinking the same beers we get imported here, but they were so much better," Hurst recalls. "It was a matter of freshness."
Hurst was so smitten by lagers and German beers that he made them the focus of Metropolitan Brewing, which he founded with his wife, Tracy, in December 2008. Their roster includes the toasty, spicy-scented Dynamo Copper Lager, the smooth and crisp Flywheel Bright Lager and the kölsch-style Krankshaft (a German ale fermented at cooler temperatures). They're terrific riffs on classic styles—none of which you'll find in his Urban Evolution Series, where Hurst's creative urges run unchecked. To date, he has devised a dunkel-style dark lager dosed with rye ("It adds a flavor like pumpernickel bread," he says), a lager brewed with chipotle peppers, a lager-fermented Baltic porter aged with toasted oak and even a hoppy IPL: that is, an India pale lager. "There's so much room to explore with lagers," Hurst says.
There might be something brewing with the India pale lager, which marries a fragrant IPA with a brisk lager. In Massachusetts, Jack's Abby Brewing makes the Hoponius Union, while Colorado's Avery offers its own take. Heater/Allen is toying with the notion of doing a fresh-hop lager, and New Belgium's Shift Lager is dosed with juicy, passionfruit-like Nelson Sauvin hops—a white-hot IPA ingredient. "We wanted to put a craft spin on lager beer," says New Belgium's Simpson.
Naturally, hops-mad Southern California has no shortage of this burgeoning style. IPA-lager hybrids are occasionally brewed by Pizza Port, Karl Strauss and Ballast Point, which does the Fathom India Pale Lager. "I'm always searching for hops to be the focus in the beer," says Colby Chandler, 44, Ballast Point's specialty brewer. "With ale yeast, the fruit flavors and esters kind of mask the hops. With lager yeast, you get much cleaner, crisper flavors and none of that ale fruitiness battling the hops."
Though lauded for hoppy ales like the Sculpin IPA, Ballast Point produces a range of eight lagers throughout the year, including the Abandon Ship Smoked Lager and the brawny Navigator Doppelbock that's occasionally aged in brandy barrels. "I don't think I've seen anyone age a doppelbock in an oak barrel," says Chandler, whose lager experiments will continue this winter with a schwarzbier (a black lager) made with California bay leaves, oysters and black sage. It's a beer guaranteed to start a conversation, which might be the point. "Hopefully people will start to ask the same questions about lagers that they do about dry-hopping or strong, high-gravity beers," he says.
Watch Your Rep
American lager's return to respectability is not as simple as breweries creating a quality product. A tough issue to overcome is perception—brewers must undo decades of damages to lager's reputation. "People hear the word lager and they assume that a lager is going to be light, not hoppy and have very little malt presence," says Metropolitan Brewing's Hurst.
Compounding that is a lack of baseline consumer knowledge. "Even though Portland, Maine, is a great beer town, I still do lots of lager education," Bull Jagger's Tom Bull says. Many people ask, 'What's the difference between an ale and a lager?' "Part of the problem is that little fanfare surrounds lagers, as breweries prefer to light fireworks around the latest barrel-aged this or imperial that. The spotlight might be slowly shifting, as craft breweries have begun debuting specialty lager divisions designed to tweak drinkers' attitudes toward lagers. In addition to its Session lagers, Full Sail produces the LTD line of limited-edition lagers, while Brooklyn-based Sixpoint Brewery has its Crisp Lagers division. This spring, Eugene, Oregon's Ninkasi Brewing unveiled its Prismatic lineup of rotating lagers (the first release was Helles Belles). "We love our lagers as much as we do our hoppy beers, and we are super-excited to bring these beers to the world," says founder Jamie Floyd.
The swell of lager production can partly be attributed to increased capacity. As breweries add equipment, they gain leeway with their brewing schedule. "When you have extra tanks, it makes sense to throw a lager in there and let it sit around for a while," says Heater/Allen's brewmaster, Rick Allen. Underscoring that, New Belgium has undergone a series of expansions, and Flying Dog recently added 650 barrels of fermentation space (one barrel equals 31 gallons). Of course, one brewery's windfall is another brewery's shortage. Allen is eager to expand capacity, but "wait time for tanks used to be two or three months," he says. "Now it's nine or 10 months. I'd really like to have new fermenters for summer, but we'll see if we can get them."
Owning extra tanks is important for smaller lager producers, who can't crank out loads of beer like clockwork. "We can produce half as much beer as an ale brewery," says Metropolitan Brewing's Hurst. "It was a concern, but we felt it was worthwhile to sacrifice a bit here and there."
The sacrifice means that Metropolitan only has four employees, which is two more than Heater/Allen. "I have one employee, and it's my daughter," Allen says. Bull Jagger is too new to have capacity concerns, and the brewery is happily humming away producing a small but steady eight barrels a week of Portland Lager, Original No. 19 Baltic Porter, Big Claw Pilsner and, soon, a märzen. "I'm going against that trend of strong hop bombs," Bull says, excited to alter people's drinking habits, one crisp pint after another. "Beer drinkers are finally coming full circle."