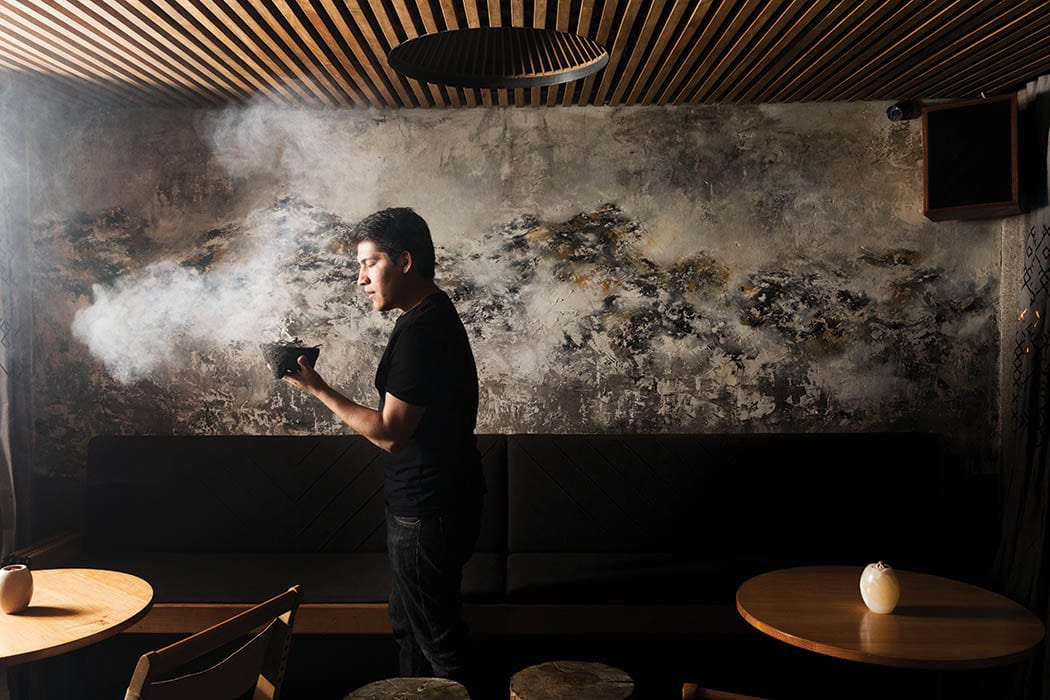 With a spirit inspired by traditional shamanic practices, Mexico City bar Xaman embraces themes of magic, mysticism and global community. When owner Anthony Zamora partnered with DJs Andre VII, Mijo, and Louie Fresco to open Xaman, the team planned to have a house soundtrack that would communicate those themes. The partners, along with Zamora's his wife, Grecia Salome, created a series of playlists that ranged from downtempo mellow music for early evening to more upbeat, pulsing dance tracks for later at night.
Every song feels at home in the subterranean bar, and many of the musicians featured have a close tie to the soul of the place. "We are using a lot of tracks from artists from all over the world who are working directly with real shamans from the mountains or from the jungle," says Zamora. "They are doing exactly the same exercise as us: working with the tribal heritage of Latin America or Africa to transform it in a peculiar contemporary vibe that can speak directly with every soul in the world."
Artists like El Búho, Nicola Cruz, Voodoohop, Chancha Via Circuito, Kaleema add to the collection, creating mix of digital cumbia, electronic, and experimental Latin American sounds. They also welcome many of the same artists to DJ live at the bar. "Thanks to Louie Fresco, we had the chance to invite Nicola Cruz to play at Xaman bar few years ago. Then, thanks to my friendship with El Búho and his musical collective Shika Shika, we had the opportunity to invite a lot of DJs from this musical group," Zamora says.
Get a feel for what a typical night in the bar sounds like with the playlist below, and sip a Calebassito or Curandero cocktail while you listen.
---
Did you enjoy this article? Get more of the best of liquid culture when you sign up for a print or digital subscription to Imbibe Magazine. Click here for special savings!