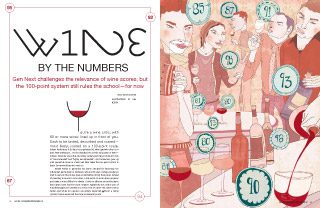 You're a wine critic, with 60 or more wines lined up in front of you. Each to be tasted, described and scored— most likely, scored on a 100-point scale. Robert Parker does it (in fact, he popularized it), Wine Spectator does it, so does Wine Enthusiast … it's the standard. It's not the only game in town— Britain's Decanter uses a five-star rating system, and many columnists stick to "recommended" and "highly recommended"—but Americans grow up with percentile scores in school and have taken the 100-point system to heart. Some would say too much so.
Robert Parker in particular has been criticized for becoming too influential, particularly in Bordeaux, where with each vintage, producers wait to see how their wines have scored before setting their prices. Instead of providing a service to consumers, a top-notch score can drive up prices and make a wine difficult to obtain. Could an effusive and enthusiastic description have had the same impact? Apparently not. Robin Garr of wineloverspage.com started as a wine critic at about the same time as Parker, and while his opinions are widely respected, without a rating system, they've never had the same commercial punch.
What's in a Number?
You're picking out a wine. The shopkeeper makes some recommendations: "This Bordeaux is fantastic. That's a tremendous Barolo." Is he knowledgeable? Is he trying to gouge you or move slow stock? What's the difference between "fantastic" and "tremendous" anyway? There's a card (a "shelf talker") by the Barolo: "Wine Spectator: 94 points." The Bordeaux gets a 92. The numerical difference seems authoritative and unambiguous, so you buy the Barolo.
When wine was a specialized taste, wine drinkers developed a relationship with a merchant who could answer questions and make recommendations. In the 1980s and '90s, more and more people were buying wine, often in supermarkets, liquor stores or online, rather than in specialty shops; magazines and shelf talkers became a stand-in for a knowledgeable sales force.
The past few decades saw an explosion of wine options as well. At one time Spanish wine meant Rioja; today there's Rias Baixas, Priorat, Bierzo and so on, and that's just one country. Even domestically, the number of U.S. wineries increased from 579 in 1975 to 2,188 in 2000, according to the Treasury Department, and today every state in the union has a winery. With so many more wines available, the demand for comprehensive, succinct, user-friendly wine criticism grew immensely. Parker introduced the 100-point scale in 1978, providing the quick summary wine drinkers were looking for; by the 1990s, the system was widely accepted by many wine publications, and many more wine fans. Scores may be an affront to their professionalism, but retailers are frank about the effectiveness of high scores in selling wine. Even stores with trained, knowledgeable employees resort to numbers: the Enoteca Wine Shop in Calistoga, Calif., advertises that it has "numerous 96, 97, 98, 99 and 100-point wines." Scores are ubiquitous at online outlets like Wine Library and wine.com. Tom Traverso, marketing manager for wine.com, points to their "90+ wines under $20" page as an example. "It's wildly popular," he says. "For a lot of our folks if it's a 90 or more, then it works for them.
Admittedly, we all want our wines to be "A" students. Allen Meadows— otherwise known as the Burgundy critic Burghound—calls 89 "the polite score, the kiss of death," because many consumers consider only a 90 or better to be an endorsement. The publications themselves disagree; an 80, in fact, still denotes a "Good" wine. Wine Spectator's breakdown is typical: 80–84: Good; 85–89: Very Good; 90–94: Outstanding; 95–100: Classic.
Standing in the wine aisle, debating choices, consumers might weigh each point solemnly, but even a couple points of difference doesn't signify much, according to Jonathan Newman, chairman of the Pennsylvania Liquor Control Board and a respected wine advocate. He says that while there's a difference between say, a 92 and an 81, there isn't a significant quality difference between a 91 and a 93.
Cross-referencing scores from different critics can be tricky; just like teachers, different reviewers grade differently. Steven Tanzer of International Wine Cellar rates wines against their peers, so a 100-point Beaujolais would not necessarily be the best wine possible, but it would be the best conceivable Beaujolais. This respects local winemaking traditions, but it also requires more knowledge from the reader. They need to know something about Beaujolais if they are to decide between a 100-point Beaujolais and, say, a lesser-rated Chianti. Wine Spectator scores seem to be more absolute. On its Web site, Beaujolais scores top out at a measly 87; the region's apparently incapable of being "outstanding."
Critics can also be generous or conservative in their scoring; Meadows says that "people refer to Burghound as Parker minus five or six points." Newman characterizes Tanzer as another tough critic, while Wine & Spirits is more lenient. Whoever the critic, scores below 80 are rare, and usually indicate a wine with real technical flaws. Wine critics almost never score a wine without an accompanying tasting note; Meadows says the score indicates the quality of the wine, whereas the tasting note helps readers decide if the wine is the right style for them personally. However, opponents of wine scoring say it's only the number that people remember—and that sellers mention, when it's good.
95 and Sunny?
Robin Back, a Connecticut-based representative of South Africa's Fairview Wines, is driving some samples to the Wine Spectator office in New York. "It feels like entering the lottery," he says. "If a wine gets 90+, everyone wants it and we're sold out. When the Goats Do Roam in Villages got a 91 it had a huge impact on sales." On the other hand, he says it's not the only way to move wine: "The Goats Do Roam Red is the No. 1 selling South African wine in the U.S., but it never gets huge scores—mid 80s. People love that wine. It's a brand, and it doesn't matter what score it gets."
Christopher Silva, president and CEO of St. Francis Winery in Sonoma County, agrees that scores are only part of the story. In January, their 2002 Sonoma cabernet sauvignon received a 90 from Wine Spectator, but by that time word-of-mouth had already done its job and the wine was almost entirely sold out anyway.
Still, Joel Peterson of Sonoma's Ravenswood Winery says some winemakers find the scores influential enough to change their winemaking. "There's no question," he says, "Winemakers are making wines they may not even like themselves. It's economic suicide to score in the 80–85 range all the time. The problem is that it forces a certain kind of style onto the wine which isn't necessarily correct or ideal." The Bordelaise have coined the term "Parkerization" to describe fashioning a wine with an eye toward a strong Parker score, while in California, consultancies like Enologix do serious number crunching on the chemistry of highly rated wines and help their clients bottle that knowledge.
A sore spot with many winemakers is when a publication scores not an individual wine, but an entire vintage. 2002 was a terrible year in Barolo; many producers elected not to make wine at all. Vietti made a wine anyhow, and it came out well. Winemaker Luca Currado tells how he presented barrel samples to a visiting wine critic, "accidentally" misstating the vintage to avoid preconceptions, and the critic was impressed. Will Viet
ti import the wine to the U.S.? Probably not. The vintage has received so much bad press—68–72 from Wine Spectator, 75 from Robert Parker—that the wines would be too difficult to sell.
Winemakers critical of wine scores, like Neil McCallum in New Zealand and Jean-Michel Deiss in Alsace, say the ratings obscure the individuality of not only the wines, but of personal taste. They argue that to pretend that one palate can make judgments that will be useful to a universal audience is ridiculous; numerical scores are inappropriate because they represent not something inherent in the wine, but something inherent in the critic: their preferences.
And the critics usually prefer big wines, with high alcohol and high extraction. They almost have to—when faced with a lineup of 50 or 80 wines at a time, those wines stand out like the loudest guy at a party, drowning out quieter types who may have more interesting things to say. "The ideal is to try each individual wine with food over an evening, to see how it goes with a meal and how it develops in a glass," says London-based wine critic Jancis Robinson, but she concedes that the vast amount of wine out there necessitates big comparative tastings. It's like using a time-saving, multiple-choice test when an essay would be more revealing. "What we can do is try to imagine each wine over time, with food, but it's difficult and all too easy for the initially flashy wines to stand out rather than the more subtle slow burners," she says.
Michael Franz was the wine columnist for the Washington Post for 11 years before he and Robert Whitley founded winereviewonline. com last year. Franz never used a scoring system as a columnist, but despite reservations, he and Whitley decided that scores were necessary if the trade was going to take the site and reviews seriously. Franz, like Robinson, feels that a knowledgeable critic can correct the tendency to favor big wines. In addition, he's found that having to commit to a number has made him sharper and more critical. "It's a useful discipline and makes me really think about how strongly I want to get behind a wine," he says.
Beyond Numbers
So in the future, will you walk into a wine shop and ask for the cheapest 91-point red they've got? Fortunately, no. Personalized, knowledgeable wine merchants are on the rise again. In some areas, sommeliers are even abandoning the restaurant scene to open retail shops: Gregory Moore left Philadelphia's Le Bec Fin to open Moore Brothers Wine Co. in New Jersey, master sommelier Aimee Arnold runs a shop in Nebraska and Jean-Luc Le Dû opened his eponymous store in New York City last year.
Media alternatives are also growing, so there's more opportunity to find a guide who matches your tastes. Writer and consultant W.R. Tish calls himself a "crusader" against wine scoring; he says the wine world may be complicated, but America's wine drinkers are up to it. Newspaper columnists already have a local voice; David Baer at Polaner Selections, a New York-based distributor, says whenever one of their wines receives "top pick" or "best value" in The New York Times, it sells out that day.
Ravenswood's Peterson has great hopes for the Internet and younger wine drinkers who are comfortable using it as an alternative source of information. Not only are wine blogs becoming legion, but sites like cellartracker.com and Cork'd allow anyone to post an opinion— and score—of a wine. These sites allow users to track other members' recommendations, or look at an aggregate score from a cross-section of wine fans. For many new wine drinkers, peer recommendations are more meaningful than critics' opinions, and if they find other users with similar tastes, it's easy to follow up on their recommendations in the future, rather like getting wine tips from a friend.
Of course, online wine sites are used by wine drinkers of all ages, but last year a Wine Market Council survey found that the Millennials— that new generation Peterson is banking on—are taking to wine in record numbers, with an openness that suggests the beverage has lost its intimidation factor and is becoming a regular part of American life. Will that be the end of scores? Peterson doubts it. "As people taste more, scores will become less relevant, but they'll never go away," he says. "We're a parochial crowd—we like the competition."