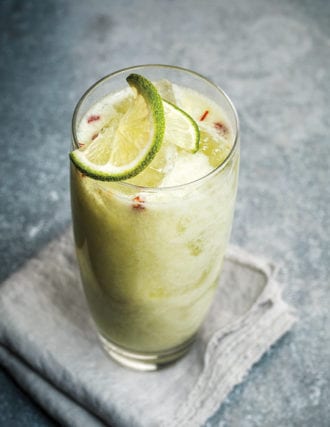 Featured in his new book Bar Chef, Christiaan Röllich named this cocktail after Thailand's sacred white elephants. "They're albino elephants, so they're very rare. They are generally kept by royalty and rulers of nation," Röllich writes. "If you look at old-school Southeast Asian artwork, they often include depictions of white elephants, dressed up with jewels and other decorations. Since this drink is white and has Thai influences, the name White Elephant seemed perfect."
2 oz. rhum agricole
1½ oz. Thai coconut syrup
1 oz. fresh lime juice
Tools: shaker
Glass: Collins
Garnish: lime wheel
Combine the ingredients in a shaker and fill with ice. Shake vigorously, then pour the cocktail, including the ice, into a Collins glass. To garnish, cut a lime wheel three-quarters of the way through from one edge toward the center. Stretch the wheel out so it becomes a spiral and lay it on top of the cocktail.
Thai Coconut Syrup
1 cup canned coconut milk
1 cup sugar
1 ounce fresh ginger, peeled and roughly chopped
1 tablespoon fresh cilantro leaves
¼ red Thai chile or chile de árbol
Combine the coconut milk and sugar in a small saucepan and heat it over medium-high heat, stirring occasionally, until the sugar dissolves. Turn off the heat and set aside to cool to room temperature. (If you proceed before the syrup has cooled, the heat will change the color of the syrup from beautiful light green to a not at all pretty brownish green.) Transfer the milk to a blender and add the remaining ingredients. Blend until the ginger, cilantro, and chile are pulverized. Transfer the syrup to a labeled bottle or jar and close; refrigerate for up to 1 month. Makes about 12 ounces (1½ cups).
Recipe and photograph reprinted with permission from Bar Chef: Handcrafted Cocktails by Christiaan Röllich. Copyright © 2019 by Christiaan Röllich. Photographs copyright © 2019 by Ed Anderson. Reprinted with permission of the publisher. All rights reserved.
---
Did you enjoy this recipe? Sign up for our newsletter and get our favorite drink recipes of the moment in your inbox every month.