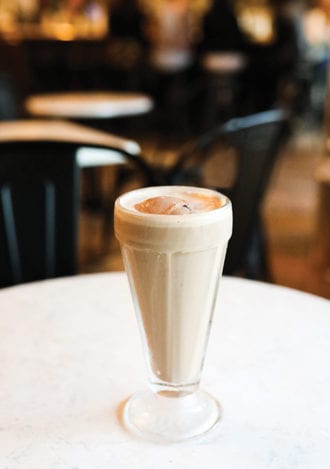 The simple pleasure of an ice cream float isn't something outgrown with the onset of adulthood. Near the end of the 19th century, when Philadelphia drug store clerk Robert M. Green dunked a scoop or two into a glass of soda poured from the fountain, visitors stepped right up to sip and spoon this perfect meeting of frozen dessert and fizzy soda. Following in the footsteps of Midwestern ice cream cocktails, modern takes on the float add adult appeal in the form of booze. "An alcoholic float will have far more textures and flavors going on in a single glass than a more traditional cocktail," says Leo Piller, soda jerk and lead bartender at San Francisco's The Ice Cream Bar. "It's a unique drinking experience that provides a fun summer escape." Here, three of the nation's top ice cream destinations give us their best grown-up interpretations.
Shugsicle Creamsicle 
At Seattle's retro-chic Shug's Soda Fountain & Ice Cream, owner Colleen Wilkie adds a 21-and-over twist to the shop's signature float, reimagining a nostalgic dessert from her youth. "Adding Aperol to this summertime classic balances the sweet orange taste with a bit of bitterness and herbal elements," says Wilkie. To make the Shugsicle Creamsicle orange syrup, add the zest of 1 orange, and 1 cup each of fresh orange juice, sugar and water to a medium pan. Simmer over medium-high heat until the mixture has reduced to a syrupy consistency (approximately 30 minutes), then let cool. Add 2 drops of orange essential oil to the reduction, which can be refrigerated for up to 2 weeks. To prepare the float, in an old-fashioned soda glass add 2 oz. of the orange syrup and 2 oz. of Aperol, then fill the glass with enough soda water to reach 1½ inches below the rim, using a barspoon to gently combine. Place 1 scoop of quality vanilla ice cream on the rim of the glass, then slowly fill the rest of the glass with prosecco. "The bubbles bring the childhood memory of a Creamsicle into adulthood," Wilkie says.
Amaro Float 
Equipped with a 1930s-era soda fountain, The Ice Cream Bar brings the golden era of the soda jerk into the 21st century with its sophisticated ice cream–anchored concoctions. In Leo Piller's Amaro Float, a floral amaro adds complexity and notes of spice to fruity tropical ice cream flavors, while playing a balancing role. "The mild bitterness keeps the drink from being too heavy on the palate," Piller says. To make the float, place a barspoon in a 12-oz. old- fashioned soda glass, then add 2 oz. of soda water. Add 2 small scoops of tropical fruit ice cream (such as pineapple, passionfruit or mango) to the glass. Pour 2 oz. of amaro (Piller uses Lo-Fi's Gentian Amaro, but any botanical-forward amaro—such as Amaro Montenegro—will work), 1½ oz. of rich turbinado syrup (1½:1) and 1 oz. of fresh lime juice over the ice cream. Use the spoon to gently agitate the float. Once a bubbling head arises, top with a small amount of soda water, garnish with a lime wheel.
Irish Whiskey Chocolate Float 
Austin, Texas' Prohibition Creamery has made a business out of bringing boozy flavors like Bananas Foster and tiramisu to ice creams, which then become playful shakes and floats. In owner and founder Laura Aidan's creamy Irish Whiskey Chocolate Float, pictured, the delight of Irish Coffee gets sweetness from chocolate ice cream and a buzzy edge from nitro cold brew (regular cold brew works, but Prohibition recommends nitro for a richer flavor and foamy head). "The cold ice cream and coffee buzz are refreshing during the summer heat," Aidan says. Fill an old-fashioned soda glass halfway with 4 oz. of chilled nitro cold-brew coffee. Carefully place a firm 4 oz. scoop of your favorite chocolate ice cream atop the cold brew. Pour ½ oz. of Irish cream liqueur (Prohibition uses Baileys) and ½ oz. of Irish whiskey (Prohibition uses Jameson) over the ice cream. Add the remaining 4 oz. of nitro cold brew to the glass.
---
Did you enjoy this article? Get more of the best of liquid culture when you sign up for a print or digital subscription to Imbibe Magazine. Click here for special savings!