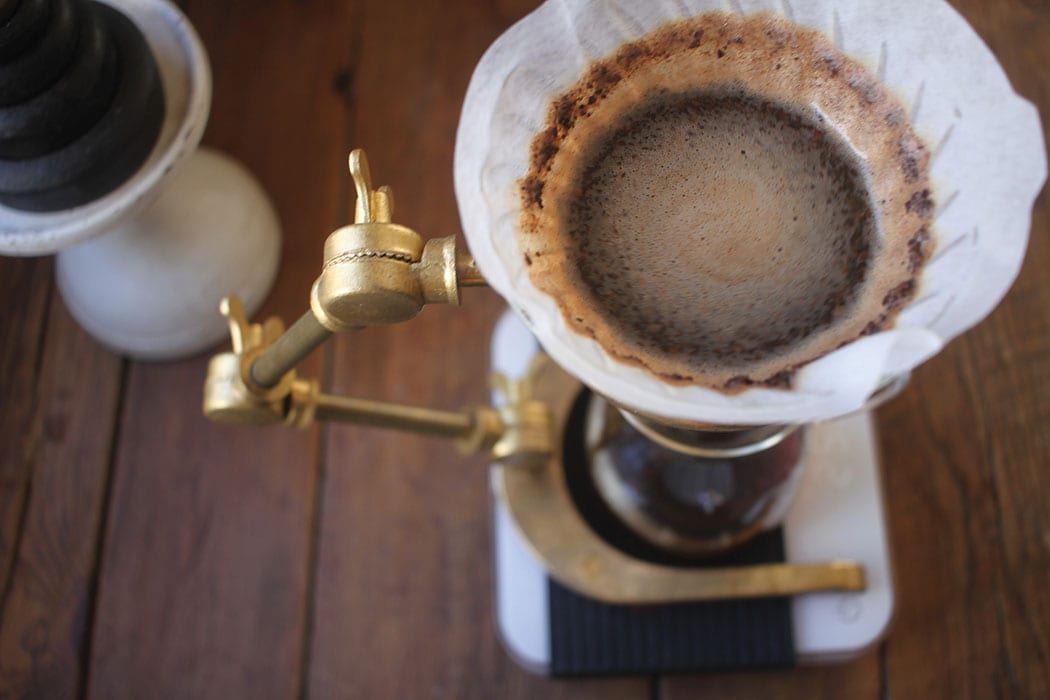 In 2013, David Sutton built a pour-over stand for his wife. A teacher, she'd take her coffee to-go in the morning in a large travel mug that didn't fit beneath their regular coffee maker. He fashioned an adjustable stand to accommodate any size cup—something that would look nice sitting on the counter. Sutton thought he'd done a good job of it; he snapped a pic and posted it to Instagram. Someone asked to buy it, so he cleaned it up and sold it. "My wife came home and asked where it was, and I told her I sold it," Sutton recalls. "She said, 'Well, maybe next time make three or four.' I never stopped making them."
Fast-forward five years and The Coffee Registry's pour-over stands are sold all over the world, with stockists in Germany, Japan and Sweden, and through retailers like Kaufmann Mercantile and Food52. Sutton is also currently creating custom designs for Starbucks. It's an impressive level of global commerce, belying the fact that he remains the only employee.
It began with his Fort Collins, Colorado–based roastery, The Coffee Registry, which itself sprang from Sutton's hobby of roasting coffee at home on his grill. "When I found out you could roast coffee at home, I thought, 'How bad can that go?' " he recalls. "The answer is, it can go pretty poorly."
Undeterred, Sutton continued to roast beans at home, giving bags to friends when he was producing more than he could drink. "I got connected to a couple of farms, so I was buying directly even as a home roaster," he says. "I began to see how coffee, being such a worldwide commodity, has the potential to do a lot of good."
It was a notion that resonated with him. Sutton had received his master's degree in Christian education, and his work as a pastor had taken him to countries like Guatemala, where he witnessed firsthand the financial impact that coffee can have as a crop. "At the two farms that I got connected with—one was in the Dominican Republic and one was in Laos—it was amazing seeing these massive life changes in the communities because of coffee, specifically specialty-grade coffee," Sutton says.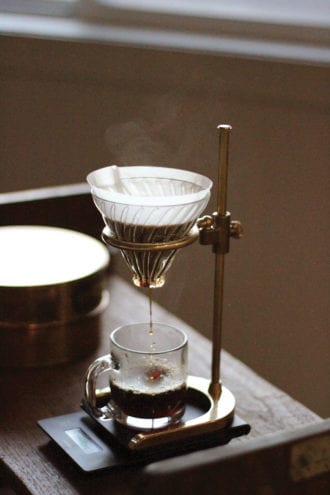 Wanting to continue that relationship, he officially started roasting as The Coffee Registry in 2011. The operation began humbly, with Sutton making his deliveries around Fort Collins via cargo bike. He'd deliver beans in half-gallon glass jars and pick up empties, milkman-style. Though the business has expanded, with The Coffee Registry now supplying cafés, offices and online subscribers, Sutton still manages the operation solo, dividing his time between roasting beans and making deliveries early in the morning, and then designing and prototyping the pour-over stands in the afternoon. "I've always loved design, but I never really thought I'd have a product out there," he says.
Initially making the stands himself, Sutton now works with a brass foundry and a woodworker to accommodate a larger level of production, though each stand is still made to order. Sutton currently sells more than a half dozen different styles, each with some version of an adjustable arm and boasting a steampunk aesthetic, like equipment from a Victorian-age laboratory. "Inspiration comes from a lot of places," says Sutton. "I often end up wandering aimlessly through antique stores and taking aspects from those longer-lasting designs. That's why we switched from using steel to brass, because I love how beautifully it patinas and ages. Ultimately, we want to create something that could be an heirloom item."
Cleanly designed and solidly constructed, the stands offer a thoughtful alternative to so many disposable kitchen gadgets and one-trick brewers, while also capitalizing on a renewed interest in pour-over coffee, both at the café and at home. "I do think it's partly the simplicity of a pour-over. It's kind of the pendulum swing away from the hyperdigital world that we live in," Sutton says. "It's simple, there's no technology, it employs gravity and hot water, and it still produces what you want it to in the simplest, purest way possible. It's one of the few ritualistic things that I have, and I've really come to enjoy that in a much deeper way than I would have guessed."
---
Did you enjoy this article? Get more of the best of liquid culture when you sign up for a print or digital subscription to Imbibe Magazine. Click here for special savings!