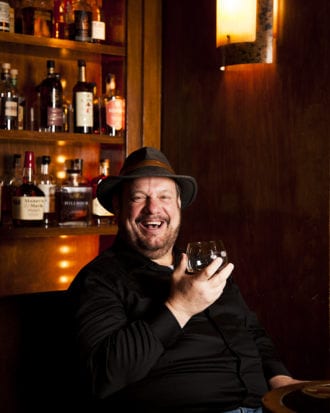 Dave Pickerell is easy to spot in a crowd. He's tall, and his football-player frame never arrives anywhere without a hat—usually his favorite gray wool Pendleton or a soft, brown Stetson. On this blustery morning, he tosses a clearly loved Fedora on the seat beside him and settles in to bathe the conversation with his Southern accent and his free-flowing, good-natured storytelling, which often wanders into the topic of bourbon. And why wouldn't it? Reviewing his resumé is as simple as visiting a well-stocked liquor store, in which dozens of brands of whiskey—from household names such as Maker's Mark to a growing swarm of craft-distilled bourbons and other whiskies—bear Pickerell's imprint.
And while he has decades under his belt as a master distiller—a job that requires an expert knowledge of making and maturing spirits—this West Point–educated chemical engineer is a jack-of-all-whiskey-trades, demonstrating a well-honed knack for everything from marketing and public relations to mixing a Sazerac. He's a seasoned expert who startup distillers turn to for guidance and experienced peers seek out for perspective, and he's not only influenced the way American distillers make whiskey, but he's guiding the rapidly changing category in ways that will continue to unfold decades from now.
But like a lot of success stories, Pickerell's didn't have an easy start. "My childhood was all about escape," he says. His voice is easygoing, despite discussing a less-than-ideal upbringing in rural Ohio in the 1960s. "I had what you would call a difficult family life," he says. "While it would be unfair to say I grew up in the slums, we were right next door."
Pickerell's earliest thoughts were of wanting to be anywhere else. Unable to afford a vacation, his father would simply drive the kids around in the car. "I lived in an earthy, dirty area, and you couldn't go anywhere without passing a factory," he says. "I'd pepper my dad with questions. 'What does that factory do? What's that steam coming from that pipe?' My dad would always reply, 'The only one who knows that is a chemical engineer.' "
Pickerell pursued a sports scholarship and graduated as an all-state offensive tackle, earning a paid ride to West Point. Although he excelled there—he finished in the top one percent his freshman year, and graduated in the top eight—he didn't easily conform to military life. "The military made me creative," he says. "At West Point, you arrive to a book of rules and a table of corresponding punishments. Most people think, 'Don't do these things.' I thought of it as a cost-benefit analysis project—'Is the crime worth the punishment?' I broke the breakable rules constantly."
But his academic achievements, were impressive. While serving in the Army as a cavalry officer, he earned another scholarship, this one for a graduate program in chemical engineering at the University of Louisville, smack dab in bourbon country. While there, a thermodynamics professor placed Pickerell on the path to distillation. "I wanted an overseas assignment," Pickerell recalls. "I asked him for a reference, and he instead pointed me towards a Louisville-based alcohol consulting firm called Ro-Tech. The minute I got there, I knew I belonged."
During his five-year stint at Ro-Tech, Pickerell consulted for companies such as Brown Forman (makers of Jack Daniels and Old Forester bourbon) and United Distillers, which would later become the spirits giant Diageo. His closest colleague hated flying, which meant Pickerell was frequently on the road, visiting distilleries and other clients. "I would go to China for 90 days, then off to Scotland," he says. "Down in the Dominican Republic, I spent time working for two breweries. The job fulfilled my desire to see the world."
In 1994, Maker's Mark came calling. It was as the master distiller and vice president of operations at this now-iconic bourbon distillery that Pickerell started to show the spirits world just how out-of-the-box his skills were. Under the mentorship and guidance of Bill Samuels, Jr.—son of the brand's founder and the CEO (now chairman emeritus) of the distillery—Pickerell spent 18-hour days tackling the science of distilling, as well as the broader, more multifaceted aspects of running a brand. "I was master distiller, lead engineer, a project manager, and they also groomed me to handle public relations," Pickerell says.
"We hired him and then almost killed him with the hours," laughs Samuels, recalling that they once had to beg Pickerell to take a vacation. Pickerell's tenure at Maker's Mark took place as it blossomed from boutique bourbon into a global brand, and he roughly doubled the distillery's production capacity while also expanding its visitor program, which is now a model for the bourbon industry—all while maintaining the day-to-day process of making bourbon. "To say he's a workaholic would be an understatement, and his dedication was nothing short of incredible," Samuels says.
When Pickerell started at Maker's Mark, the company sold 175,000 cases of bourbon each year; when he departed in 2008, annual sales were just shy of one million (today it's 1.2 million, and the distillery recently embarked on another round of expansion). This level of success would prompt many people to try to move up, but, Pickerell chose to branch out, forming Oak View Consulting in 2009 to aid and champion those who, like his younger self, might not have the means to compete in the spirits world without help.
One of his first clients was Willett Distillery, a largely defunct facility near his home. Pickerell had a soft spot for the distillery's age and character: built in the 1930s by a family with a long history in bourbon, the distillery remained family-owned, but hadn't operated in since the early '80s. But the Kulsveen family had earned a reputation as independent bottlers of excellent bourbon, and they aimed to place the distillery back online to continue the family tradition. "The first time I saw it, it was in shambles," Pickerell recalls. "When I met up with them, they were rebuilding it using cash flow. I just gave them free advice for a while."
Eventually the Willett Distillery was able to hire Pickerell to troubleshoot, and today there are dozens of distilleries like Willett across the industry—operations Pickerell has helped because he believed passionately in their products. "Dave's always been willing to share his information, and that's put him in a unique position of having a massive network of people who think highly of his business knowledge, and also enjoy his company as a genuine friend," says Darek Bell, owner and distiller at Corsair Distillery, which operates facilities in Tennessee and Kentucky.
Bell has worked closely with Pickerell on several projects and says his ability to think creatively about problems has made him a vital figure in the world of craft distilling. "Dave truly looks at the world in a different way," Bell says. "He's a hell of a good guy to know in a crisis."
Bell tells of another distiller who was losing $400,000 annually due to evaporation from a big tank; another consultant had proposed a prohibitively expensive remedy, so the distiller contacted Pickerell. "Dave waltzes in and suggests filling the tank with plastic whiffle balls," Bell says. "They would rise and fall with the liquid levels, but also stop the evaporation. So simple, so brilliant—and so much cheaper."
Playing to his own passions, Pickerell also became enamored with rye whiskey around the time he started Oak View. Rye whiskey has a heritage that dates to Colonial times—an aspect that piqued Pickerell's historical interest—but it was also experiencing a new surge of demand driven largely by the cocktail movement. Pickerell dove into rye at a number of distilleries, perhaps most notably as part of a collaboration to re-create the rye whiskey distilled by George Washington at a replica of the founding father's distillery at Mount Vernon.
He also addressed the growing demand for rye in a partnership that led to the launch of WhistlePig. "Dave has been one of the most instrumental people in the resurgence of American rye," says Raj Peter Bhakta, who joined Pickerell to form WhistlePig in 2009. While the partners navigated the lengthy process of building a distillery on Bhakta's farm in Vermont, Pickerell sought existing supplies of 100-percent rye whiskey that could be bottled under WhistlePig's label in order to introduce the brand. After locating a supply of superlative rye in Canada, Pickerell and Bhakta launched WhistlePig with 1,000 cases in 2010. "We found common ground in wanting to create an American whiskey that could go up against the Scottish stuff," Bhakta says.
Mirroring the globe-trotting aspect of his early career, Dave Pickerell remains a gypsy. He owns a house in Louisville, but he spent only a month there in 2013. Instead, he keeps a travel itinerary that puts him in constant motion among the country's growing legion of craft distillers, while continuing to take on new projects. One week, he might sleep at Hillrock Estate in New York, where as master distiller he's introduced a promising solera method for maturing American whiskey. Another, you might find him at George Washington's Mount Vernon operation, checking in on the latest spirits project. In between, he'll stop at distilleries ranging from Woodinville Whiskey Company in Washington to St. Augustine Distillery in Florida, just two of the myriad bourbon distilleries that are tapping into Pickerell's expertise.
As for the "Master Distiller" title he bore at Maker's Mark, today you'll only find Dave Pickerell's signature on three bottles—WhistlePig rye whiskey, George Washington rye whiskey (available only at Mount Vernon) and Hillrock Estate's line of whiskies—though he's helped shape dozens of brands from more than 50 distilleries. Just don't ask him which of these many whiskies is his favorite. "I'm not able to answer that," he says with a Cheshire grin. "They're all my kids in a way. You can't ever pick a favorite."