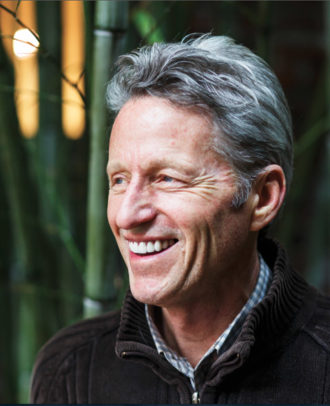 Norman Rockwell would have been hard-pressed to paint the scene that Steven Smith depicts when asked about his first memories of tea. The setting: 1950's Portland, Oregon. Winter. Crackling fire and the delights of childhood. "I can still taste the highly sweetened Red Rose teas my grandmother drank," Smith says, his normally fervent voice slowing a bit for nostalgia, and pausing entirely for sips of a blended black tea. "I have three sisters, and my parents both worked. My grandparents lived next door and every day, after school, my grandmother would have tea ready for us. My older sister and I still talk about that—the aroma of sweet Red Rose tea and a fireplace."
Smith is a master tea purveyor, sourcing botanicals from far-flung locales—Reggio Calabria in southern Italy for Bergamot oil, and Fayoum, Egypt for his delicate chamomile. He's also an expert in the art of blending and has a resumé that includes co-founding the globally recognized tea brands Stash and Tazo. His latest venture is Steven Smith Teamaker, and it's based at his tea shop in Portland. In a twist of irony considering his childhood, Smith has helped transform America's perception of tea from being the stuff served by grandmothers to a complex, full-flavored and evolving drink spanning generations.
As one of four children in a middle-class family, there wasn't an abundance of money when Smith was growing up, and he developed an entrepreneurial spirit early. In his 20s, with an unfinished degree in journalism and after serving three tours of duty in Vietnam, he returned home to Portland to take a job managing his brother-in-law's natural-food store and herb shop, Sunshine Natural Foods and The Gates of Eden. Smith recalls having stocked hundreds of types of herbs. He and his friends aimed to become frontrunners in those early years of the natural foods movement, expanding and becoming a distributor to stores like their own. "Only issue was, there weren't many stores like ours," Smith chuckles. "We got in over our heads financially."
The shop closed, but those years of working with botanicals set the stage for Smith's later success. A friend, Stephen Lee, bought the botanicals from The Gates of Eden and formed Stash Tea. "He was doing maybe $800 a month in sales with Stash," Smith says. "I had a VW bus that I filled with tea samples, and took off for three weeks. I came back, and I'd sold $15,000 worth of tea." In lieu of a commission, Smith became an equal partner in Stash.
Along with a new additional partner, Smith opened a coffee, tea and spice shop in Portland in 1974 and began incorporating blending into his repertoire. "We would go out and collect forest-floor botanicals," he says. "In some cases, we would buy entire fields of red clover. We arranged deals with feed and seed dealers, and I began to study medicinal botanicals." Smith sold his shares in Stash in the early 1980s, but he and Lee continued to work together. By the end of that decade, he'd repositioned the brand's initial blends and continued—through speaking engagements and public relations—to expand distribution.
Stash sold to a Japanese investor in 1993, and Smith set out to start over again. In 1994, he and Lee sat down with copywriter Steve Sandoz and Steve Sandstrom, the head of one of Portland's top brand-design firms, in a meeting that inspired the creation of Tazo. "They came to me with a line: 'Marco Polo Meets Merlin,' " says Sandstrom.
Now close friends with Smith, Sandstrom and Sandoz were the creative directors for branding at Tazo. Tazo's goal was ambitious: Smith and Lee wanted to yank America's perception of tea out of grandma's dusty cupboard. "Tea is thousands of years old, but in America, there was no tea culture," Sandstrom recalls. "Marco Polo Meets Merlin was about the alchemy of tea … the exploration, mysticism, history and science of it."
The team knew the marketing had to be accessible and enticing, while also reflecting the quality of Smith's blends, which would sell at twice the price of familiar supermarket brands and nearly 50 percent higher than other boutique brands. Tazo's team came up with names that evoked moods. "Instead of simply calling it 'Spearmint,' ours was 'Refresh.' Instead of 'Breakfast Blend,' it was 'Awake,' " Sandstrom says.
One of the effects of Smith's success with Tazo and, now, with Smith Teas, is that it altered the idea in America of the value of quality tea. "I bought the best tea I could find on the planet," Smith says, noting that Tazo was 40 percent more expensive than most other competitors in the mid-'90s. "We inserted some humor—for example, under shelf life, we said, 'Longer than milk, but shorter than a Twinkie.' But we remained deadly serious about quality."
Tea drinkers quickly took note. "I remember running into Steve Lee in the warehouse right after things started taking off for Tazo," Sandstrom says. "He looked at me and said, 'You know, it took us eight years with Stash to get to where we are in 18 months with Tazo.' "
Soon, Starbucks also took note, and in 1999, the coffee giant bought Tazo, and Smith remained with the company for seven more years to monitor the quality. This was followed by a year's sabbatical in France and thoughts of permanent retirement. Those thoughts remained ideas. In 2009, Smith once again tapped his entrepreneurial spirit with the launch of a new line of eponymous teas. "The core of the brand is that we use only full-leaf tea," Smith says. "We get teas from Northeastern India and from Sri Lanka, Japan and China. I buy botanicals like chamomile and hibiscus from Egypt; ginger root comes from South India, our rose petals from Morocco and honey bush from South Africa."
Smith's shop in Portland also includes a tasting room, which provides an opportunity to experience his teas firsthand. "The difference here is that we manufacture in an open kitchen environment," Smith says. "Guests can see it being made, from blending to packaging." The shop is housed in a 100-year-old building on the edge of Portland's Pearl District. Four stools flank a tasting bar; other tables and a banquette can accommodate up to a dozen. A long hallway hosts a glass-front cabinet with artifacts Smith has collected over the years, and there's a bamboo garden out back. Smith is always around—constantly misplacing and relocating his favorite tasting spoon in the frenzy of creation and service, consulting his journals, and making notes on blends. "Creation for me is about starting with the best tea I can find," he says, and a blend is largely about matching and balancing desired characteristics.
For example, to make a black blend, Smith may choose China Keemun for its smokiness, and add malty, leathery notes from the teas of the Assam region of Northern India. "I know a tea's characteristics, so I start from an idea of the flavor I want in my head, before I go to the bench to work," he says. "We make 10-gram samples at a time, and I will add and subtract, but I always stick with that original idea of flavor."
"He's got a phenomenal palate and nose," says Sandstrom. "He's gifted in that way. He's also not afraid to take a risk." Smith also isn't afraid to take his tea to new places, including ice cream, cocktails and even barrels. Portland's Salt & Straw ice cream shop sells Lotus Seed Matcha, with grassy notes of Smith's green tea and the light caramel notes of lotus seeds and toasted brown rice; more playful still is their Pad Thai Ice Tea option, with Smith's rich Ceylon red tea, sweetened condensed milk and Southeast Asian spices. At Broken Shaker in Miami, proprietor Gabe Orta reaches for Smith Teas when creating cocktails like his Hibiscus Paloma, with tequila, lemon juice, grapefruit bitters and bitter lemon soda, balanced with a sweetener made from agave syrup simmered down with Smith's Big Hibiscus blend.
Smith has also experimented with the interplay between dried tea leaves and wine barrels. "He has a lovely level of fanaticism for botanicals," says Dave Paige, winemaker at Adelsheim Vineyard in Newberg, Ore., where black tea leaves were housed in Pinot Noir barrels for several months; the results included barrel-aged blends like the No. 11 Méthode Noir, made from high grown, Ceylon black tea. "He explains tea the way most people speak about wine—about terroir and balance and complexity," Paige says.
Even though he might drink 10 cups in a single day, Smith, like everyone else, has his favorites. He usually reaches for Mao Feng Shui—a green tea from Zhejiang, China, which he describes as being rice-y and slightly vegetal. His other favorite is Bungalow, a blend of first and second Darjeeling grown in the foothills of the Himalayas. Sandstrom, who also covets Bungalow, isn't shy about his friend's genius when it comes to tea. "If Steven Smith had an endless amount of money, the world would have an endless stream of cool products," he laughs. "He's one of the best new-product inventors out there. We are all underserved by him not being a billionaire.
Editor's Note: Steven Smith passed away on March 23, 2015. This article was originally published in the March/April 2014 issue of Imbibe.