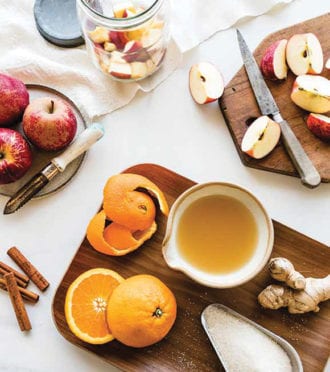 Cinnamon and ginger bring a warm twist to this seasonal shrub from Emma Christensen's beautiful book Modern Cider. She suggests mixing it into a bourbon or rum-based cocktail for best results.
2 to 3 large apples
1 (3-in) stick cinnamon
1 (2-in) piece fresh ginger, grated or finely diced
Peel stripped from 1 large orange
1 cup Demerara or brown sugar
1½ to 2 cups cider vinegar, any kind
Cut the apples into quarters and trim away the cores. Shred or finely dice the apples. Transfer to a large glass jar with a lid, such asa canning jar. Add the cinnamon stick, grated ginger, orange peel and sugar. Pour the vinegar over the top until the ingredients are covered by an inch or two. Cover the mouth of the jar with wax paper and screw on the lid. Shake vigorously to combine the ingredients and dissolve the sugar. It's fine if the sugar doesn't completely dissolve; it will gradually do so over the next few days.Place the jar somewhere out of direct sunlight and at room temperature (70º to 75ºF) for 2 to 7 days. Shake the jar daily and taste occasionally. Once the shrub has infused to your liking, strain and transfer to a clean jar. Keep the shrub refrigerated for up to 6 months.To serve, mix 1 to 4 tablespoons with a glass of sparkling water or shake into a cocktail. Taste and add more syrup, if you'd like.
Reprinted with permission from Modern Cider copyright 2017 by Emma Christensen. Published by Ten Speed Press, an imprint of Penguin Random House LLC. Photographs copyright 2017 by Kelly Puleio.

---
Did you enjoy this recipe? Sign up for our newsletter and get our favorite drink recipes of the moment in your inbox every month.