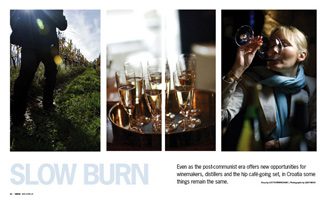 I'll admit it—my first visit to Croatia has inspired an endless series of overindulgences. But tonight, I plan to recover. I'll sit in a tiny restaurant that feels like a boat floating in a dark, shimmering Adriatic marina and order a salad and a glass of water. "Ah, but have just a little medica to begin," croons Ivan, my guide to Opatia, a resort town filled with deserted, pastel villas from the mid-1800s. "Or how about some biska!" he shouts, throwing up his arms with gusto.
I should have expected the suggestion. Croatians believe that brandy should precede and follow meals to stimulate the appetite and encourage good digestion. In a society that shows little interest in cocktails, pure, straightforward brandies dominate every drink menu. And for some reason, the ritual rubs off on even the most over-stimulated visitors.
Before I can protest, two tall, frosty shot glasses with tiny handles appear in front of me, one filled with thick, golden medica, a honey-based mead brandy, and the other with biska, a root beer-colored grape brandy infused with mistletoe and other herbs. "živjeli!" Ivan cries, and I repeat the Croatian toast as we clink glasses.
A sip of the cloying, sweet medica reminds me of honeysuckle wilting on a humid day, while the biska is its polar opposite with a pleasant bitterness and hint of anise. I feel myself slow down. Salad? How about succulent scampi, the large prawns of the Adriatic, squid-ink risotto and a divine chestnut paste for dessert.
In hindsight I owe Ivan, not for aiding in my recuperation, but for reminding me that in Croatia, it's always best to relax and have a drink. In fact, it's expected. Go to any restaurant or café in the country, and you'll see locals nursing something, from tiny espressos and pale local beers to wine from one of the country's five appellations, all the while blazing through cigarettes and spinning stories. It's tradition. People here have been taking their time over drinks for centuries.
Local Spirit
In the town of Labin, a father and son run a small shop packed with wine bottles and assorted tchochtkes. In the back room, they make a thick, sweet brandy in barrels and bottle the distillate in glass containers with a sprig of sage or stem of rosehips, using a recipe passed down for generations. It's a scene repeated in towns throughout Croatia.
While Croatia's evolving wine industry attracts the most attention from visitors and in guidebooks, homemade brandies reign supreme with locals. They're ubiquitous in every region, the product of various fruits distilled in small casks and other containers in back rooms and basements. Most brandies are chilled, then served in small sipping glasses both before and after meals.
Some of the most popular varieties include biska, which is slightly bitter, and pelincovac, another bitter distillation made from wormwood and herbs. Rakija, or fig brandy; šipak, made from the red-orange hips from a climbing rose plant known as the Dog Rose; and šljvovica, a clear brandy made from plums, are all smooth and sweet, with an obvious essence of the fruit or herbs they are made from.
Maraschino liqueur, one of the most well-known Croatian drinks, appears on the shelves of most souvenir shops in Zagreb. Although the sweet, brandy-based liqueur is made from cherries, it has nothing to do with the neon maraschino cherries that float in Shirley Temples, but instead, the small, dark marasca cherries that are native to Croatia and Italy. Monks living in the coastal city of Zadar first distilled the liqueur during the early 16th century, and it's been popular ever since.
Marching On
At its heart, Croatian culture revolves around the café. Still free from the Westernization of the caffeine habit (you won't find a single Starbucks within the country's borders), café patrons move as though underwater, weighted by the permanence of a real glass or demitasse (no paper to-go cups here). They're in no hurry, and time drips like honey instead of pouring like sugar, measured by cigarette butts bent in an ashtray and the lengthening of shadows through a heavy-beamed doorway.
Without the distraction of food—quite frequently toast will be the only food item on the menu—café-goers usually indulge in satisfyingly bitter Italian-style espresso drinks. "My blood is made of coffee," says Dejan Isin, an Istrian truffle purveyor with a penchant for machiattos and cigarettes. And even though Isin is a man with four cell phones in three pockets, he sits in cafés for hours each day, meeting with truffle hunters and their wives and reconnecting with neighbors.
In the capital city of Zagreb, chic young locals seem less concerned with the Baroque palaces, political monuments and streets laid in the Middle Ages than the mood inside their favorite café. Many will spend entire afternoons on Tkalciceva Street, a pedestrian avenue packed with the city's hippest cafés and bars.
Of course, on every table, a few glasses sit, both empty and full. And while what you're drinking matters, there's always the chance to try something else: a variation on espresso, a house-made fruit brandy or a soulful, award-winning local wine.
Water to Wine
On a crisp, sunny fall day, Davor Zdjelarevic walks through his rows of grapes to the top of a hill overlooking rural valleys dotted with small houses on either side. Harvest and crush finished a few weeks ago, but his cell phone won't stop ringing, which makes him seem less like a part of the slow-moving, café-going Croatia and more like a bridge to a capitalistic future.
It's not too much of a stretch. Two decades ago, Zdjelarevic and his wife, Visnja, started planting grapes on this hillside located in a quiet section of the interior of the country called Slavonia (not to be confused with the bordering country, Slovenia), a fertile agricultural region known for its wine, castles and grain production. The couple planted rows of Chardonnay, Cabernet and Graševina—the most popular white grape in the region, which is also known as Italian Riesling—because they finally felt they had complete control of their land. "Communists burned so many Croatian vineyards down to the ground," Zdjelarevic says, surveying the valley. "Now our country's winemakers have the chance to return to their roots."
At the top of the hill, the countryside unfurls like a patchwork quilt made up of mismatched scraps. Neat rows of vines at various stages of growth intersect with nebulous clumps of trees and tiny, provincial houses. After the war in the early 1990s, which resulted in the disintegration of Yugoslavia, Croatia started to shape its new identity as a country with economic potential.
A few years ago, that promise landed Croatia on the list of possible additions to the European Union, which has prompted plenty of debate within the country. Some argue membership in EU will ensure economic success and stability, while others counter that small farmers and artisans won't be able to survive in the new system. Even so, most locals talk about joining the EU as an inevitability—it will happen, they say, whether we like it or not. Ultimately, the switch could help people like the Zdjerlarevics, who want to increase production and become a player in the global marketplace.
As vintners who also operate a small, well-appointed hotel and restaurant, the Zdjelarevics represent a sea change. In the past decade, as tourists from around the world have joined the throngs of Europeans who flock to Croatia's coastline and 1,000 islands, many industries have grown to meet their demands. In some ways, tourism has helped private wine producers materialize, even the Zdjelarveic winery more than 200 miles from the nearest ripple of saltwater.
The country's history of winemaking dates back to pre-Roman times, and many family-run wineries have been growing and crushing grapes for longer than anyone can remember. But these days, those small producers have switched to modern winemaking methods, opened tasting rooms and ramped up production.
Of the country's five wine appellations and two growing regions—coastal and continental—three areas stand out for quality. Slavonia produces mostly white wines made from Graševina or international grapes. The local oak forests provide the wood for barrel-aging Chardonnay. In fact, many French and Italian winemakers buy this oak for their own barrel supplies.
Dalmatia, a large region that comprises the entire southern coast, specializes in the indigenous Plavac Mali, a grape that shares much of its genetic makeup with Zinfandel. That grape has helped the region gain a reputation for high-end, hearty reds, including the velvety, low-alcohol Plavacs produced by Miljenko Grgic.
And the heart-shaped Istrian Peninsula, a province that juts out into the Adriatic in the north, boasts a booming wine industry that sells over half of its wines directly to tourists. Once a part of Italy, Istria's vineyards, olive groves and white truffle forests have helped the region's reputation as "the new Tuscany." Vintners on the peninsula produce mostly white wines, many of which are made from the widely planted, indigenous Istrian Malvoisie grape, which produces refreshing, full-bodied wines. Winemakers Matoševic and Kozlovic are well known in the region both for high production and quality bottles.
Because Slavonia grows so many international varietals, Davor and Visnja Zdjelarevic have plenty of bottles to display in their dark, cavernous tasting room. As they arrange some glasses and a selection of their wines, I peek in the adjacent room where giant stainless steel tanks stand as universal symbols of modern wine-production methods. Davor pours the 2006 Graševina.
"A wine for a good feeling!" he says, raising his glass. "Živjeli!" As we linger on the woody, buttery 2005 Chardonnay, which recently won a silver medal at a French competition, a plate of salty deep-fried bread and chunks of special sheep's milk cheese made on the faraway island of Pag appear on the table—a perfect paring.
Despite the fact that Davor, a rising star in Slavonia, uses his cell phone as much as a Hollywood movie producer, suddenly he and Visnja don't seem to be in a hurry to do anything except enjoy themselves, the Croatian attitude I've come to expect. "I will drink wine all day long," Visnja says, "but I never get drunk." She continues, swirling some Cabernet in her glass. "I am a wine lover, so I like differences. But I can't say I like one over the other."
Exiting through the buying room, I ask Davor where I can purchase his wines in the U.S. "It's not possible," he says. "Not a single Croatian wine is exported from this country."
With modern facilities and impressive wines produced from both international and indigenous grapes, I'd assumed that Zdjelarevic and other Croatian winemakers were helping to stock cellars around the world. But Croatian vintners still produce in small quantities, which makes exportation impractical. And without marketing budgets or the financial backing to enter the global marketplace, local winemakers focus on quality not quantity.
Their focus seems appropriate. Croatians seem to have mastered something of great consequence—the subtle art of pleasure, on a small scale. After all, they have plenty of time.