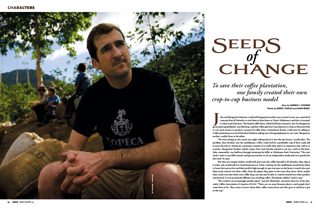 John and Margarita Gaberino could tell Margarita's mother was worried. It was 2001, and she'd come up from El Salvador to visit them in their home in Tulsa, Oklahoma-and also, it seemed, to relay some bad news. The family coffee farm, which had been started in 1870 by Margarita's great-great-grandfather, was faltering. A global coffee glut had caused prices to drop to the point that it cost more money to produce a pound of coffee than a Salvadoran farmer could earn by selling it. Coffee plantations across El Salvador had been selling out or firing employees to cut costs. Margarita's mother couldn't bear to do either.
"We were sitting on the couch one night talking about it into the late hours," recalls John. The problem, they decided, was the middleman: Coffee could still be a profitable crop if they could sell it more directly to American consumers instead of to mills that sold it to importers that sold it to roasters. Margarita's brother, Emilio López Díaz, had already started to set up a mill on the farm. John, meanwhile, was halfway through attaining his MBA at Oklahoma State University. "The next week I went to my MBA classes and got permission to do an independent study and very quickly hit the road," he says.
The idea was simple: Emilio would mill and roast the coffee himself in El Salvador, then ship it to John, who would sell it to local businesses in Tulsa. Cutting out the middlemen would allow them to keep their prices low and their profits high enough to pay everyone on the farm; it would also give them total control over their coffee, from the plants they grew to the roast they chose. Heck, maybe they could even start their own coffee shop one day and be able to control exactly how their product was brewed. It was an entirely different way of selling coffee. The family called it "seed to cup."
"The world is an increasingly smaller place," says Ric Rhinehart, executive director of the Specialty Coffee Association of America (SCAA). "There are no more faraway places-and people don't want there to be. They want to know where their coffee comes from and who grew it and how it got in the cup."
John Gaberino was happy to answer those questions, but first he needed to educate himself. After all, it wasn't that long ago that he'd been an undergraduate at Loyola University in New Orleans drinking chicory coffee heavily doctored with milk and sugar. It was at Loyola where he also met Margarita. He was studying computers; she, marketing. When they graduated in 1998, the couple moved to El Salvador to live near Margarita's family. "He was just so adventurous," Margarita says of John. "He loved the idea of immersing himself in another culture."
The couple lived in El Salvador for two years, during which time John became fluent in Spanish and mildly conversant in coffee. "When I lived there, it was the first time I started drinking coffee black," he says. "But even then, production countries have historically had some of the worst coffee, because all the good stuff gets exported."
So in order to sell the good stuff himself, he needed to learn. He attended SCAA seminars and flew down to El Salvador to see the coffee being grown. He went to conferences. He joined the Roasters Guild. "I ended up spending three to four years just developing my own knowledge base and learning about the market and the chemistry," he says.
At the same time, he needed to educate Tulsa, a city without much experience with quality coffee. "I realized I had to be a salesman," he says. He persuaded a local gourmet grocery store to let him set up a kiosk selling Topéca Coffee. (The name came from Margarita's childhood nickname.) "We were working from 6 in the morning to 10 at night-mostly John-and giving every customer our story," says Margarita, who spent much of those early years home raising their two children, Isabella and Matthew, now 8 and 5, respectively.
Lola Palazzo remembers meeting John at the kiosk shortly after she'd moved to Tulsa five years ago. "I was totally impressed," she says. "I'd worked with Susan Ohori in Santa Fe, and she'd learned how to roast coffee at Peet's in San Francisco. And he made me a coffee and I thought, 'Wow, this is amazing.' " When Palazzo opened her own restaurant, Lola's at the Bowery, in 2004, she picked Topéca as her coffee supplier.
She wasn't alone. John had been dutifully pounding the pavement, getting his coffee sold in local groceries, served at local restaurants and supplied to local offices. Some people were wooed by the taste, others by the fact that Gaberino was a local boy, the son of a prominent attorney. Still others liked the fact that their money was going directly to the farmers planting and harvesting the coffee.
As orders increased, it became logistically impossible to roast the coffee in El Salvador and fly it to Tulsa frequently enough to stay fresh. So in 2006, John invested $150,000 to establish his own roastery in an old hotel in downtown Tulsa. "It was a scary moment," he says. "It was doubling my risk at the time. And it has been, by all means, the best investment I ever made. It was a real turning point."
Both John and Emilio López Díaz had grown more experienced in making coffee, and now that they could roast their beans freshly as needed, the quality of their end product rose dramatically. They created their own single-origin espresso-something still a rarity at that time. And they began garnering attention outside of Tulsa. In 2006, Topéca was a finalist in the El Savador's Cup of Excellence coffee competition. The next year, the company was one of three semi-finalists for Roast Magazine's Roaster of the Year-and was again in 2008.
"They're really amazing people," says Roast publisher Connie Blumhardt, who has visited the Topéca plantation. "There really isn't another company doing what they're doing…. It's taken their family farm, which was just an average coffee farm, and turned it into something special."
In El Salvador, where most coffee plantations pay migrant workers a barely living wage to pick coffee seasonally, Topéca maintains a staff of some 40 full-time employees who receive both healthcare and salaries 10 to 15 percent above the industry average. They're also cross-trained, which means that the person who picks the beans often has a full understanding of the washing and drying processes, as well. The company supports its local schools and has funded the college education of one of its employees. It's a major contributor to Libras de Amor, a nonprofit providing nutrition and healthcare in rural El Salvador.
At the end of 2007, Topéca moved its roasting facility out of its old space in the historic Mayo Hotel, which is in the process of being converted into luxury apartments and a boutique hotel as part of downtown Tulsa's ongoing revitalization; in the roastery's place, the Gaberinos opened a new coffeehouse, Topéca Café. The walls are lined with photos of their Salvadoran farms. (Yes, farms. Not only did Topéca save Margarita's mother's farm, but it allowed the family to purchase her grandmother's farm as well, giving the company a total of 300 acres of mountainside producing some 400,000 pounds of coffee a year.) "That was what we wanted to do all along," says Margarita. "That was the culmination of seed to cup."
The café also brought Margarita into the business in a more active way; she runs it as its own separate business, while John does the same with the roastery and distribution service, and Emilio manages the farm and mill. "Emilio is focused on the technical part, on producing the bean," Margarita says to explain each family member's role. "John is a guy with no obstacles. He just goes out, and if he had to sell rocks, he'd sell rocks. Me, I love the coffee shop and interacting with the customers, telling them the story [of Topéca]."
While each family member runs his or her part of the business as its own separate entity, they still operate as a team. If John decides he'd like a little more fruit flavor in a batch of coffee, he can just ask Emilio to start experimenting with natural drying methods, in which some or all of the fruit remains on the bean. And the next time he's in El Salvador-a trip he takes about four times a year-he can cup the results and discuss them with his brother-in-law right then. "It really gives us control," says John. "We can study and identify the impact of every step we take."
But the seed-to-cup model has its challenges as well. "On the 'pro' side, you can guarantee your own quality," says the SCAA's Rhinehart. "On the 'con' side, from an American perspective, unless you have farms in 30 different countries, you're going to be limited in your selection. Also, if you have a year when, for whatever reason, your coffee isn't as good or as much as you'd like, well, that's all you have."
Margarita isn't worried about the latter concern. "We have plenty of coffee," she says. "My mother has her plantation, but around her, all her siblings have their places, too."
John's equally sanguine. "We've thought about that, but over the last 100 years, they've always grown coffee," he says. "Our crop has varied from year to year, but it's never been bad."
The first concern, however, is something the family has discussed. And even their most loyal fans have acknowledged the issue. "Their coffee is a little bright and very clean, and it does have some warm tones and nutty tones," says Cheri Asher, who has used Topéca Coffee exclusively in her Coffee House on Cherry Street since opening two years ago. "But there's that caramelly, warm, almost chocolaty flavor that some people look for, and their bean doesn't do that-or, well, I haven't experienced that yet."
John and Emilio are experimenting with planting different breeds of coffee tree to try to expand their palette of flavors; those trees will begin to reach fruition with this year's crop. Nor will John rule out the idea of eventually growing coffee in other countries. For now, though, the goals remain more modest: to maybe open a coffee shop in El Salvador, to expand their line of roasts, to sell more of their coffee in the States. (John sells only 100,000 pounds of their total production through the roastery; the rest is sold in El Salvador or as green beans, though they still sell directly to roasters or importers in order to cut those pesky middlemen's fees.)
Mostly, they want to make sure a fifth-generation business makes it to the sixth generation. As to that, things are looking hopeful. "Our son said just the other day that he wants to be a roaster when he grows up," says Margarita.
John chuckles when he hears that. "Yeah," he says. "That'd be cool."