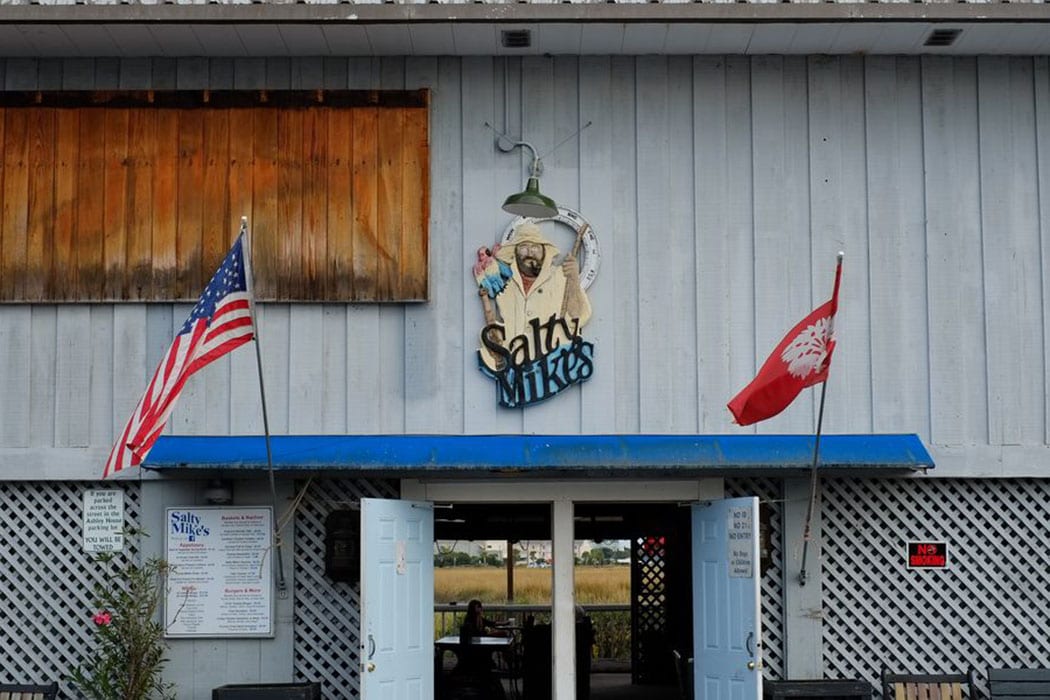 Thirty-six years of river views, marina breezes and a soundtrack of seagulls have made Salty Mike's Deck Bar one of Charleston's most beloved bars. "There aren't many bars on the peninsula that close to the water, but Salty Mike's has a big deck so you can sit out there and watch the birds and sailboats go by," says Charleston transplant John Lewis of Lewis Barbecue.
Palmetto trees line the outdoor patio and a wooden sign featuring Captain Salty Mike himself welcomes guests through the front doors of the weathered bar, which has anchored the land next door to the historic Rice Mill Building (now an event space) since 1982. Like many seaside shanties, Salty's commitment to the nautical aesthetic permeates almost every corner of the interior, including a large fishing mural that covers a wall near the pool tables, plus plastic swordfish and sharks that hold court among other kitschy items. The bar is lined with a thin tin roof, and a neon Corona Extra sign reads "Find your Beach."
A reliable staple in a rapidly growing and changing city, Salty's is nothing if not admirably set in its ways—"divey but not too divey," as Lewis says. Drinks range from inexpensive Salty Dogs served in plastic cups to ice-cold bottles of beer best accompanied by simple bar snacks that flow from the restaurant above. Called the Marina Variety Store, the diner-like joint makes food that is "not great, but better than Waffle House," Lewis jokes. A steady stream of crab dip, fish and chips, and fried popcorn shrimp reminds guests of their proximity to the water.
Thanks to its somewhat remote location, Salty's isn't the kind of place you'd accidentally stumble upon, but that's part of the draw, Lewis says. It's proximity to the marina and the Medical University of South Carolina means that unless you're docking a boat or studying nearby, you have to know about it to find it. Which means the typical clientele is a mix of fishermen, boaters, nearby workers and medical students. "There are always a bunch of crusty regulars there," says Lewis, who likes to take out-of-towners there for a genuine taste of the Lowcountry. "The tourists all go to King Street, but I take people to Salty's because it's so pretty out there and it's not stuffy at all," he says.
At the end of the day, Lewis admits that it's not the Dark and Stormy or the popcorn shrimp that keep him coming back; it's the panoramic views of the Ashley river and the smell of salty air. "The sun sets on that side of the peninsula, so you get a great sunset, too."
---
Like what you see? Get more of the best of liquid culture when you sign up for our bi-monthly magazine. Subscribe now and save up to 59%—it's just $21.95 for one year or $32.95 for two years. Click here for details.