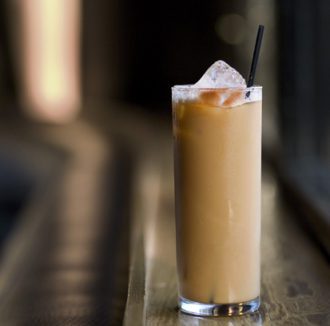 If you're a fan of Thai iced tea, this cocktail is for you. Cane vinegar is available at most Asian markets, but Steen's Pure Louisiana Cane Vinegar is worth seeking out—it's made from southern sugar cane and aged in oak (find it at simplycajun.com).
2 oz. Thai tea-infused rum (recipe below)
1/2 oz. Averna
1 1/2 oz. condensed milk syrup (recipe below)
3 drops cane vinegar
1 1/5 oz. soda water
Tools: shaker, strainer, fine-mesh strainer, atomizer (for garnish)
Glass: Collins
Garnish: spray of Angostura bitters
Combine ingredients (except soda water) in a shaker with ice. Shake and double strain into an ice-filled Collins glass. Top with soda water, then garnish with a spray of Angostura bitters.
Thai Tea-Infused Rum: Combine 1 cup of rum with 2 barspoons of Thai tea powder (available at Asian markets) in a bottle. Let steep for 7 minutes, then strain.
Condensed Milk Syrup: Combine 1 14-oz. can of condensed milk, 1/2 cup of Demerara syrup (2:1 Demerara sugar and water) and 1 cup of hot water and stir until the mixture is smooth and pourable.
Rhiannon Enlil, Cure, New Orleans